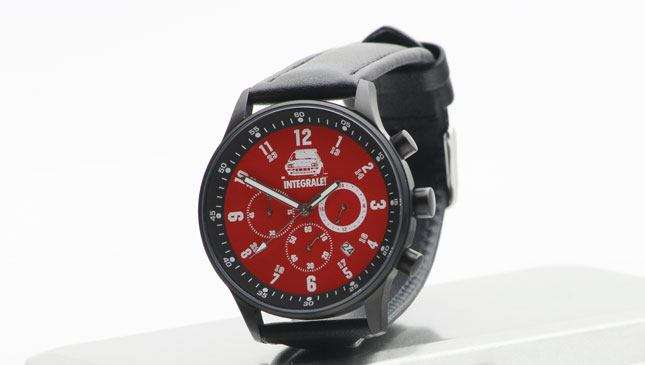 A lot of car guys are equally passionate about watches. Perhaps the appreciation for intricate engineering under the surface carries over. Whatever the reason, the two worlds have shared a long and fruitful history together. So much so that watchmakers will often create specific 'racing watches' for motorsport fans.
One such watch is this sporty piece from a company called 69 Pit Stop. These guys have created a watch to celebrate the 30th anniversary of the Lancia Delta Integrale. This car was first introduced in the World Rally Championship in 1987, where it went on to score an amazing 46 victories on the dirt tracks.
Continue reading below ↓
Recommended Videos
The commemorative watch is manufactured in Germany and comes in a matte black stainless steel case with a red dial. On the dial is an image of the legendary rally car and the Integrale insignia. It's sized at a trendy 43mm and comes with functional chronographs for measuring lap times. The strap features some bold stitching, which is fitting for a racing watch. Underneath, the watch is powered by a quartz (battery-powered) movement.
The Lancia Delta Integrale watch retails for €149 (P7,900) on the company's official website. Who's keen to add one to their wrist?