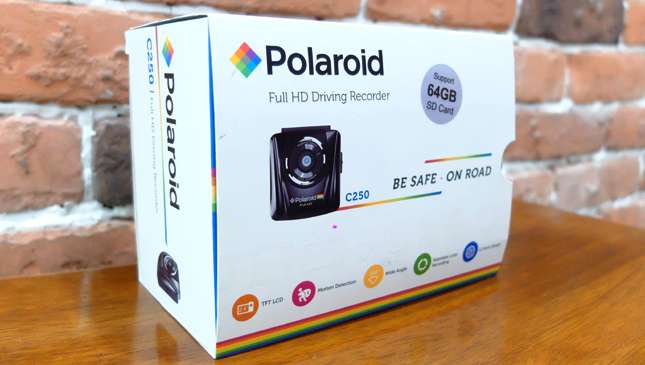 A practical, solid design, quality footage, and enough storage is all you really need to look for in a modern dashcam. Sure, newer features like GPS capability and a rear camera are neat, but they come at a price and you can definitely do without them.
That being said, Polaroid's latest dashcam, the C250, ticks all the right boxes and has just enough features to get by. We were immediately impressed with the test unit Blade Auto Center sent us because of its premium-looking and easy-to-open packaging. You're presented with the basics up front: A 2.4-inch LCD display, 140-degree wide angle lens, and seamless loop recording.
Continue reading below ↓
Recommended Videos
Installing it is simple. Just slide the unit into the mount, install a micro SD card (the unit came with one), and attach it to your dashboard or windshield. One gripe we have with the C250 is that it only comes with adhesive mounts, but that isn't really a deal-breaker. Once hooked up, plug it into your car's standard lighter port/outlet and you're good to go.
We have to give props to the C250's build and design, too. It comes in glossy black plastic and is relatively light. Still, it looks modern by dashcam standards and feels pretty sturdy. And it's always nice to see that rainbow Polaroid logo.
The F1.9 aperture lens records in 1080p full HD at 30 frames per second. Quality is good, even in less-than ideal lighting or weather conditions. And while you might feel the viewing angle is insufficient because of the availability of wider lenses (170-degree dashcams aren't hard to come by these days), the C250's range is perfectly fine once you check out the footage (the LCD display's picture quality doesn't do the lens justice). One big plus is that the C250 supports up to 64GB micro SD cards, which is more than enough.
It also comes equipped with a G-sensor that senses collisions to trigger recording. One gimmick the C250 has is a Driver Fatigue Alert Function which, well, supposedly detects if you're tired behind the wheel. But it's really just a novelty.
The Polaroid C250 carries a P6,499.75 price tag, and you can purchase it at any Blade Auto Center store nationwide. That's a fair amount for a nice design, solid build and good video quality if you ask us. Agree?