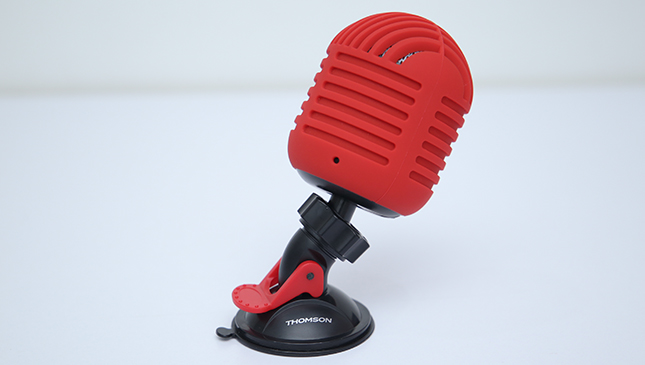 If you appreciate nice cars, there are few things worse than sitting inside a terrible ride in the middle of EDSA traffic. Whether it's a bare-bones China van with shoddy suspension and unrelenting scent of cheap plastic, or an ill-maintained, decades-old family vehicle with a malfunctioning air-conditioner, it sucks and you need a distraction.
Usually this is where a good sound system comes in, but what if your car doesn't have a decent (or functioning) sound system? What do you do? You pop in a wireless speaker to help you pass the time. We were recently lent a Thomson RB50 Bluetooth speaker to try out inside a less-than-ideal car, and here's what we found.
To start, the unit has a quirky classic microphone design wrapped in soft rubber. It comes with two mounts: One suction and another with a rubberized base to latch on to surfaces. It also features simple operating procedures: Simply long-press to turn the device on and off, short-press for play/pause, and rotate left and right to decrease and increase the volume. Quite nifty.
The speaker is sized just right and wouldn't look out of place mounted on your windshield or dash. Unfortunately we ran into a little problem with the suction mount. The unit stayed glued to the windshield for the most part, until we went over a hump and it fell off (crappy suspension remember?). Thankfully, the rubberized base held on to the cheap plastics of our dashboard, though effectiveness will probably vary depending on the type of material it's planted on.
Making and receiving calls is as simple as pressing the unit down to accept and end them. Same mechanics apply when increasing or decreasing call volume as well. If you're hard of hearing or your smartphone's speaker's volume level doesn't suffice, the RB50 could prove useful. Otherwise, you can just accept calls via your phone's touchscreen and a standard mount.
Sound quality is pretty much what you would expect from a speaker of this size, cracking when the volume is too loud or when the base gets too heavy. For the most part though, it gets the job done. It won't drown out the sound of your struggling engine permeating through your cabin, but it will keep you entertained while stuck in traffic.
As a bonus, it looks pretty neat on a desktop too, making it a suitable companion for late nights at the office if you're not into setting up a permanent sound system or a set of headphones in your workplace.
The RB50 packs 40mm drivers and a 500mAh lithium-polymer battery (enough for five hours of playtime). You can charge it via USB, and it has a 10m transmission range. Overall, it can come in handy if your car doesn't have a reliable sound system, but won't hide the fact that your car has horrible noise, vibration and harshness (NVH) levels. It has a nice, solid design, good size and easy controls as well. You can buy it for P1,495 from Odyssey Music stores and electronic boutiques.