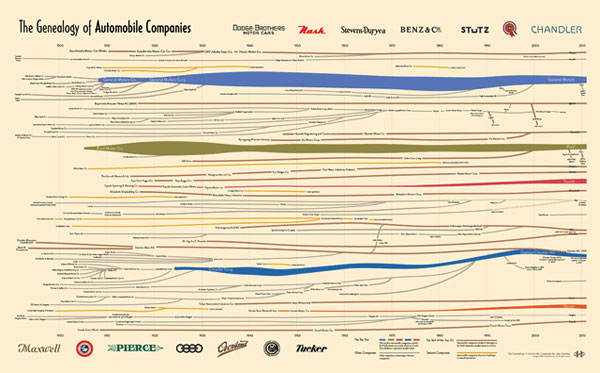 In all the years we've covered the automotive industry, one of the greatest challenges we've faced is maintaining accuracy when talking about a car company's corporate history--in particular its genealogy or lineage. Who owns this car brand now? Which other car brands are its affiliates? Which car brands are already defunct?
For instance, not everyone knows that in the very recent past, Ford Motor Company owned such brands as Aston Martin, Jaguar, Land Rover and Volvo, but had to sell them one by one from 2007 to 2010 to stay liquid. Or what about the fact that Proton now owns Lotus, and that both Ferrari and Maserati belong to Fiat? And even simply knowing which year a certain carmaker was established, would be handy not just to motoring journalists but also to car enthusiasts who like engaging in debates. Wouldn't it be nice to have a single reference that takes care of the above questions?
Well, it seems we've found one. An American graphic company called History Shots and based in Burlington, Massachusetts, has made (and is selling) a poster of "The Genealogy of Automobile Companies." Available on their website (follow the previous link) for $29.95 (P1,265; excluding shipping fee, by the way), the poster measures 38 x 24 inches (3.17 x 2 feet) and makes use of "acid-free archival paper." The graphic was designed by Larry Gormley, whose work is said to have won design awards. He used art deco-inspired fonts and colors for this piece.
Continue reading below ↓
Recommended Videos
The poster is described by HistoryShots as "a flowing history of more than 100 automobile companies across the complete time span of the automobile industry."
Explaining the importance (and difficulty) of tracing the history of every carmaker, the graphic-print company says: "From 1900 to 1925, over 3,300 organizations were formed to produce automobiles in the United States. In 1910 alone, 400 new startups entered the industry. Most attempts lasted less than two years...This graphic uncovers and explains how the industry was created and how it arrived at its present form. At the core is a full genealogy of over 100 companies from the Big Five to the small defunct companies. Folded into the genealogy is the relative market share of US sales for each company."
If you want to see what the graphic print looks up close, the HistoryShots webpage has a zoom-in tool that allows you to see in detail every portion of the poster. Now, imagine this framed and hanging on your wall.