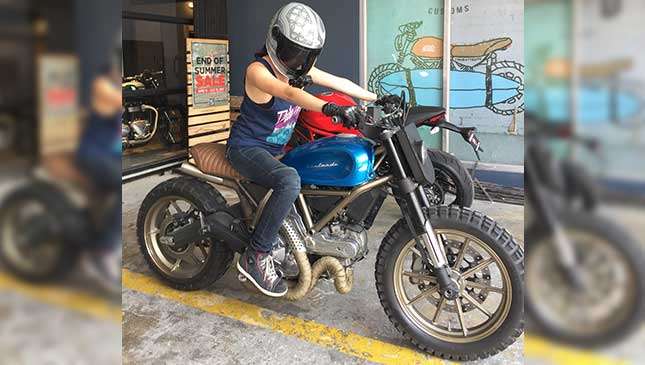 Filipinos are fond of making their vehicles unique and personalized. You'll see all sorts of modifications on jeepneys and cars not only in Metro Manila, but elsewhere in the country. Some are dressed with vibrant stickers, standout paint jobs, and crazy accessories in order to make them different—and that's artwork for them.
With the increasing number of two wheelers in the country, it's no surprise to see the growing custom culture for motorcycles, too. And since many of these fascinating creations are oftentimes made of stock parts of various brands, they're even notoriously tagged as 'chop-chop' vehicles. While some bikes are very likeable, there are some builds that make you question their roadworthiness.
Out of curiosity, I visited three custom garages to get to know their beginnings, and how these bike nuts come up with their design concepts.
So hold on to your horses guys! Meet the custom bike builders.
ADVERTISEMENT - CONTINUE READING BELOW ↓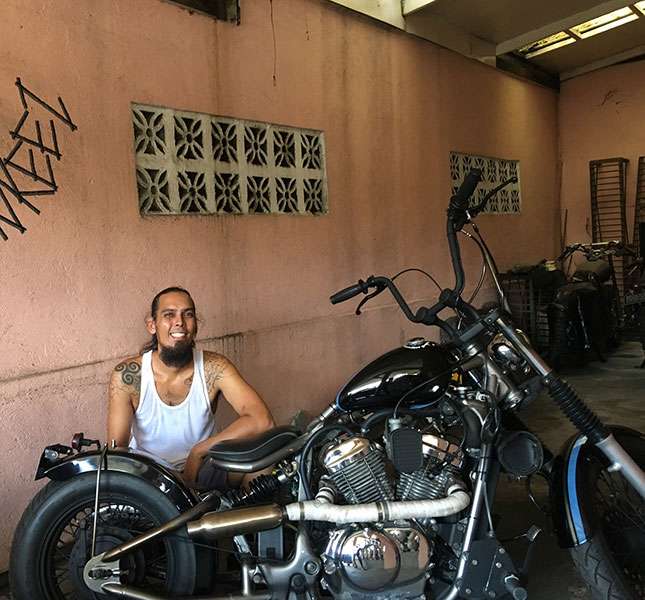 Fart Monkeez Garage (Facebook.com/FartMonkeezGarage)
There's a house located south of Metro Manila that has transformed its two-car garage into a wonderland for customized motorcycles—many of which are recipients of biker-build awards. It's a garage so raw that a worn-out component of an old lawnmower and a used water bottle were utilized in one of the motorbike builds.
The architect of Fart Monkeez Garage (FMG) is Jonathan Van Haute. Growing up in an area populated with motorcycles, Jonathan always found himself sticking his fingers in engines. His turning point was a motorcycle that was totally engulfed by fire. He painstakingly resurrected it and later named this masterpiece 'Inferno.' With the success of that build in numerous bike shows, FMG gained recognition.
Nowadays, there's a long line of motorcycles in the shop waiting to be transformed. Friends and friends of friends are on Jonathan's priority list.
The ingenuity of this garage sets it apart. Jonathan wants his builds to be unique because he easily gets bored when his crafts become redundant. This is where people might say orginality borders eccentricity. Starting a build with a peg of what you want makes life easier for him.
However, if you let him go wild with your bike, you can expect something out of the ordinary.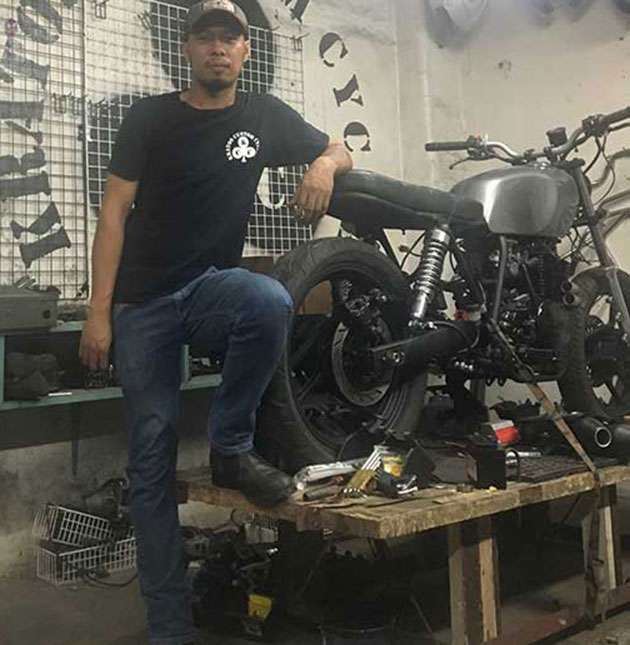 Kratos Custom Cycle (Facebook.com/KratosCustomWorks)
A hidden gem for motorcyclists in the Makati area is Kratos Custom Cycle (KCC) that is currently housing 22 motorcycles. When proprietor Todee Teodoro says 'stock sucks!' his followers from the bike community say 'amen!'
This man behind KCC has been a rider for more than 20 years now. He mixes his passion for bikes with his art skills and his paintings. In fact, one part of his garage is filled with his artwork.
His passion for two wheelers began during his younger days. His family made riding boots for the highway patrol, so most of the time he was surrounded by their police bikes.
The customization began when he got tired of paying other people to do modifications on his bikes. Armed with his background in crafting shoes, the knack for tinkering with bikes, and a garage well-stocked with tools and equipment, Todee was able to translate his art to motorcycles. With a couple of award-winning builds it isn't easy to score a slot at Kratos.
ADVERTISEMENT - CONTINUE READING BELOW ↓
Todee's process entails a more personal approach. He has to get along with you well to be able to start a build.
And when he does, he pours his heart into it, and he will even share some parts from his own motorcycle to finish yours.
STKD Surf Moto Customs (Facebook.com/STKDSurfMoto)
Walking into STKD Surf Moto Customs is a treat for the eyes. Most of their finished work are displayed at the shop's facade, or lined on the way to their 'man cave' where the STKD magic unfolds.
The immaculately clean garage of Stoked Inc. is run by JV Borromeo and Alfred Guerrero. And if you're into the board sports lifestyle, you'll surely not miss the brand. A place where I used to shop for my bikinis is now where I would get some work on my Ducati Scrambler done.
The enterprising JV saw the industry's demand for bike customization so he partnered with Alfredo, his childhood friend. Alfred had been working on personal bike builds in the past, and now has the task of turning his creativity into reality.
The tedious process involves sitting down with the clients and digesting what they want, and then meshing this with Alfred's creative mojo.
STKD represents a certain moto lifestyle that resonates through their builds. Clean, neat and classy, all of these traits are applied to their clientele's bikes; people who are mostly owners of upscale motorcycles.
Most patrons bring their bikes to Alfred's shop for customization straight from the motorcycle dealership. And we're talking about expensive brand new pieces of metal here.