Father's Day is upon us once again. And instead of busting out the usual old and worn out gift ideas, why not do something fun like going out on a motorcycle ride with your old man?
Sure, meat-filled dinners, sappy cards, sensible ties, and bottles of booze are tried and tested ways to tell your dad you love him on Father's Day, but they likely won't create the same fond memories as enjoying the open road, roadside food stops, and corny photo opportunities a father-and-child motorcycle road trip can provide.
Still not sold on riding with your dad? It does not matter if you do a pillion ride, or the two of you take his own motorbike. Here are five reasons why you should consider tagging along with your dad on this special day:
1) It's exciting.
Imagine the usual thrills that a road trip brings to a rider, now shared with your dad. The two of you might get competitive, or you might just chill and ride at a "takbong pogi" pace. But few things are as fun as riding your favorite vehicle with someone close to you, especially if it's the person who taught you how to first ride a bicycle, and then a motorcycle.
ADVERTISEMENT - CONTINUE READING BELOW ↓
ADVERTISEMENT - CONTINUE READING BELOW ↓
Recommended Videos
2) It's a good chance for bonding.
All the father and son camping and hiking trips I remember don't end without my dad and me bantering over food and drinks, so a motorcycling trip, bound to be filled with story opportunities, is sure to bring you and your father closer.
A motorcycle ride along scenic roads, getting lost, running out of fuel in some remote neck of the woods—whatever happens on your adventure is sure to prompt a funny anecdote or two from your dad. From there, many father-and-son stories become unforgettable.
3) You'll get a bunch of good photo ops.
If your dad likes nature and the outdoors as much as mine, going on a ride will likely tempt him to make several stops on the road to take goofy pictures. Whether it's a nice view that your mom or other relatives would want to see, or a funny road sign or landmark that catches your eye, the many things you'll come across on a ride will make for good pictures to show the family and reminisce about when you and your dad return.
ADVERTISEMENT - CONTINUE READING BELOW ↓
4) Together you discover new places.
I have a knack for getting lost, as my family knows. Almost to counteract this, my dad seems to know the Philippines like the back of his hand, so whenever we go out on rides or drives, I learn about new, interesting places I never thought existed. Even if neither you nor your dad are good with directions, being with someone you trust will encourage you to try out new paths and discover new places. After all, getting lost isn't so bad if you aren't alone right
5) You get to forget about reality for a while and just enjoy.
Whether it's your mom's nagging at home, never-ending work appointments, or just the hustle and bustle of day-to-day modern living, all these are forgotten when you're out on the road on two wheels.
When you head out on a two-wheeled adventure with your dad, a therapeutic experience is bound to happen. Because for that point in time, it's just you, your dad, and the open road. The responsibilities back home don't matter and all you'll worry about is where you two will grab lunch and who's paying.
ADVERTISEMENT - CONTINUE READING BELOW ↓
You might come home exhausted and ready to sleep like a log, but it's a much better kind of exhaustion than being overworked by the rigors of daily life.
If the reasons above don't get you thinking about swinging a leg over the saddle alongside your dad, we're not sure what will. But nevertheless, happy Fathers' Day to all the dads out there, and thanks for supporting our hobby, despite how dangerous and expensive it gets.
As both of you dismount from the motorbike, don't forget to give your dad a big, warm hug!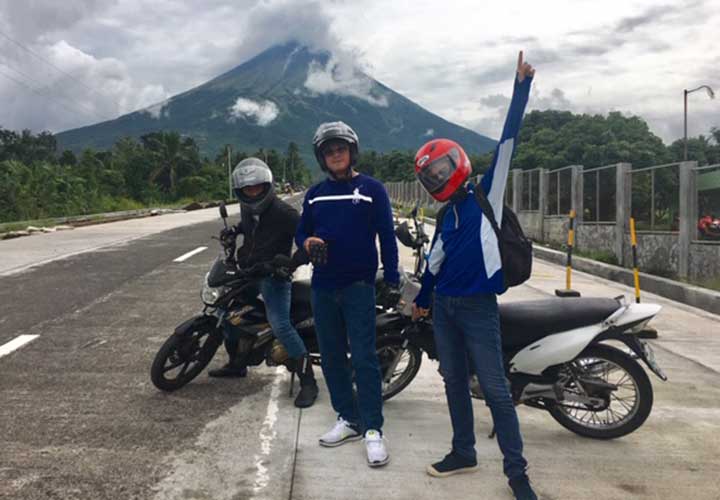 ADVERTISEMENT - CONTINUE READING BELOW ↓
NOTE: Featured in the main photo are the father-and-son tandem of Toti and TJ Alberto, which was taken in front of their house a few years ago. The Albertos still ride and race bikes up to now. The lower photo shows the author with his dad, Aldrin, and younger brother, Sean, on a road trip to Bicolandia.