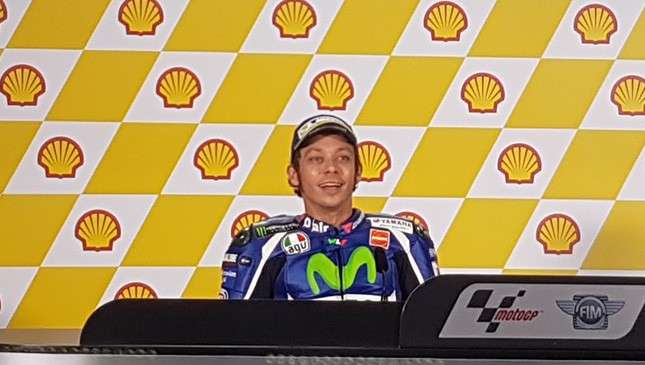 We usually receive a lot of feedback in our Facebook page's inbox when we post something. We get follow-up questions, submitted photos and ideas for future content.
But something different arrived yesterday. After posting the announcement of MotoGP icon Valentino Rossi of team Yamaha, we received a long letter from the sister of a diehard fan of the Italian rider.
The message was from Joyce Fama, and she was writing on behalf of her brother, TJ. The latter is an ardent follower of "The Doctor" and is an avid Yamaha rider himself. However, he got into an accident last January 18, 2017, and has since been in the intensive-care unit of a hospital.
Continue reading below ↓
Recommended Videos
We're printing Joyce's letter here in full with minor edits:
An open letter to Valentino Rossi 46 "The Doctor"

Please share and bring this up fellow riders.

Dear Valentino Rossi and to the whole Yamaha team,

Last January 18, 2017, at 9pm, my brother had a serious motor accident that resulted in severe head injury due to a massive blood clot in his brain. We were told some things that no one wanted to hear, and that he may have a slim chance of survival. This series of events shocked our world, it crushed our hearts to pieces. We heard words that he may not make it. He may die BUT we all know he is a real FIGHTER! Last January 19, he had his operation, but still he's in the intensive-care unit up to this date and is in a coma.

Now, I ask for the help of your company and good office to please help my brother, John Anthony "TJ" C. Fama, 27 years old and who is a loyal Yamaha owner and an ABSOLUTE #1 AVID DIEHARD FAN of Valentino Rossi 46 "The Doctor".
Mr. Rossi, because of his passion for racing he would always watch and get nervous before, during and even after all your racing events, because for him you are his world rider champion forever. He never fails to buy and collect Rossi's collections. Since he was in high school, I know my brother TJ's biggest dream was to meet and greet you—the GOAT, the legend.

He saw you once when he went to Sta. Rosa, Laguna, last February 23, 2014, but unfortunately he didn't get the chance to meet and greet you. He was supposed to come this 28th of January at Robinsons Novaliches for 8th Yamaha Grand Prix, but due to his condition right now he will not be able to see his legendary idol right before his eyes.

He even once told me that he'll do anything, he'll join the contest just so he could meet and greet you. Unfortunately, he can't make it. But we still hold on to hope. That's why I wrote this letter.

My brother TJ is a great son of God, and to our parents; a protective brother to us; and a caring and sweet friend to everyone. All this is what dignifies a man.

As a sister, it is very difficult for me to see him lying on the hospital bed, unconscious and fighting for his life. We do believe that maybe encouraging words or a video from you would wake him up, Mr. Rossi. I know, it is a big favor to ask you to come over and visit him here in Bulacan, but I'm still pushing my luck. It would be a great help to my family and, most especially, to my brother if you would come.

Nothing is impossible when we do things with love and a pure heart. Mr. Rossi, just as you always teach my brother to walk with passion in whatever you do, I know this would be a great help for my brother to recover at the very least.

I hope and pray and in Jesus's name. God bless you and your whole team.
Much love,

Joyce Fama
TJ's youngest sister
#46YMPH25 #PrayforTJ
We're also doing what we can to help Joyce get her wish for her brother, but nothing is definite at this point.
We all know what it's like to be a fan and be passionate about something. Let's pray for the Fama family in their time of need, and that TJ will one day ride again. We'll keep you posted on developments.