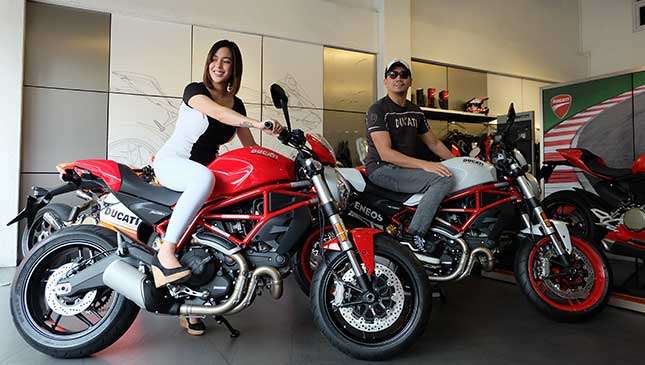 We have a question for the ladies in the house: Would you rather be a forever back rider of your husband or boyfriend, or do you want a life of adventure by learning to ride solo?
For singer-actress Karel Marquez, learning how to ride solo was an unforgettable experience that she never thought would happen in her lifetime.
Always supportive of her husband's motorcycle adventures, Karel suddenly found herself riding big bikes courtesy of the Ducati Riding Experience (DRE) held in Bangkok, Thailand, last May. "It was a scary, nerve-wracking experience. I couldn't believe I was able to do it," says the 30-year-old Karel. Starting from zero, Karel digested the step-by-step riding techniques with the newly-launched Ducati Monster 797+.
She is described by her husband, Sean Fariñas, as a person so gutsy she often doesn't stop to analyze a situation. "He knows I'm a thrill seeker," she added.
Her time in Bangkok was Karel's first time to mount a big bike, and it was only then that she realized the Monster has a 31.7in seat height. She struggled with the bike to the point of crying in self-pity. Standing at 5'2", Karel's shapely legs weren't long enough to touch the ground. Not only that, seeing that 803cc L-Twin engine cradled inside the solid trellis frame made her think that the Monster weighs more than a ton.
Yet, she never showed any signs of quitting. After a few more lecture sessions on how to properly balance the bike, Karel's fear subsided.
With the DRE instructor's professional guidance, she was able to proceed with the succeeding training modules with more confidence and ease. She instantly became friends with the Monster.
Having no idea before about how a manual gear shifter works, Karel later discovered that it's easy as ABC with the DRE. She had so much fun doing the throttle control and braking exercises, prompting her to smile from ear to ear.
While training her, the DRE instructors actually lost pounds chasing Karel as she maneuvered the Monster from one end to another of the improvised track, using only first and second gear. By this time, Karel was less nervous in executing the 'figure 8' and slalom exercises.
Since the start of their romance in 2012, Karel and Sean rode in tandem on many occasions. Too content with just riding with her husband, she never entertained thoughts of riding a bike by herself until the invitation for the DRE in Bangkok, Thailand, arrived at her doorstep.
The two-day DRE training changed Karel's impression about big bikes. Karel enjoyed the course so much she's now itching to have her own Ducati Café Racer, mesmerized by its retro styling.
Now that both of them can ride, Sean and Karel are planning to explore the European Alps on two wheels next year.
Ever since they met, Karel admitted that she's been very supportive of Sean's motorcycling. Every time Sean wants to ride with the Ducatistas, Karel would let him go—albeit with one condition: "'Wag lang siyang mambabae dahil susunugin ko bike n'ya!" Karel said in jest. She may be joking, but we wouldn't test the resolve of a woman as strong-willed as this.
Lady riders, do you agree?