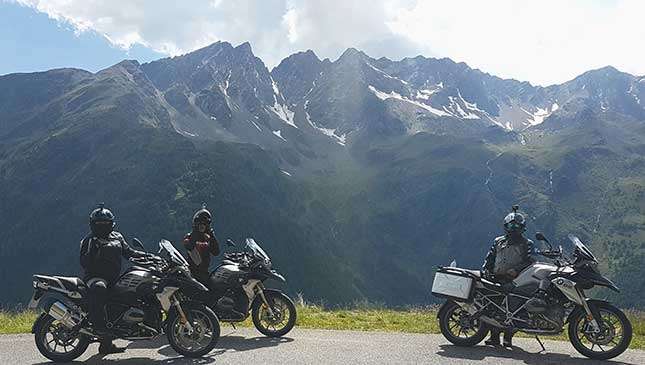 Spectacular sceneries, awesome motorbikes, interesting new friends, and decent pay. These are just some of the perks of being a motorcycle travel guide. Sadly, not here in the Philippines, but in Europe. Dubbed as the ultimate motorcycle paradise, moto tourism in Europe is now in full bloom.
Depending on which part of the region you're in, riders from different corners of the world converge here to experience cruising on the Alps, speeding on the Autobahn, or passing through century-old villages where medieval structures are very much preserved.
But great fun from this endeavor comes with big responsibility, especially when you're playing yaya to foreign nationalities who spend big bucks for their dream ride.
Continue reading below ↓
Recommended Videos
Martina Hemrich, a lady rider who hails from Germany, talked to Moto Sapiens about her life as a moto tourism guide during the BMW Motorrad Days Tour held last month. A communications professor, Hemrich also finds time to work as tour guide for TWT Moto during riding season.
"I don't get tired of passing the same road. I enjoy the tour because I like to be with people," said Martina while enjoying wine with the Pinoy riders who joined a six-day ride to the Alps bordering Germany, Austria, Italy and Switzerland. An initiative of BMW Motorrad Philippines, the tour's highlight was the BMW Motorrad Days event held at the Garmisch-Partenkirchen in Germany. The endless toast of wine was for the epic ride with zero accidents.
Martina said it is important that tour guides be properly trained to handle groups.
Not only in Germany but in many parts of Europe as well, BMW Motorrad has partnered with several tour guide operators. One of them is TWT Moto, a company that offers packages in many parts of the world such as South Africa, Asia, South America, and the US.
Prior to becoming a tour guide, Martina and her colleagues underwent training at the International Training Academy (ITA), which is part of the BMW Motorrad structure. Wannabe tour guides undergo at least eight days of off-road and on-road riding before they get an ITA certification. There are three levels of certification issued by the ITA: for tour guides, for off-road and on-road instructors, and for instructor trainors.
Since the tour packages have option for motorcycle rentals, the training also dealt with obtaining knowledge on BMW motorbikes and their technical features, particularly on the GPS equipment. "We are using GPS in following tracks or routes. So, tracks are prepared before the tour and we follow the tracks. We know the waypoints, where the next hotel is, where the next coffee stop is, so everything has been programmed before the next tour," she explained.
Tour guides are also taught technical matters like how to change tires and what to do in the event that the motorbike's tank is filled with diesel instead of petrol. Yes, sh** happens in bike tours, too.
Martina has worked as a tour guide for seven years now, and she has met riders of different nationalities. She speaks German, Spanish and fluent English.
Accidents are tour guides' worst nightmare. It is important that the motorcycles are well-maintained, and that the riders are properly briefed on the routes, especially in critical passages. Part of their training is proper application of first aid to accident victims.
Being a tour guide is a 24-hour job attending to the riders' needs, she said. They must also know how to deal with arrogant customers.
She admits that her work demands a lot of energy. Nonetheless, this is compensated by the fun and excitement of being with the company of riders from different nations, and getting to see the best sights in the world.
Unlike in the Philippines, being a tour guide in Europe doesn't need government permits or accreditation.
Do you want to try your luck as a moto tourism guide in Europe?