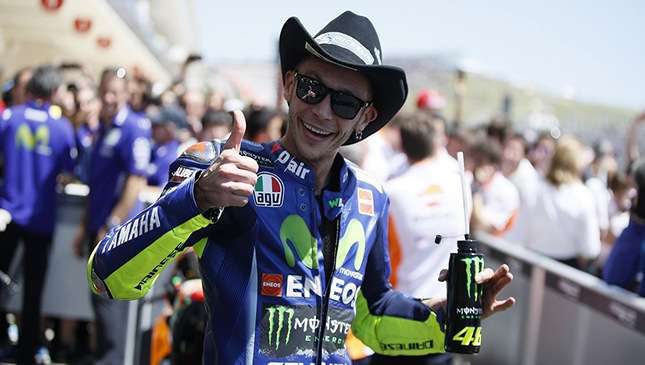 Considered the pinnacle of motorcycle racing, MotoGP has 18 grand prix races held in different countries every year. And for several years now, only one number and one color shade dominate the sea of fans who religiously watch the MotoGP. You will see the luminous yellow and the famous Number 46 in almost every bleacher of a race track.
ADVERTISEMENT - CONTINUE READING BELOW ↓
In case you're a noob in motorcycle racing, these two are identified with nine-time MotoGP champion Valentino Rossi. No one has replicated his success. Rossi's color and number are in every backpack, ballpen, mug and team flag.
On Facebook alone, Rossi's fan page is liked by 13 million netizens. This is bigger than the combined number of followers of Vale's main rivals--Honda's Marc Marquez and Ducati's Jorge Lorenzo with 3.9 million and 4.3 million, respectively.
Missing just a few points, Rossi falls short of being the sexiest and most handsome rider on the grid. Yet his fanbase is so solid, thus triggering fears that it might transform into a cult in the future.
So besides his winning streaks, what can be the other reasons this most senior rider (38 years old) in MotoGP remains the most loved by motorcycle racing fans from almost all corners the world? Stop scratching your head and just read on.
ADVERTISEMENT - CONTINUE READING BELOW ↓
Recommended Videos
1) The big hair. With his curly, frizzy hair, Rossi can easily be spotted a mile away without his helmet. Combined with his tall and slim physique, he resembles the silhouette of a match stick from a distance. But fans love his hairstyle. Many presume his big hair protects his head from a motorbike crash's impact.
2) High-pitch voice. Listening to his voice alone makes it easy to distinguish Vale from the other MotoGP riders. His high-pitch voice can be likened to that of a small kid talking, as if he never reached puberty. Same goes with his contagious laughter during post-race media conferences.
3) Staccato English. Who'll mind if Vale speaks broken English? If he happens to be a Filipino, his grammar would force his racing career to nosedive. But those coming from the VR46 camp think of Vale's talking style as part of the so-called 'Italian flair.' And if the Japanese engineers of the Team Movistar Yamaha understand him clearly, there's nothing wrong with it.
ADVERTISEMENT - CONTINUE READING BELOW ↓
4) Helmet graphics. Do you recognize the lively, colorful characters on Vale's motorcycle helmets? A curious-looking turtle, a big-eyed fish, a sleepy bulldog. A favorite of many was that of a shocked face of Vale placed on top of his helmet. It looks crazy but very much adorable.
5) Glow in the dark. Vale loves to use fluorescent yellow on his racing leathers, motorbike and helmet. His reason? Toddlers love looking at this shade. Because of Rossi's success on racing that brought Yamaha to greater heights, the Japanese brand even carried the color for its latest motorcycle products, particularly the hot-selling MT/FZ series.
6) Pre-race rituals. This includes squatting to reach his knees beside his YZR-M1 bike to stretch his racing leathers, and picking wedgies from his behind while exiting the pit lane before the start of every race. These practices are either for sheer luck or just become habitual, and Rossi never fails to do these even in front of a camera.
ADVERTISEMENT - CONTINUE READING BELOW ↓
7) Cheerful disposition. Win or lose, Vale often leaves the race tracks in a jolly mood. Unlike other riders who kick trash cans after crashing their bikes, Vale is in good spirits, ready to crack jokes whatever the outcome of his race. During media interviews, he would always emphasize that "racing is about having fun."
8) Track side antics. Remember the rooster mascot that suddenly appeared on the track to give Vale a big hug after emerging victorious? How about the traffic policemen who arrested him for overspeeding in one of the races? Having a penchant for entertainment, this dude definitely has another career to look forward to when his motorcycle racing ends.
9) Heart for the youth. Vale and his father, Graziano Rossi, have put up a modest motorcycle racing training facility in their hometown of Tavullia in Italy. His exclusive clients are wanna-be racers from the young generation. Just like himself, Rossi wants them to embrace motorcycle racing at an early age.
ADVERTISEMENT - CONTINUE READING BELOW ↓
10) Solid sportsmanship. No one will forget the intense Rossi-Marquez rivalry during the 2016 season that was triggered by track skirmishes and race penalties. Such bickerings have no space for Rossi. During a joint testing session before the 2017 MotoGP, Vale approached the Spanish rider and shook his hands, ready to let bygones be bygones.
With these, and the fact that Rossi is currently leading the riders' championship points on the first three races of 2017 season, are you now ready to join the VR46 bandwagon?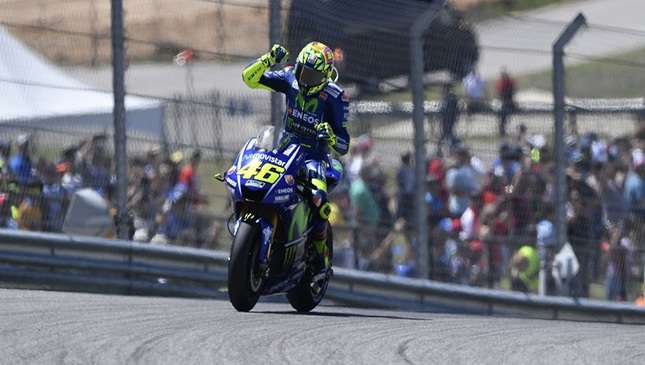 ADVERTISEMENT - CONTINUE READING BELOW ↓