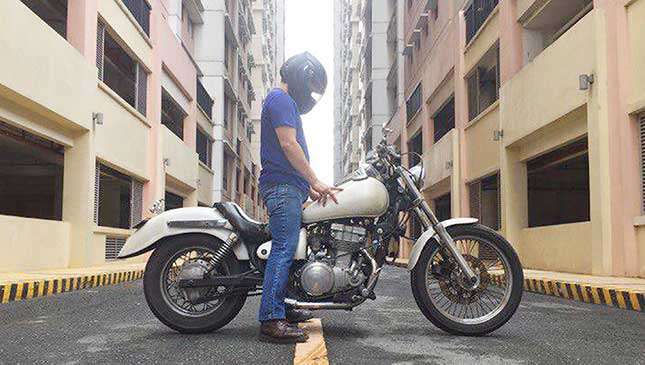 It all started rather innocently. I saw a Kawasaki Vulcan 500 one ordinary day in the summer of 2005. She was standing rather forlornly on a side street near Cubao, Quezon City. I was definitely not on the lookout, and I think neither was she. I guess it was just plain serendipity that led us to one another.
The Vulcan looked like she had been ridden one too many times, and was already on the verge of falling apart. But there was something mysterious about this low rider that made me want to stare at her longer.
Continue reading below ↓
Recommended Videos
One thing's for sure, despite the obvious neglect, she still had her looks. And those curves, man. It's like she was a '50s pin-up come to life.
It took me months before I mustered enough courage to approach her. She was even more beautiful at close quarters. I learned that this stallion came to the country in 1996, as a motorcycle escort for the 8th APEC Leaders' Meeting. Only after a few years following her service during then President Fidel V. Ramos' administration, this Kawasaki cruiser bike was sold off at an auction.
After that it figured in a major accident that got her sidelined. And that was how I discovered her. I asked about her availability, but the seller thought I was not a serious buyer. Indeed, who would want to own what some might deem a heap of junk?
But I was already hooked. The more the seller resisted, the more I wanted to have her. I had to eventually part with half of my life savings before the Vulcan 500 finally became mine.
The first few months we had together were pocket-draining for me. There was considerable repair work done on the four-stroke, parallel twin, 498cc powerplant before I finally heard her purr. No, it was far from the sound made by an angel. With a beaten, stock exhaust system, it was rather guttural, more akin to the noises made by Linda Blair's character in The Exorcist.
It would've scared most, but I was convinced it was just her waking up from a coma. Still broke, the only makeover I did for her was changing her rusty handlebars with a new one, plus a cheap but good-looking mud guard.
With a bit of TLC, Pearl—the name I christened my Kawasaki Vulcan because of her metallic off-white skin—started to sound like a lady with polished manners. By now, she rode just like I imagined—smooth and easy.
I was the envy of many. Everywhere we went people would stop and stare, looking at me in particular like I'm the luckiest guy in the world. Pearl and I had many adventures. She loved the open road as much as I did. When we're in the mood for speed, I would squeeze the throttle and feel the 50 galloping horses from her powerplant.
Together, we enjoyed beautiful sunsets in Zambales, got drunk numerous times in Tagaytay, ripped through the beaches of Batangas, and visited historic spots in Laguna and Quezon.
But the honeymoon would prove short-lived. None too soon, Pearl started to show a bit of attitude. Among other things, I would always have a hard time whenever the weather was cold and wet. Worse, she would often tire easily. There was even a time when she actually bogged down in the middle of a long drive.
A visit to a mechanic confirmed my thoughts: Pearl, at that point, was just too old to withstand all the things I wanted to do with her. The doctor advised a major overhaul for Pearl, one that would cost me a lot.
The news came at the wrong time. I was practically destitute. With no options left, I let Pearl rest for a while in the garage.
The days turned into weeks, weeks into months, and months into years. Soon, I practically forgot about Pearl, caught up with the trivialities of family life.
Once in a while, though, when the weather is good, I still bring Pearl out. Nothing wild, really, just a quick one around the neighborhood for us to see the sun.
After all that has been said and done, and despite her situation, Pearl still tries her best to please me. I know she still longs for the open road but I dare not risk her health.
The thing is, Pearl shouldn't be half the woman she is. She could do more but she needs help, something I can't give her at this point. All I can do is stare at the costly spare parts flashing at me on the internet.
You know the song that goes, "Baby sometimes love just ain't enough?" Well, that's our song.
Should I just let her go? My brain says yes but my heart says no. It breaks me really, but I just know, one of these days I simply must decide for her sake and mine.