How long does it take for a motorist to pay the toll fare?
Based on our observation, it takes at least 15sec to complete the payment process, from the time the driver of a four-wheeled vehicle stops alongside the tollbooth. For motorcyclists, especially big bikers, it could take twice or thrice as long.
Why is this so? There are many factors. The rider must make sure his motorcycle is properly balanced before he can let go of the handlebars to pull out the toll card from his pocket—which poses another challenge, because he'll likely struggle to find the tiny slider on the pocket's zipper. Some riders also struggle to pull out money and the toll card while wearing thick gloves, so they have to remove their gloves first. There are riders, too, who have to put the kickstand down for the motorbike to remain still and stable as they go about the transaction.
These are just some of the causes of delay and congestion at toll plazas. To ease the traffic flow, Metro Pacific Tollways Corporation (MPTC), which currently operates the North Luzon Expressway, the Subic-Clark-Tarlac Expressway (SCTEX), and the Manila-Cavite Expressway (CAVITEX), is reaching out to biker communities to encourage their use of its electronic toll-collection system.
Continue reading below ↓
Recommended Videos
Here are 10 advantages to using RFID tags on tollways:
1) No need to pay in cash.
It's hard to count coins and bills when you're wearing gloves—they can easily be blown away by the wind or slip in between your fingers and onto the ground. If this were to happen, would you dismount from the bike to get your P5 coin or P20 bill back? Avoid the hassle and let the electronic tag handle the transaction instead.
2) Your wallet stays in your pocket.
This follows from the preceding point. If you don't have to pay in cash, you eliminate the tedious task of retrieving your wallet and securing it again afterwards. We've seen riders dropping wallets along the highway for this reason.
3) The kickstand remains folded up.
There's no need to make a full stop anymore as you pass through the tollbooth. When you hear the beeping sound signaling a successful transaction and the barrier goes up, you can go on your way.
4) No more odd-looking RFID tags.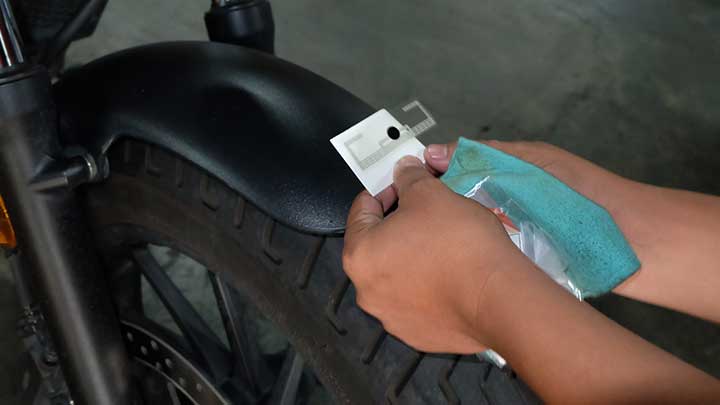 Some motorists are still not sold on the idea of using RFID, thinking the system still requires the old wallet-sized tags that were once attached to cars' windshields or motorcycles' windscreens. The system has since leveled up, now employing small, transparent RFID stickers (about the size of an adhesive bandage strip) that are hardly noticeable when attached to a vehicle's windshield or headlamp. They can be installed in less than five minutes.
6) Loading stations are almost everywhere.
You don't have to go to the tollway operator's offices to load up your RFID account; this may be done at select convenience stores, kiosks inside tollways, or through online banking.
7) RFID tags also work in other tollway systems.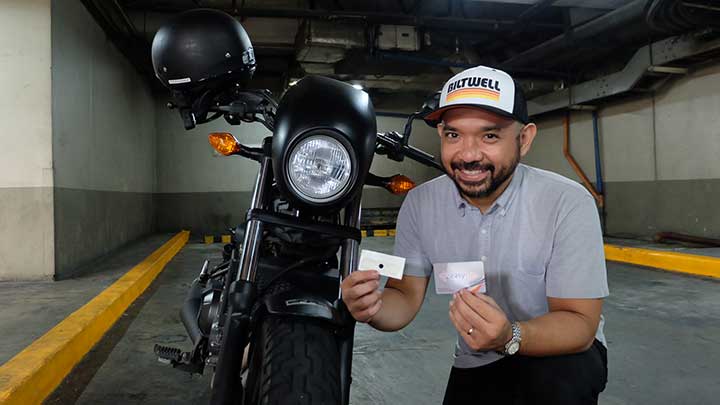 MPTC's Easytrip RFID system covers MPTC-operated tollways. We were told that plans are underway to expand its coverage to non-MPTC tollways. Watch this space for that.
8) The door-to-door approach now applies.
In a bid to improve traffic flow along the three expressways, the MPTC is stepping up its awareness campaign about the advantages of using e-tags by making rounds with private companies, government agencies, and even media institutions. They bring with them not only the Easytrip tags for distribution, but also leaflets and info kits that cite the safety benefits and convenience of this electronic wonder. Among their present targets is the big- bike community.
9) No more waiting for non-RFID users.
We usually see big groups of riders regrouping at the exit of toll plazas. Instead of moving in just one group, RFID users had to pull over at the service road to wait—come rain or shine
—for their companions who pay cash at the toll booth. Isn't that unfair?
10) E-tags will make riders behave.
Not so long ago, we heard of tollways authorities complaining not only of motorcyclists but also car drivers flirting with pretty booth tellers, pushing their luck and even asking for cell phone numbers. This kind of stunt will never work at the MPTC facilities. Female tellers are under strict instructions to not entertain such moves because they will only contribute to traffic congestion in the toll plazas.
Riders, get rid of that 'Jurassic' thinking and start appreciating modern technology such as the RFID tag so we can all move forward...without traffic!