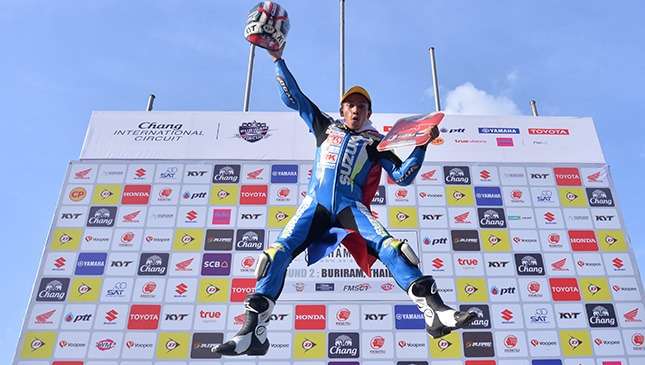 When it rains, it pours.
Team Suzuki Pilipinas once again proved its superiority over its Asian counterparts when its rider bagged the first place of Race 1 of the 2017 Suzuki Asian Challenge (SAC) Round 2, held at the Chang International Circuit at Buriram, Thailand, last Sunday.
Fresh from their first historic back-to-back victory during the SAC Round 1 held in Malaysia last April 2, Pinoy rider April King Mascardo showed the 15 other Asian riders who's the real 'King of the Circuit' after he won the top spot on Race 1.
During the qualifying session, Mascardo started fifth from the grid. On race day, Mascardo never blinked and powered his way to first place amid intense wheel-to-wheel racing with 15 other competitors. This gave Team Suzuki Pilipinas its third top finish for the 2017 Season.
On Race 2, Mascardo placed fifth and earned an additional 11 points. Mascardo's run was so impressive that he outraced Thai rider Patis Chooprathet on Race 1 and 2. Chooprathet is a crowd favorite who placed second overall during the SAC 2015 Season. The Thai rider placed fifth and sixth on Race 1 and 2, respectively.
Mascardo is now leading in the overall rider's championship standings with 68 points. He is followed by Indonesian rider Nur Alfath Sam Ahmad with 58, and Japanese rider Tetsuya Fujita with 57.
On the other hand, Cebuano rider Mario Borbon Jr. earned five and four points for Race 1 and 2, respectively. The third rider for Suzuki Team Pilipinas, Eane Jane Sobretodo, salvaged seven points for Race 1. Sobretodo failed to finish Race 2 when he crashed on Lap 4 after being hit by another rider.
Misfortunes did not end there. Due to the intense battle for the number one position, one rider fell on the last lap that affected the pace of six other riders who were trailing him closely. Among them were Borbon and Mascardo. Despite the incident, Mascardo took the fifth place earning him 11 points, while Borbon settled for 12th.
Borbon is now 7th in the riders' overall championship with 42 points, while Sobretodo is at 11th place.
Sixteen riders from nine countries—Indonesia, Philippines, Thailand, Malaysia, Australia, Sri Lanka, Nepal, India and Japan—are vying for top honors at the SAC, considered a stepping stone to the prestigious MotoGP racing. All competing riders are mounted on equally-prepared Suzuki GSX-R150 race bikes.
Round 3 of the SAC is slated on June 2 to 4 at the Suzuka International Circuit in Japan.
Congratulations, Team Suzuki Pilipinas!