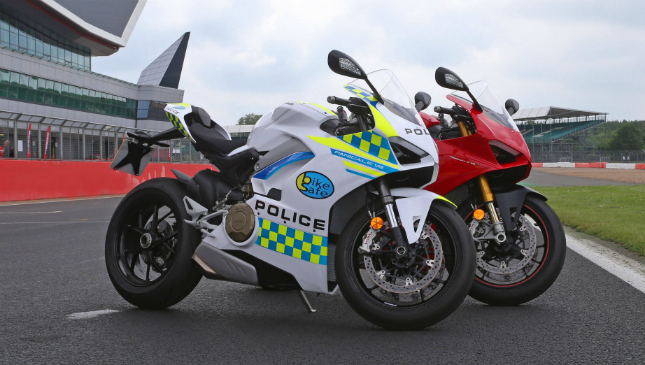 Earlier this week we showed you—nay, warned you—that the police now have a Nissan GT-R. The police in Japan, admittedly, but it's a car so outrageously fast, it could quite easily reach miscreants on other continents before they'd had the chance to get away.
Well, the British police now have their hands on something even quicker. It's a two-wheeled car named Ducati Panigale V4, and it sees Japan's GT-R and laughs. Its 211hp has a mere 198kg to carry (pre-policeperson, presumably), giving it a power-to-weight ratio beyond a Koenigsegg's, resulting in a top speed north of 306kph. On something you can quite easily fall off, remember.
ADVERTISEMENT - CONTINUE READING BELOW ↓
The chance of evading it is nil, then, but luckily for the criminals, this isn't a crime-fighting bike. It's been lent by Ducati to an organization called BikeSafe, whose aim is "that riding should be fun, and by improving skills, knowledge and hazard awareness it will hopefully make riding safer and more enjoyable."
BikeSafe's police Panigale works more as a publicity thing, it seems, and they've taken it along to a trackday at Silverstone to really prove their "riding should be fun" mantra. That's our kind of policing.
NOTE: This article first appeared on TopGear.com. Minor edits have been made.
ADVERTISEMENT - CONTINUE READING BELOW ↓
Recommended Videos