The unveiling of the Pan American adventure tourer and the Bronx streetfighter by Harley-Davidson late last year took many by surprise. With these two new offerings expected to roll out from the production line anytime this year, the Milwaukee-based motorcycle manufacturer seems to be in a hurry to come up with new creations as it tries to diversify from its traditional cruiser-heavy lineup. 
This has been proven true after the international motorcycle media stumbled upon reported investor patents showing off what appears to be a flat tracker (above photo) and a cafe racer (below), both likely to be equipped with the new DOHC Revolutionary Max engine.
Now liquid-cooled, this modern 60-degree V-twin engine design is the high point of the Pan American and the Bronx, with the former having the 1,250cc version and the latter featuring the smaller 975cc mill.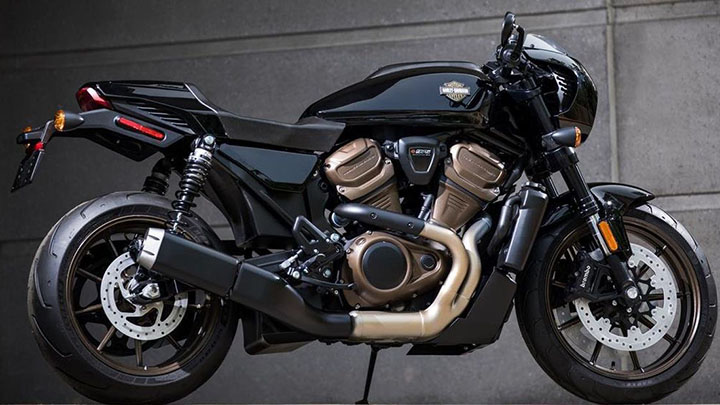 Continue reading below ↓
Recommended Videos
Under the company's campaign strategy of 'More Roads to Harley-Davidson' launched in the middle of 2018, the iconic American brand is eyeing two adventure models, five custom bikes, and five streetfighters all armed with the DOHC Revolutionary Max power plant. What about a cruiser bike? That's for Harley-Davidson to answer. In the meantime, HD has applied for design patents for the flat tracker and cafe racer models to the European Union Intellectual Property Office (EUIPO).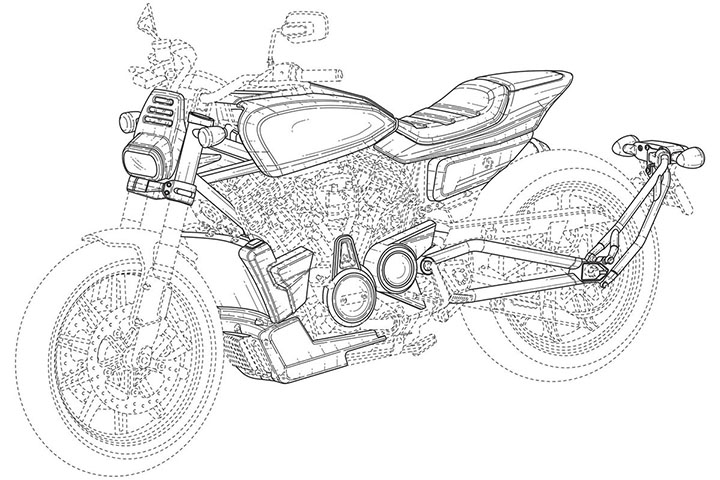 Based on the patent drawings, the flat tracker borrows design cues from the Harley-Davidson XG750R, a purebred racing machine that drew inspiration from the Street 750. The similarity between the upcoming flat tracker and the XG750R becomes more evident when you see the twin exhaust pipe mounted on the right side.
On the topic of platform sharing, the sketch for the cafe racer apparently shows that it shares the same chassis, front suspension, and brakes as the Bronx and the flat tracker.
The upcoming cafe racer still sports the old-school twin shock absorber layout, though.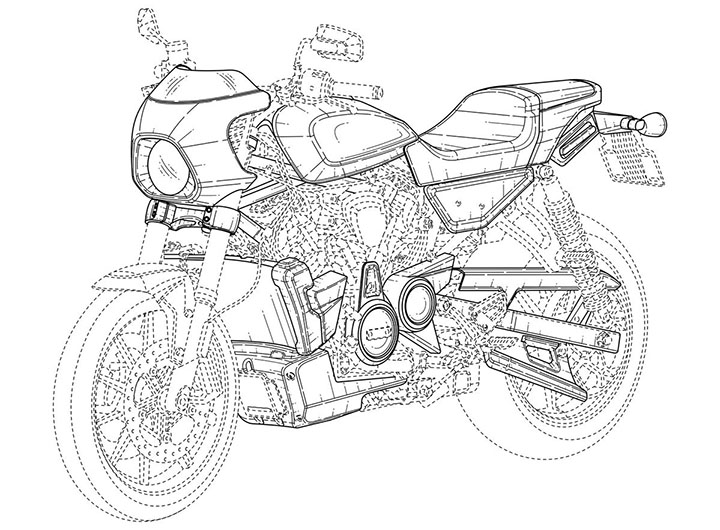 The cafe racer also has a front cowl that partly provides a shroud for the round-shaped, retro-style headlight. Some speculate that the cafe racer will be offered not only with a 975cc mill, but also a more powerful 1,250cc engine as well.
These upcoming products indicate that Harley-Davidson is targeting a broader range of riders, particularly the millennials and those from the post-baby boomer era. These are exciting times for the motorcycle industry, right?