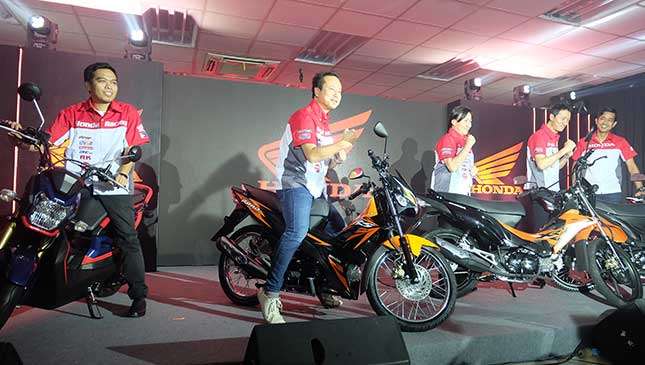 When it rains, it pours.
While braving torrential rains last Monday, Honda Philippines, Inc. (HPI) held a product launch at the Honda Safety Driving Center in Taguig City. At Honda's facility it also rained three new exciting models boasting performance and design that are specially tuned for Filipino riders.
Meet the all-new XRM 125 series, the RS 125 and the Zoomer X—models that seek to maintain Honda's lead in the underbone, sports and AT segment.
"These models are products of Honda's commitment to provide innovative products with unique Fiipino design. The XRM is the leading underbone motorcycle in this country. It was designed according to Filipino taste," says Daiki Mihara, HPI president.
Continue reading below ↓
Recommended Videos
Honda's frontliner for its latest small displacement models is the all-new XRM 125, a dual-sport bike which has been dominating its segment with over 1.2 million units sold in the past 15 years. Propelled by a 124.89cc, 4-stroke, air-cooled, overhead cam engine, the XRM 125 has an improved power delivery by as much as three percent, and it's also 6.7 % better in terms of fuel efficiency thanks to the advanced PGM-FI technology.
The new XRM 125 powerplant is also Euro 3-compliant, just in time for the September 27, 2017 deadline set by the government authorities for motorcycle companies to implement this particular emission level. No more smoke-belching carbureted units from this Japanese motorbike maker.
Embodying the dynamic Honda CRF Rally 250 design, the new XRM 125 is wrapped with exciting graphics to enhance its on- and off-road characteristics.
The new XRM 125 comes in three variants: The Motard priced at P71,900, the Dual Sport at P66,500, and the Dual Sport Extreme at P69,900.
Next to take the center stage is the new Honda Zoomer X that seeks to maintain its lead in the AT (automatic transmission) segment. Known for its ease of customization, the radically designed Zoomer X has plenty of out-of-the-box features that magnetize riders. "You can express your unlimited creativity," explains Jayson Elises, group head of the HPI product planning section.
The octagon headlight, fully-digital meter panel, inverted front fork (usually reserved for premium bikes), and unique seat compartment that opens from the sides are distinctively Zoomer X. Adding pogi points to the new model are the sexy, vibrant color combinations—like Axis Gray Metallic and Heaven Blue Metallic—that shower the rider with a youthful aura that's better than a Belo treatment.
The Zoomer X thrives not only in form but in substance as well. It is equipped with the modern Honda ISS technology (idling stop system) and the combi brake system (when pressed, the left brake lever distributes proportional braking force for front and rear tires to provide shortest stopping distance possible). Power comes from the Honda Smart Technology engine that deliver high power and torque, but with less vibration and noise. Take this hip bike home for P93,900.
Delivering the killer blow is the new Honda RS 125, an affordable sports cub that's fun and enjoyable to ride on in city streets. This street fighter shares the powerful, Euro 3-compliant yet fuel-efficient engine of the XRM 125cc, with a claimed mileage of 61km/L.
In terms of styling, the new RS 125 possesses a refreshed body design and sharper lines inherited from the sporty RS 150. It has an improved instrumentation panel, an aggressive-looking body cover, a new muffler design, and a sporty fender.
Available in four seductive colors, this new sport underbone from Honda goes for P70,900.
'Typhoon Honda' does not stop here. There are more sizzling motorbikes to come in the near future, says Mihara with a wink.