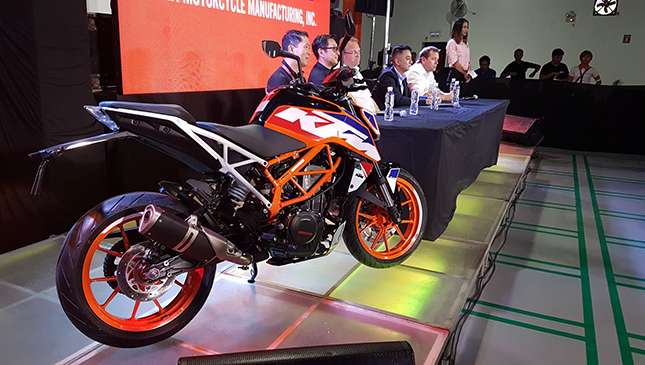 Fulfilling its promise of boosting the local economy and generating employment for more Filipinos, KTM Asia Motorcycle Manufacturing, Inc. (KAMMI) has officially opened its state-of-the-art manufacturing facility of the premium Austrian motorcycle brand at the Laguna Technopark in Sta. Rosa, Laguna, on June 6.
KAMMI is a joint venture between of the Ayala-owned Adventure Cycle Philippines, Inc. (AC Industrials) and KTM AG based in Austria. Being a subsidiary of the Ayala Group of Companies, KAMMI had no less than Fernando Zobel de Ayala to lead the opening ceremonies along with other officials of KTM AG.
ADVERTISEMENT - CONTINUE READING BELOW ↓
Now in full operation, the KTM plant in Laguna now assembles four KTM motorcycles, the Duke 200, the Duke 390, the RC 200 and the RC 390. KAMMI started assembling DUKE 200s and RC 200s in January this year.
According to Arthur Tan, chief executive officer of AC Industrials, the high-tech KTM plant in Laguna will have an initial production of around 6,000 units annually. However, KAMMI is targeting a yearly production output of 10,000 units since it is eyeing to export a big bulk of its products to China aside from satisfying the demand of the Philippine market.
"We are further expanding our capabilities as part of our thrust of fostering synergies with Ayala companies," Tan disclosed. "Combining the competencies of our manufacturing and distribution arms allows us to scale our presence in this space, taking advantage of evolving movements in technology, automation, and industrial technology."
Other VIPs who graced the affair were Senator JV Ejercito, who is also a proud KTM motorcycle owner; KTM vice president for Asia Pacific, Africa and Middle East Peter Perberschlager; KTM-APAME vice president for quality management Erwin Sellmaier; Strategic alliances manager Harald Starzengruber; Peter Stuhlberger of Business Development Asia; and KTM Asia managing director Julian Legazpi.
ADVERTISEMENT - CONTINUE READING BELOW ↓
Recommended Videos
Meanwhile, KAMMI president and chief operating officer Dino Santos cited the benefits of the impact the plant's opening the Philippine economy. "This investment is part of our belief that manufacturing should be a key driver of our country's inclusive growth going forward," he explained. "It provides jobs, supply chain opportunities, and helps put the country in the map as a center for innovation and industrialization."
KAMMI is hoping to increase the dealership network of KTM bikes to 32 dealers this year with each of them capable of providing aftersales support service and ensuring availability of spare parts. Aside from KTM motorbikes, the Ayala Group of Companies is also the distributor of Volkswagen vehicles under the Automobile Central Enterprise (ACE).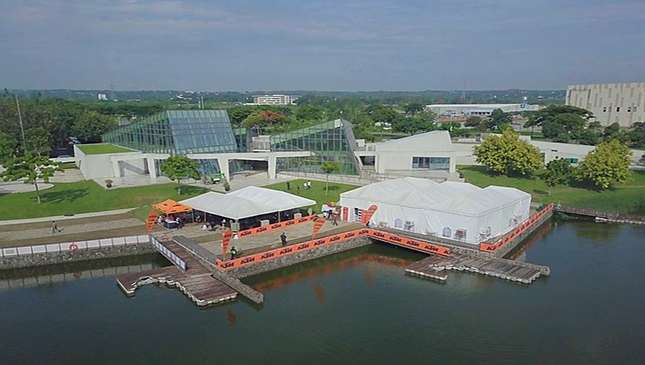 ADVERTISEMENT - CONTINUE READING BELOW ↓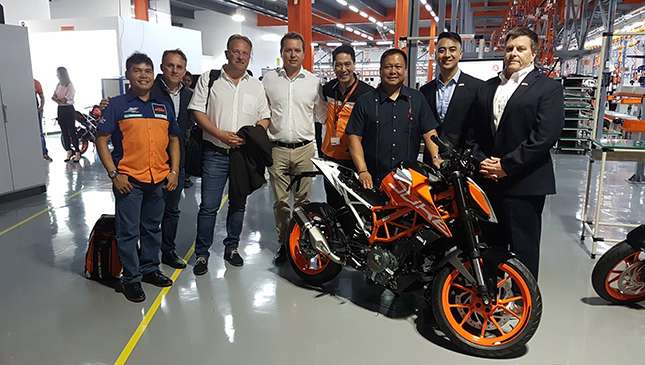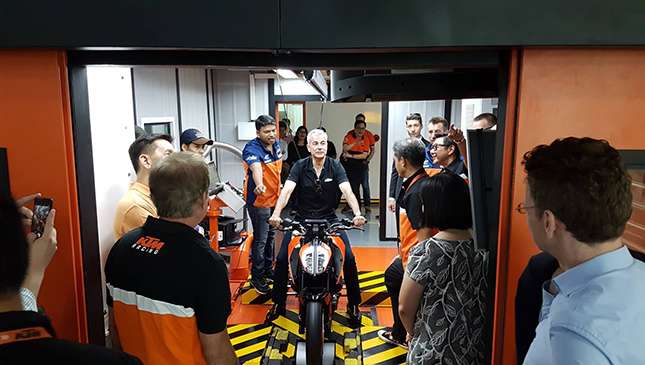 ADVERTISEMENT - CONTINUE READING BELOW ↓