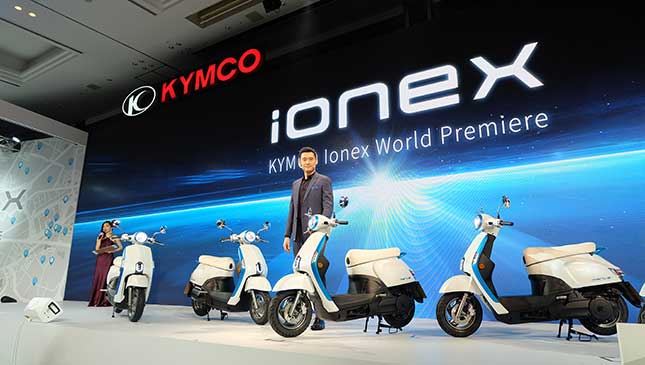 "It's time to go electric!"
Thus declared Allen Ko, chairman of Taiwanese motorcycle manufacturer KYMCO, during the world preview of the KYMCO Ionex electric scooter system at the Tokyo Marriott Hotel.
The Ionex Many EV took center stage at KYMCO's exhibit area at the 45th Tokyo Motorcycle Show, which opened last March 23, 2018.
ADVERTISEMENT - CONTINUE READING BELOW ↓
Marking a new era in electric vehicles, the Ionex system hopes to eliminate four pressing issues that have prevented the growth of electric scooters in the past.
These include:
1) Design trade-off of buying an EV
2) Short riding range
3) Absence of charging stations
4) Long charging times
KYMCO officials believe the Ionex is now the 'game changer' as it sets the pace for modern scooter technology and its modern support systems.
"We give you an object of desire. The KYMCO Ionex is head-turning cool," Ko said. One by one, the chairman laid out the strengths of the Taiwanese motorcycle brand's new product.
First, KYMCO showed the video presentation of the Ionex which was shot in Europe in order to highlight the Many EV's smart and classy European design. The slick video was made to debunk the perception that electric scooters are doomed to have crappy, dull styling—a perception that majority of them still endure.
ADVERTISEMENT - CONTINUE READING BELOW ↓
Recommended Videos
Second, it's equipped with a compact and lightweight Ionex battery that can easily be installed and removed from the scooter's flooring compartment. With the ingenious placement of the compact battery, the Many EV's center of gravity can now considered the lowest in its class. This allows effortless maneuvering and handling of the bike.
Third, recharging only takes a maximum of one hour. To put that into perspective, when KYMCO produced its first electric bike, charging lasted for six hours while the range was only 30kms. Aside from this, KYMCO has cleverly designed the Ionex's underseat compartment to accommodate three extra batteries. The batteries are also beautifully styled; they can be mistaken for a lunch box with a shapely handle. Now, the Ionex can run up to 200km on one full charge with the extra batteries.
Finally, charging stations will be everywhere. According to Ko, KYMCO has developed stand-alone charging stations that look like vendo machines, and these can be strategically positioned anywhere around the city—subways, parking lots, tourist spots, restaurants, etc. Open 24/7, these charging stations can accommodate dozens of batteries for simultaneous recharging.
ADVERTISEMENT - CONTINUE READING BELOW ↓
Ko said the unveiling of the new Ionex signals KYMCO's full-scale offensive in the electric vehicle category. The new Ionex units will be ready for mass production by middle of this year in Taiwan. In the next three years, Ko said KYMCO is set introduce at least 10 more Ionex scooter models. Their target is 500,000 units to be sold in 20 countries.
Wait, did you hear that? Did someone just whisper to Moto Sapiens that Ionex scooter variants will be on Philippine shores by next year?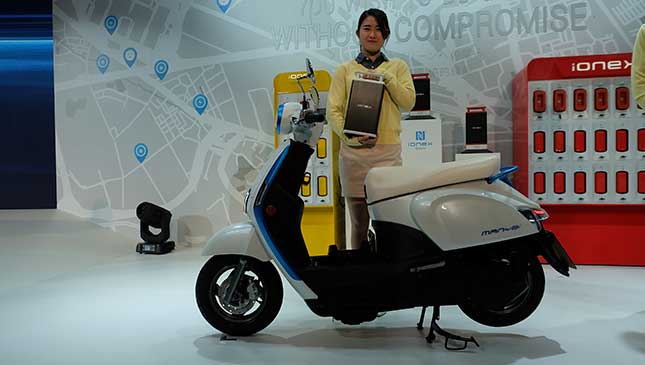 ADVERTISEMENT - CONTINUE READING BELOW ↓