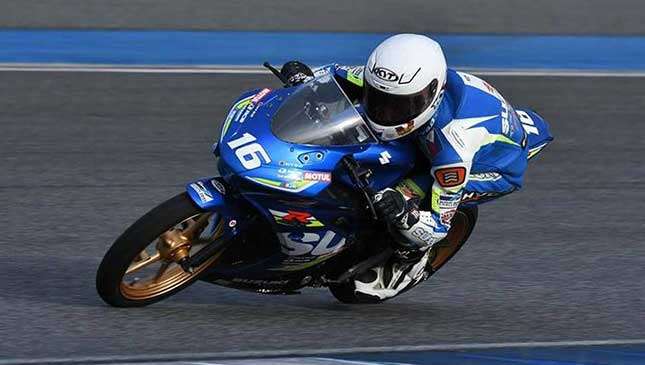 A young Pinoy rider once again made his countrymen proud after bagging second place overall in the presitigious 2017 Suzuki Asian Challenge of the Asian Road Racing Championship.
April King Mascardo, one of the three riders of Team Suzuki Pilipinas and who hails from Mindanao, sealed his second-place finish in overall championship standings after winning second in Race 1 of Round 6 held at the Chang International Circuit in Buriram, Thailand, over the weekend.
Mascardo, rider number 16, showed consistency when he battled wheel-to-wheel in almost all laps with the Asia's top guns who rode on equally prepared GSX-R150s—131kg race bikes powered by a 147cc, single-cylinder, DOHC, four-stroke engine.
In Race 1, Mascardo took the lead on the last lap but Thailand's Patis Chooprathet powered his way to first place at the final corner before taking the checkered flag.
Punchana Kulrojchalalai, another Thai rider, finished third on Race 1 but still was able to bring home the 2017 ARRC overall championship title after garnering a total of 180 points for the season. Punchana beat Mascardo by 41 points. Japan's Tetsuya Fujita placed third in overall standings with 136 total points. This race was Mascardo's fourth podium finish for the season.
On the other hand, Race 2 was capped with teammate Eane Jaye S. Sobretodo's personal strategy of slowing down the pace of the lead pack to enable Mascardo to gain speed and catch up with the race leaders. In putting the team above himself, Sobretodo knew Mascardo needed more points to make it to the top three overall. Mascardo and Sobretodo earned 13 and 9 points, respectively, in this race.
"I managed to delay the pack to enable my teammate (Mascardo) to catch up. I was happy that our teamwork kept us on the top," Sobretodo explained.
Sobretodo and Mario U. Borbon, the third member of Team Suzuki Pilipinas, had to settle for the eighth and ninth place in the overall championship standings. Sobretodo had two DNFs in Rounds 1 and 2.
Despite the intense fierce battle for podium finish among the competitors, no untoward incident happened.
"Team Suzuki Pilipinas' performance at the SAC 2017 season underscored the fact that the objectives of the race were achieved. Exposing and training these riders to be world-class champions is the main advocacy of the program. This 2nd overall win is the first for Team Suzuki Pilipinas and is another piece of history that the team is giving to the country," says Ms. Edelyn Yanilla, communications officer of Suzuki Philippines.
Meanwhile, Yukio Kagayama, general manager of the Suzuki Asian Challenge, cited the big improvement in the participants' riding skills.
Good job guys!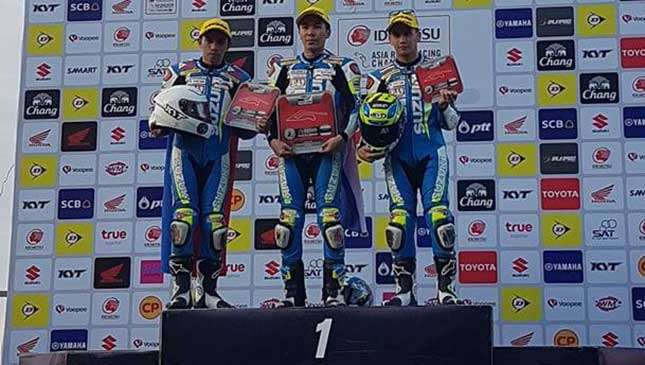 Recommended Videos