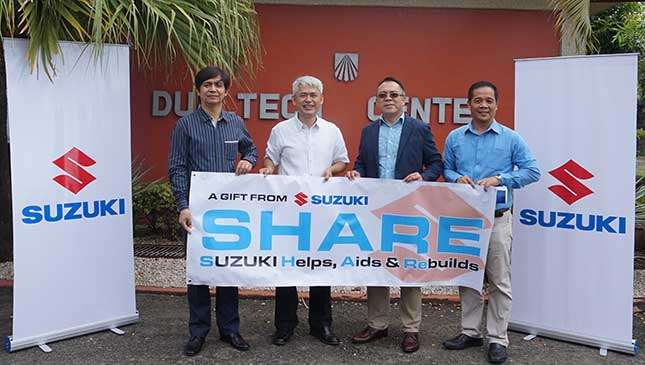 Nothing is more satisfying than witnessing homegrown talent not only contribute to the company's success, but also climb the corporate ladder through their own merits. With this in mind, Suzuki Philippines has poured its efforts and resources in the training of talented youths to become experts in technical skills. Suzuki is doing this in partnership with a reputable Germany-based technical training school.
In cooperation with the Dualtech Training Foundation, Inc., Suzuki Philippines spearheaded the establishment of the Dualtech Center which will serve as the training venue for deserving students under the Suzuki Helps, Aids and Rebuilds (SHARE) program. This program offers a 24-month, in-plant training course adopting a holistic development of students centered on technical skills, work attitude and discipline.
To ensure that the trainees' technical knowledge is properly tuned to their company's mission, and not end up as just another 'job mismatch,' Suzuki also opened the doors of its giant motorcycle manufacturing plant in Canlubang, Laguna, as the venue for the hands-on, vocational training.
The joint project between Suzuki and Dualtech started in 2012 when the former moved its motorbike manufacturing plant to Canlubang. This system combines practical training in companies and theoretical knowledge in the training center.
The DualTech Center is a private vocational school project that adopts the German Dual Training System. Thanks to this unique set-up, there's a good chance that trainees will land a full-time job at this reputable Japanese motorcycle company. Dualtech believes that skilled workers are the backbone of a country's industry and economy.
At present, Suzuki Philippines has absorbed around 150 in-plant trainees who were deployed in the different departments of the company. And roughly 10% of trainees are eventually hired as regular employees. According to Suzuki officials, some of the graduates are even working as supervisors now.
Adding to the conducive work environment is the new cafeteria where students can dine in comfortably, replacing the makeshift kubos where they used to eat.
A ceremonial turnover of donation was held during Dualtech Center's celebration of its 35th Founding Anniversary at the Partners' Recognition Day last October 26. Among those present during the occasion were Dualtech Center president Arnolfo Morfe and corporate secretary Marvin Adolfo, while Suzuki Foundation, Inc. was represented by president and concurrent Suzuki Philippines managing director Norminio Mojica and human resources department head Atty. Joselito Calivoso Jr.
"We are always and forever grateful for our partners, for without them Dualtech will not be where it is today. For the past 35 years, we have been striving and are continuously working hard to develop quality trained, skilled, productive, enlightened and morally upright persons who are potential leaders to fulfill the needs of industry and the community. Suzuki Philippines has been a great venue for our students to be trained and we are more than happy that some of our graduates are already part of the Suzuki Family," says Morfe.