When members of the motorcycle media got the invite for the farewell gathering for Hiroshi Suzuki, outgoing president of Suzuki Philippines, we all thought he would be the only VIP in the room on that occasion. But when Suzuki-san entered Borough Bonifacio Global City on April 24, he was accompanied by Akira Utsumi, his successor.
All smiles and wearing a neatly pressed khaki blazer, Utsumi, former president of Suzuki Taiwan (Tai Ling Motor Co. Ltd.), said he is suprised at how much the Philippine economy has progressed. "And I am impressed that Suzuki motorcycle is doing well, too," he added.
Utsumi will officially take over the reins of Suzuki Philippines (automotive, motorcycle, and marine divisions) on May 1, 2019. Meanwhile, Suzuki-san will return to the Japanese brand's head office on April 30 to wait for his next assignment.
Utsumi lauded Suzuki-san for establishing a harmonious relationship with the motorcycle media, which according to him is important when it comes to relaying the company's mission, products, and programs to the public. During the latter's six-year stint here in the country, the number of motorcycle shops carrying the Suzuki brand ballooned from 1,900 to 2,801. This figure represents Suzuki Philippines' '3S' shops, Moto Centers, Big Bike Centers, and multi-brand shops.
Continue reading below ↓
Recommended Videos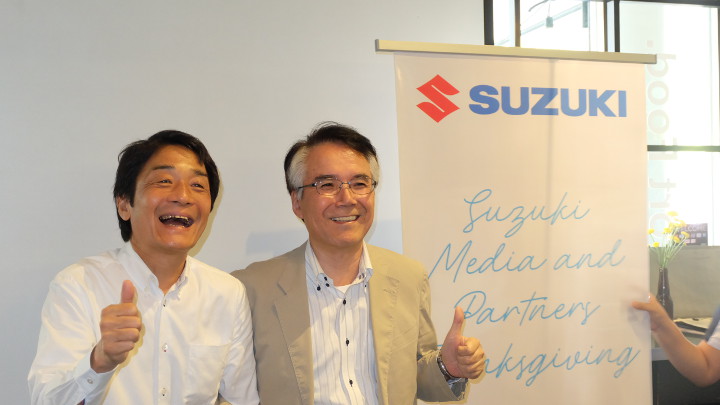 We were told that Suzuki-san is also well-loved by his employees. He is known as the 'dancing president,' always involving himself in entertainment programs during launch events and other official gatherings.
While Utsumi admits that he does not dance, he says he is willing to learn because he values human relationship. This isn't his first assignment in the Philippines—in the '80s, he was tasked to develop all the local Suzuki dealerships from Aparri to General Santos City. Knowing the 'terrain' of the local motorcycle industry certainly gives him the edge to take advantage of the momentum set by Suzuki-san and push the brand to greater heights.
By the way, company insiders said that when the incoming president first visited the Suzuki plant on Monday, the facility was rocked by a mild quake. Maybe it's one way of Mother Nature saying: 'Utsumi-san is in the building.'