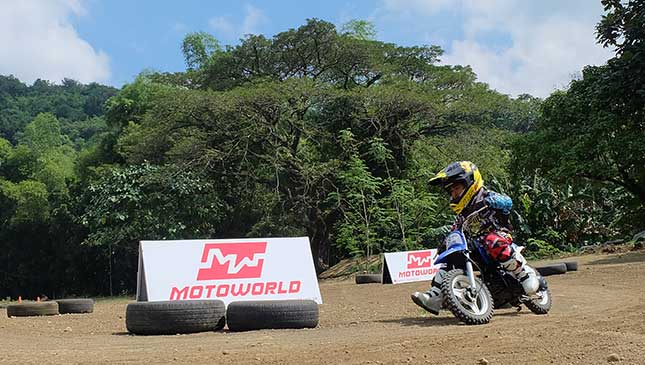 Do we foresee a comeback of motocross races in the near future?
At the contract signing of the KRB MX Speedway at Barangay Inarawan, Antipolo City, more private groups have shown their willingness to support the new training camp of motocross veteran Mel Aquino.
Big corporate names like Yamaha Philippines and MotoWorld Philippines joined forces to support the establishment of the new training grounds for wannabe off-roaders and motocross riders.
After successfully running the MX Messiah Fairgrounds at Tanay, Rizal, Aquino moved to his new home under a partnership agreement with Romy Bautista, owner of the vast property.
Continue reading below ↓
Recommended Videos
Bautista's property used to be the private training ground of his sons and friends who figured in serious motocross racing years ago. Armed only with shovels, Bautista's group called on the 'Beinte-beinte Riders' and carved the mountains to form jumps, tabletops and other obstacles for the motocross training of their group.
It can be recalled that motocross racing peaked during the '70s, and continued till the '90s before the underbone events became popular. "Now, we are opening this training camp to the public to see motocross grow again," said Bautista. The KRB grounds, Bautista added, will likewise be open to 4x4 vehicles and mountain bikes.
Other groups that provided support to the establishment of the facility were VS1 MotoTek, Artcom Advertising, YRS (under Yoyong Buncio), and MotoWorld—the latter is represented by Jeff Alvarez and will provide Metzeler off-road tires, LS2 helmets, and O'Neill riding gear.
Because of his dedication to promoting motocross and safe riding, MotoWorld made Aquino a brand ambassador of Metzeler, a German tire manufacturer.
Yamaha Philippines provided 125cc dirt bikes, formerly used as demo units in Mindanao, for the riding course offered in several levels: Learn to Ride, Basic Off-Roading, Flat Track, and Pro Riding. For kiddie riders, there are five Yamaha PW50 mini trail bikes available.
Aside from these, the KRB MX team will introduce a new training module—Wheelie 101—under the supervision of Caloy Gaston, a former member of the Philippine Wheelie Team.
The training fee for each module, which takes one whole day, is P5,000 inclusive of bike rental, use of riding gear, lunch meal, and certificate of participation.
Are you now itching to learn how to ride on dirt and mud?