Back in 2017 KTM was testing boundaries. Up until then, the Austrian brand was primarily known for single-cylinder and V-Twin street bikes and a formidable lineup of high-performing dirt bikes. It tried its hand at parallel twins, resulting in the KTM 790 Duke.
It's been five years since the debut of the "Scalpel," and unfortunately, that means we've seen KTM officially stop production of 790 Duke in 2021. The bike left its mark, though. Now, there's a newer, meaner successor in the KTM 890 Duke, aka the Super Scalpel. But to understand why the 790 Duke received plenty of praise during its four-year stint, I tested it for a few days.
Styling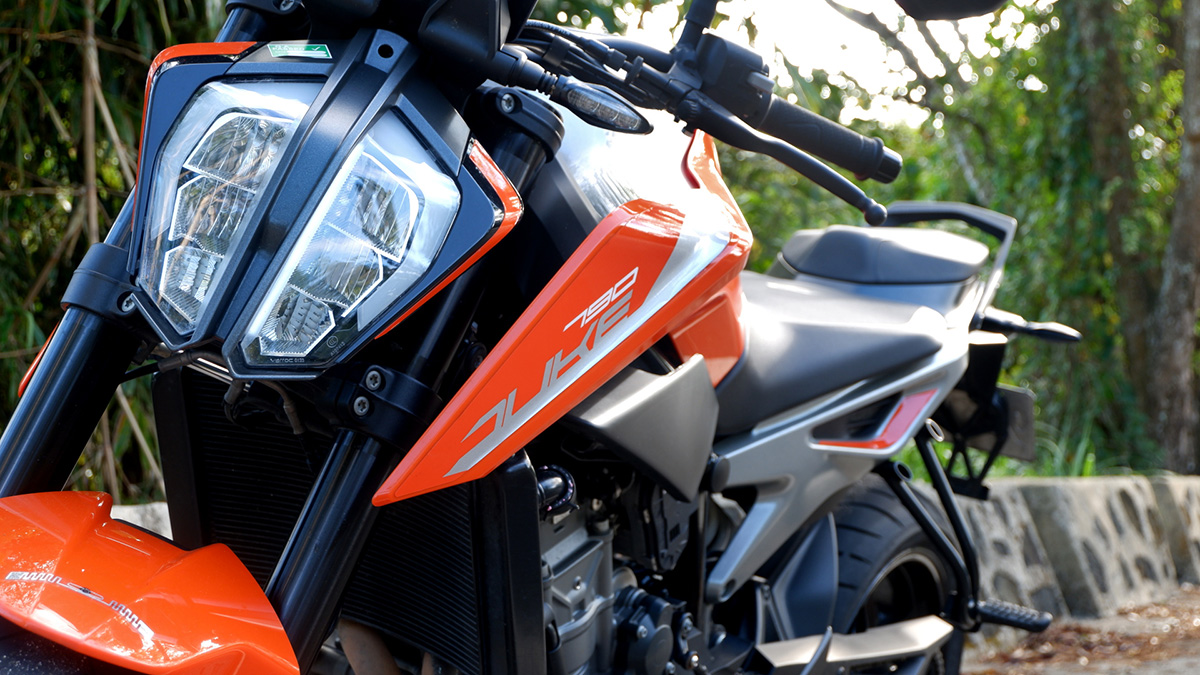 While the 790 Duke doesn't sport KTM's signature trellis frame, its mosaic of triangles fits right in with the brand's angular aesthetic. To speak more of angles, this bike doesn't appear to have bad ones. From the insect headlight to the sharkfin sweep of the seat, the bike is as menacing as it is interesting, and it's painfully obvious that every line on the bike was the conscious choice of a talented design team.
ADVERTISEMENT - CONTINUE READING BELOW ↓
Style-wise, my favorite part of the 790 is its upswept stainless steel pipe. It sits high up on the rear, creeping into dirt bike territory. Viewed from the side, it gives the Duke a unique flair while looking perfectly in place.
The saddle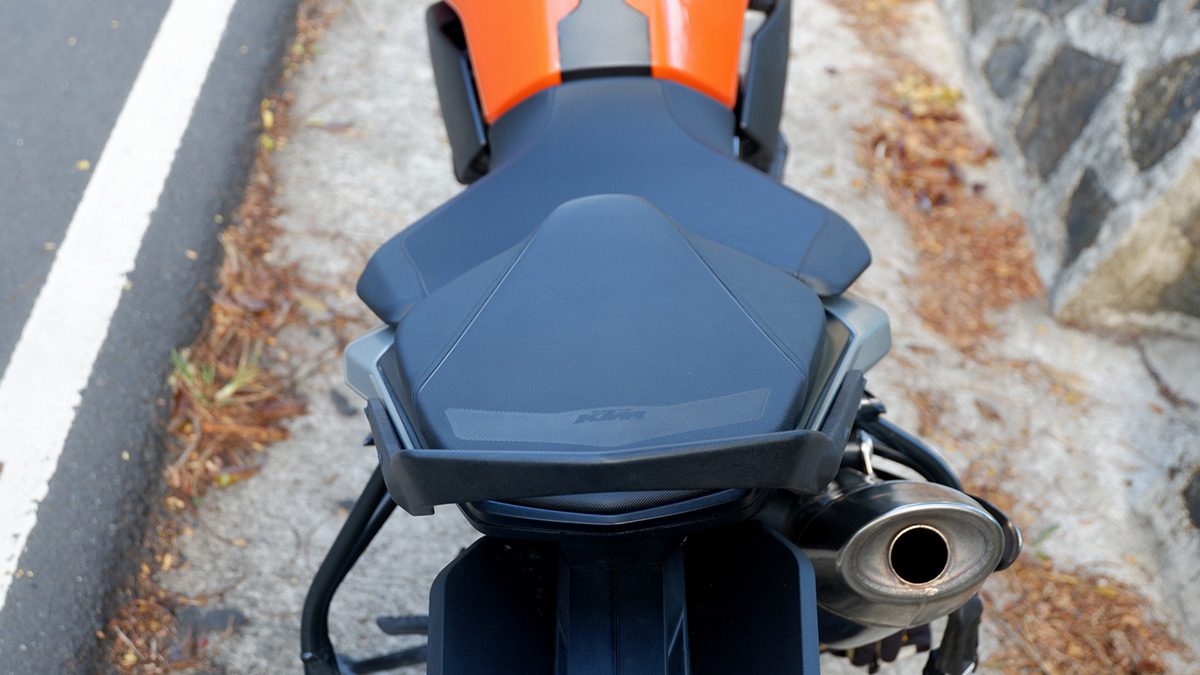 The 790 Duke is a textbook case of the sporty naked. It pushes your body to assume a slight forward lean to better handle the bike and brace yourself for its power. The cushion is thin, firm, and covered with rubber-like synthetic material for grip. Overall, it's a riding position that's great for quick rides and turning hot laps, but will be too uncomfortable for long tours.
As far as seat height goes, it's a tall 32.5 inches, but the 790's slim frame and seat shape (which narrows as it reaches the tank) makes riding and standing manageable. For context, I've ridden the 200 Duke before, and it was hard for me to point out any major difference between their dimensions.
ADVERTISEMENT - CONTINUE READING BELOW ↓
Recommended Videos
Good news for smaller riders (shorter than 5'5"): You can manage this bike even if you don't want to lower the suspension. The first and free option is to get used to holding yourself and the bike with only one foot on the ground. The second option is to upgrade to a lowered KTM PowerParts seat, which brings seat height down to 31.7 inches but adds an additional several grand to the bike's retail price.
Engine performance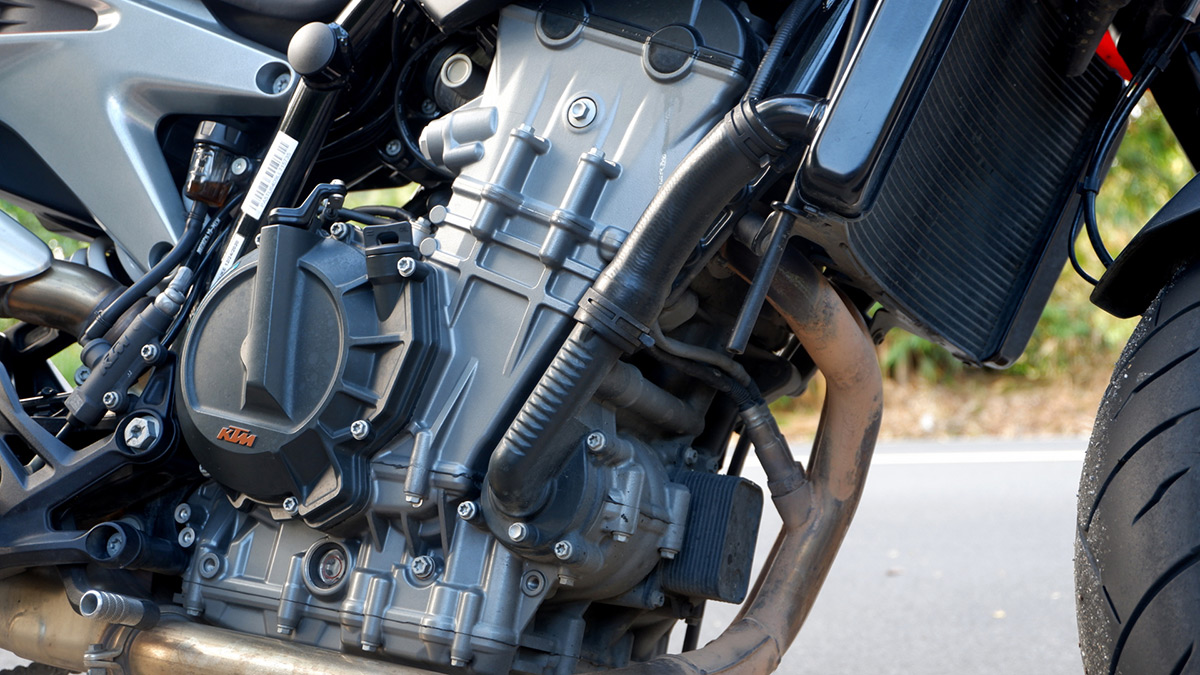 The 790 Duke boasts KTM's first parallel-twin engine, the LC8c. This 799cc liquid-cooled parallel-twin engine harnesses the best from single cylinders and parallel twins thanks to a wide powerband. It has plenty of low-end torque to slingshot you from zero to the moon, plus enough power to push that face-melting speed well past your comfort. With power and torque numbers peaking at 103hp and 87Nm, it inspires respect and excitement and is better suited in the hands of an intermediate or expert rider.
ADVERTISEMENT - CONTINUE READING BELOW ↓
If you've mostly ridden single cylinders, this Duke treats you to a new riding experience. The throttle response is as responsive as ever, but the power surge is something else. Counterintuitively, it feels snappy and smooth at the same time. And the vibrations you normally feel at higher revs? Gone. There's also something to be said about the bike's tone, coming from someone who doesn't really get loud bikes. The stock pipe fires off a colorful symphony of crackles, barks, and snarls that can't be mistaken for anything other than a big bike with a lot of bite.
Ride and handling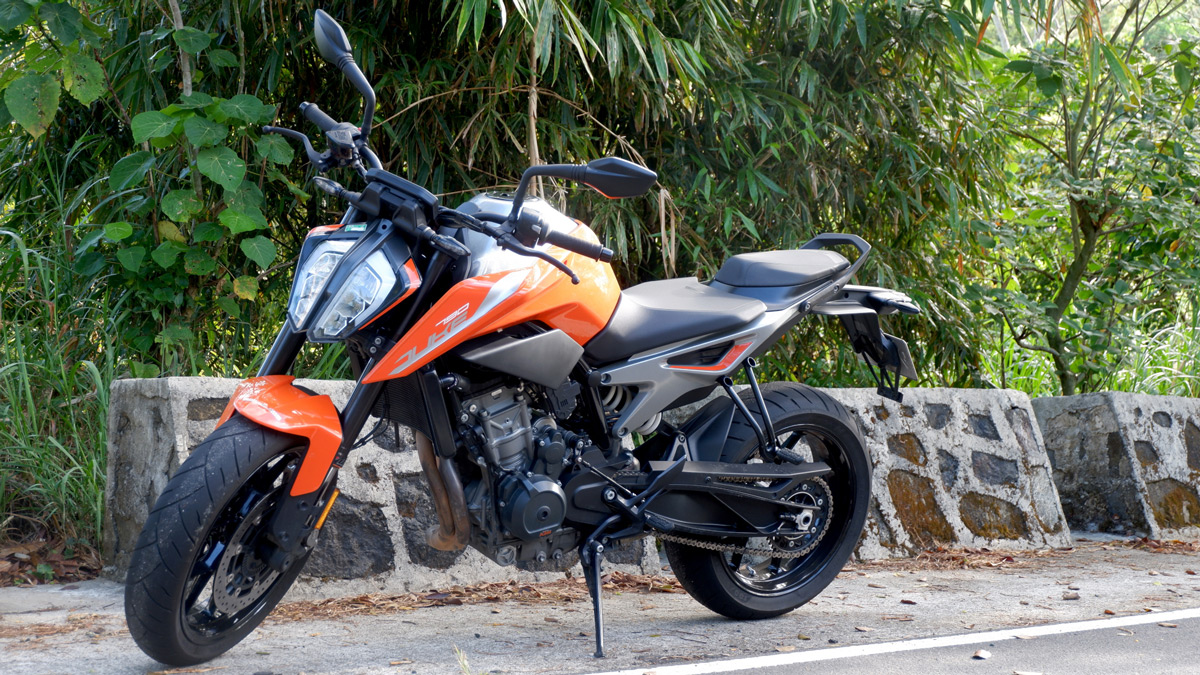 While it won't put out superbike numbers, the 790 Duke would make a great weekend track bike. Switching from 'Street' mode to 'Sport' hints at the engine's potential as a track-day star. Switch briefly into 'Track' mode and you'll understand why KTM calls this bike its Scalpel. On this mode, the bike is raw and most unforgiving, even for intermediate riders. But wielded by hands more skillful than mine, it will no doubt slice through a track with much speed and finesse.
You would think that a no-brainer option for the track would make a poor street bike. But the 790 Duke is pleasingly well-rounded. It's a hoot to ride on the highway, along twisting roads, and even through modestly moving traffic.
A big part of what makes this middleweight so enjoyable is that KTM generally excels at making beefy-looking bikes handle like they're smaller—muuch smaller. The 790 looks large, but at speed, it's as nimble as a 390 Duke (maybe even the 200). It feels well-balanced and has a low center of gravity that makes it easy to maneuver even if you're just parking it.
ADVERTISEMENT - CONTINUE READING BELOW ↓
The wide bars also give plenty of comfort and stability for the rider. Controls are easy to reach and switch for the most part. And the massive disc brakes and sport touring tires guarantee generous grip and drop-of-a-hat stopping power.
While the 790's sportiness brings out kid-like glee, it can also make riding less stellar in more demanding conditions, like rough roads and gridlocked traffic. Suspension is racing stiff and will jar you once the road switches from smooth tarmac to broken-up concrete. There's also no way to truly soften the suspension. Sure, the rear shock is preload-adjustable, and the 43mm upside-down forks have progressive springs. But those two limited adjustments combined mean that sharp hits and changes in the road are barely softened.
Once traffic slows down, you have to deal with the price of owning a bike with a big engine: massive heat. Bottlenecks can feel like moments for dry roasting the back of your legs. Thankfully, none of the heat coming off the Duke is fanned directly to the rider, and the discomfort disappears quickly once traffic gets going.
Extra features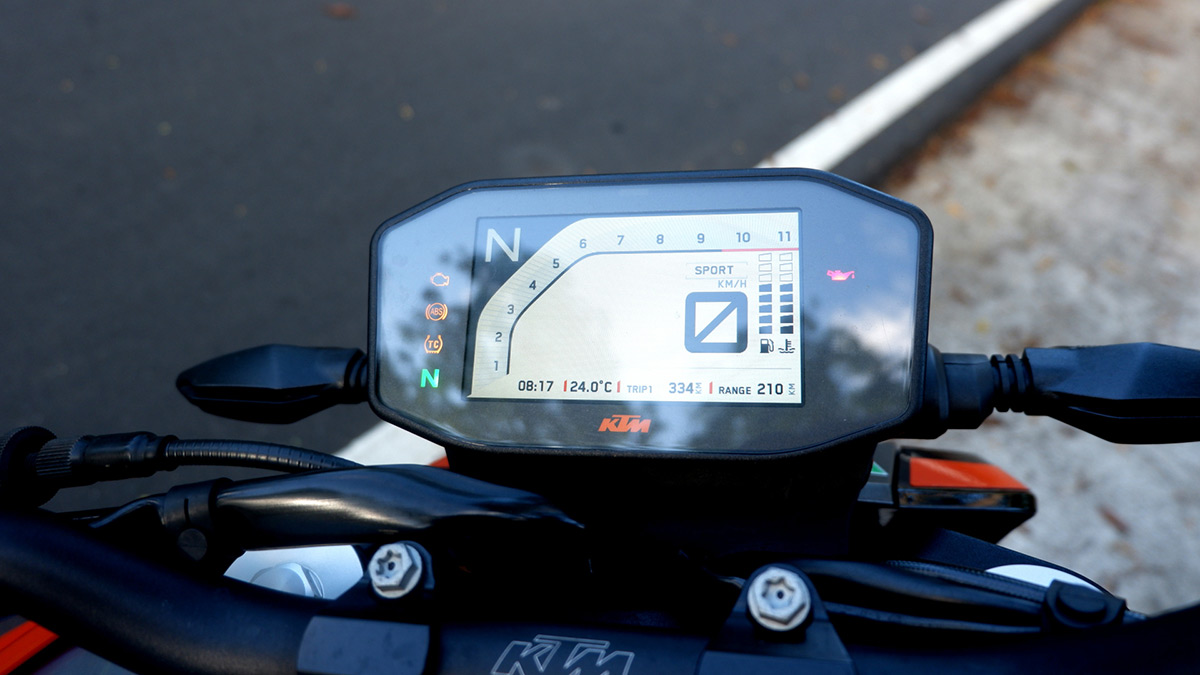 The 790 Duke is a tech-lover's bike. It has enough electronic customization to (not exaggerating) let you come up with at least 10 different bike handling combinations. Four pre-set riding modes (rain, street, sport, track) start you off. Then there's traction control, two-channel ABS, cornering ABS, and launch control (and so much more), all of which you can switch off or configure depending on how laidback or daring you feel.
There's also the quickshifter, an expressway and backroads riding treat for when you want to shift up or down without even letting off the throttle. And sometimes, the extra feature is minor but impactful. My favorite small thing about this bike is the availability of the quick selector buttons. Located on the left-hand controls, you can set them to switch between riding modes or toggle ABS and traction control on and off.
Verdict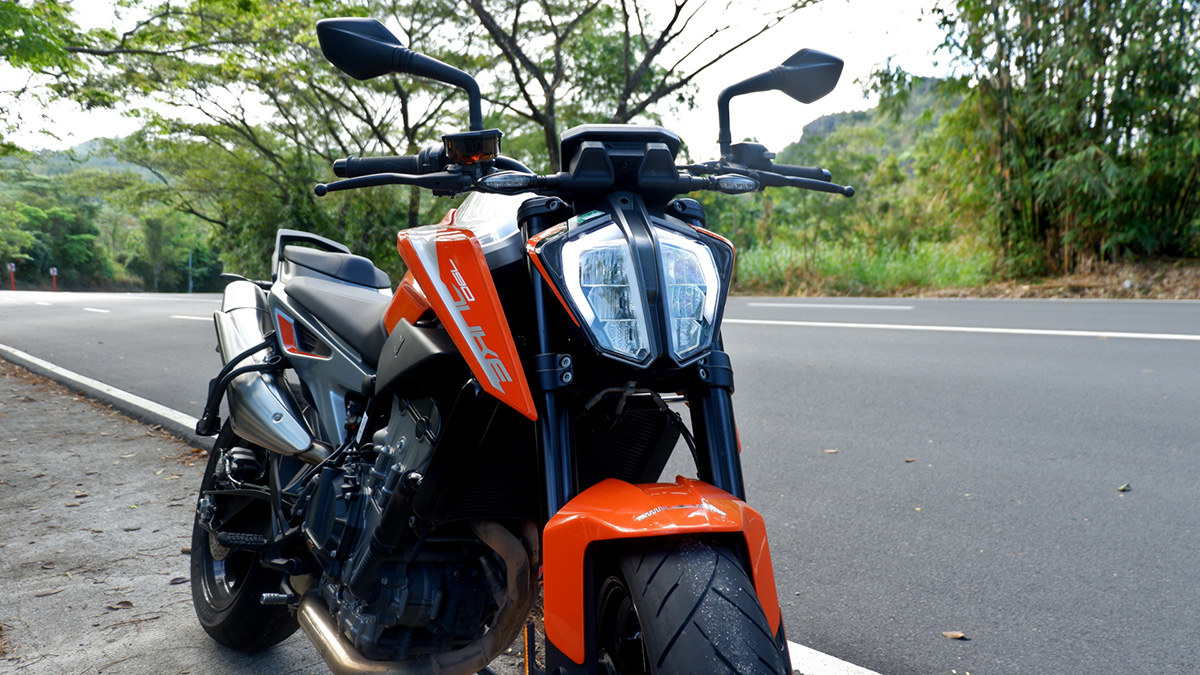 ADVERTISEMENT - CONTINUE READING BELOW ↓
The KTM 790 Duke is an exciting sports naked option for riders who want to crack into the middleweight class while keeping their footprint compact. A word of caution: This is definitely not a beginner's bike (unless you're big and tall, then why not). The 790 Duke's surplus of oomph can be adjusted through four riding modes, but previous experience is ideal to be truly comfortable with the engine's power.
Rich in electronic aids, this bike is versatile enough for aggressive track days, spirited backroads riding, and the occasional crawl through traffic. You might want to upgrade some things in the long run (like the suspension, probably), but it offers enough fun and variety to be the only bike in your garage. It's also very purty.
KTM no longer has the 790 Duke in its current 2022 lineup, but the 2021 model can still be had for P599,000. It's a somewhat high entry to expressway-legal status, but you're getting a lotta bike for it. Promise.
SPECS: 2021 KTM 790 Duke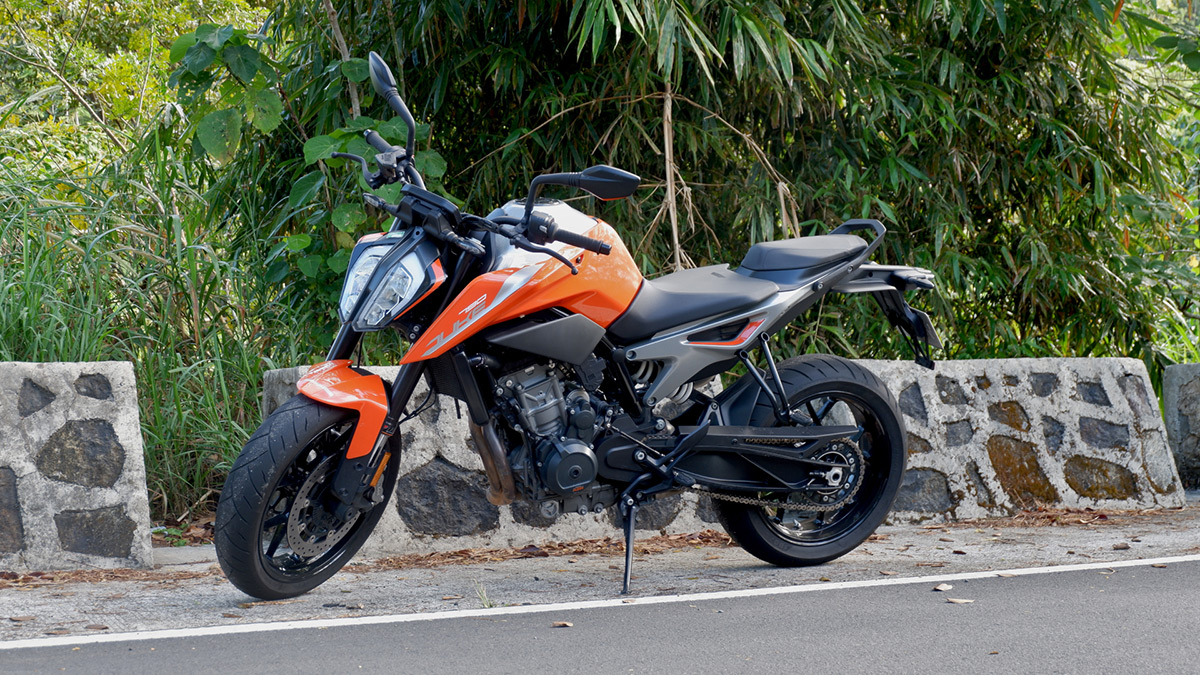 Price: P599,000
Engine: 799cc 2-cylinder, 4-stroke parallel twin
Transmission: 6-speed manual (constant mesh)
Power: 103hp @ 9,000rpm
Torque: 87Nm @ 8,000rpm
Seat height: 32.5 inches
Score: 18/20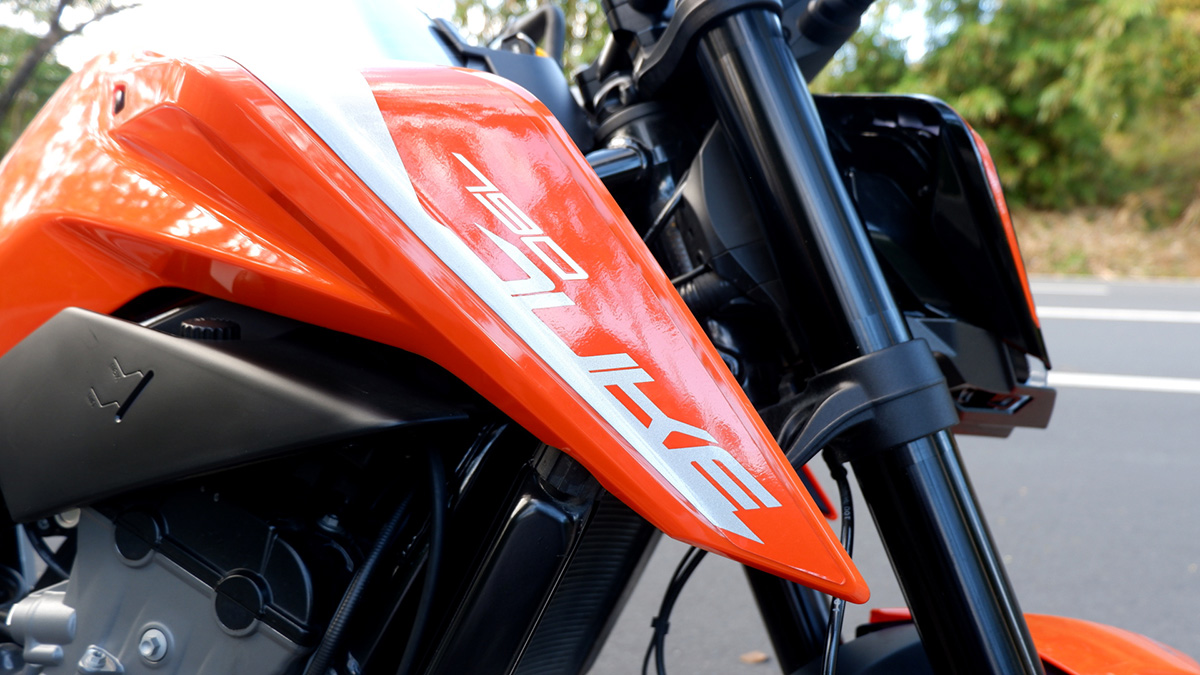 ADVERTISEMENT - CONTINUE READING BELOW ↓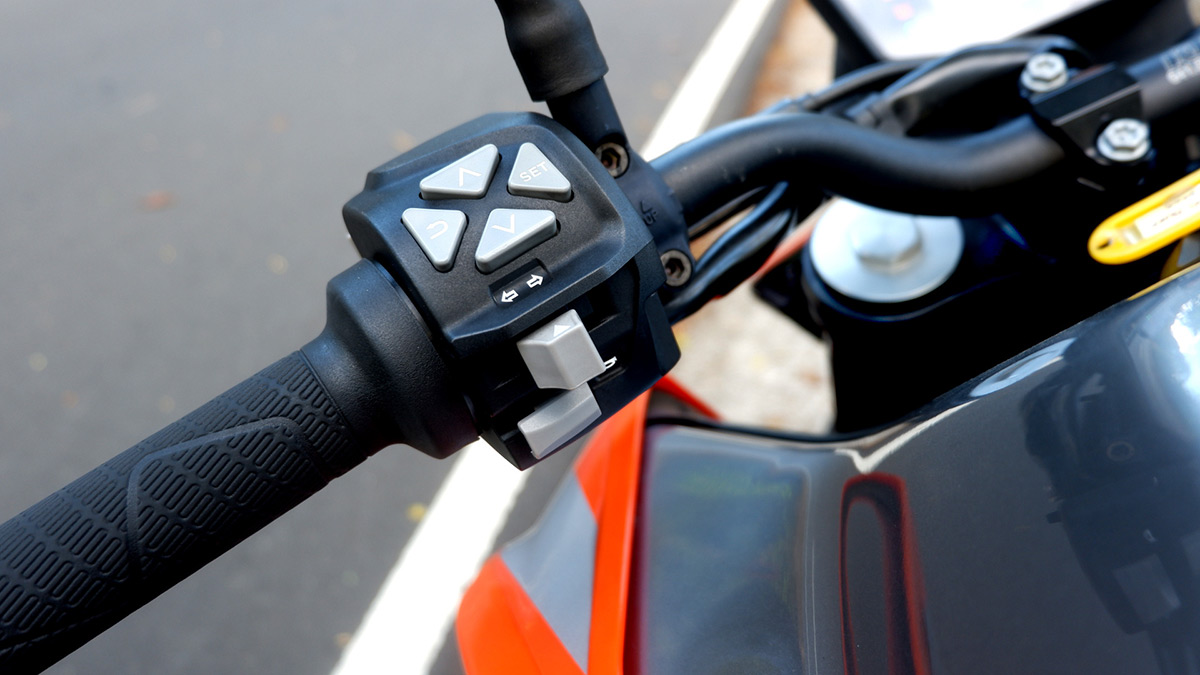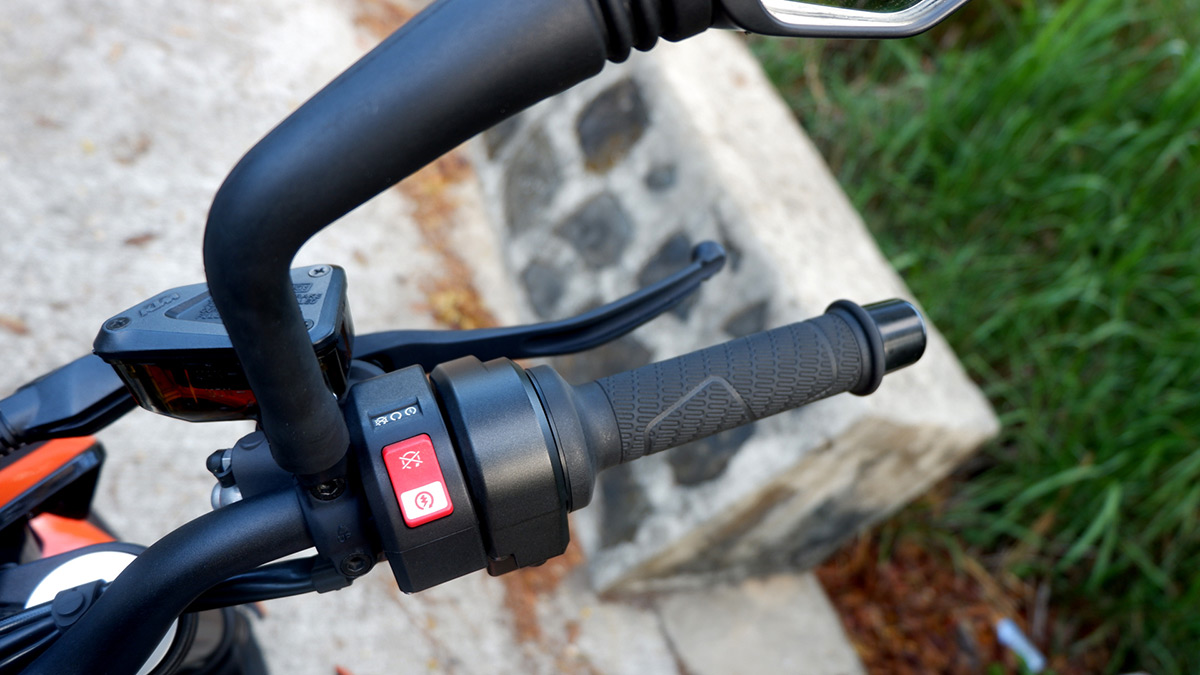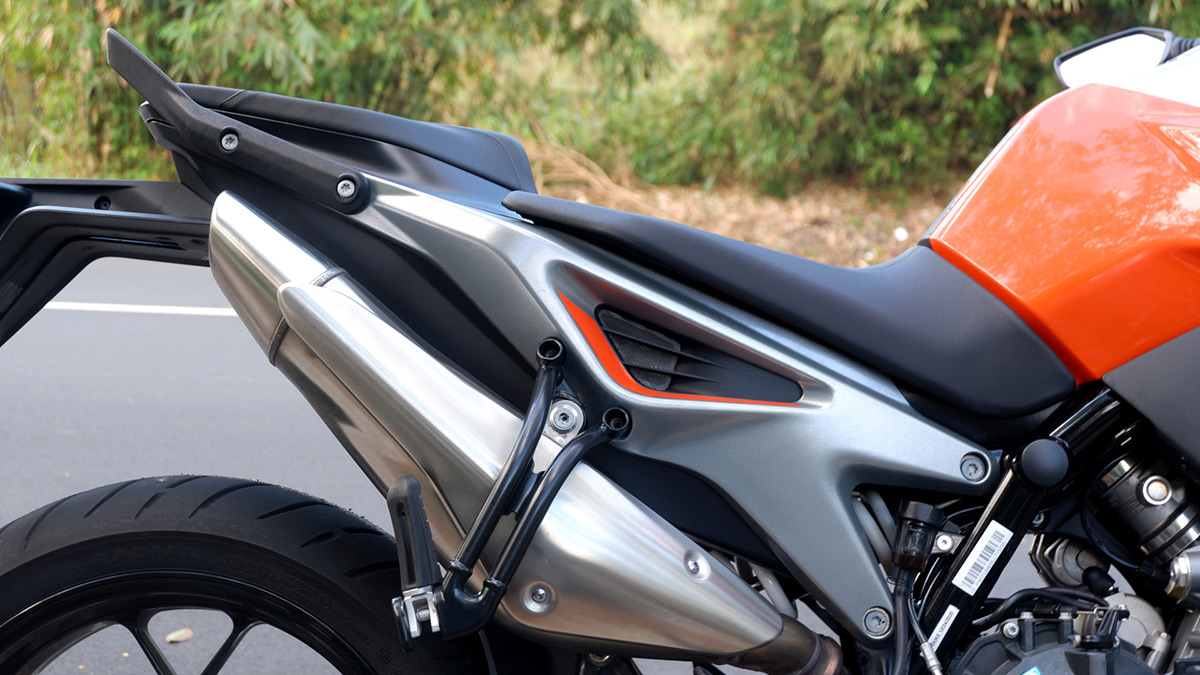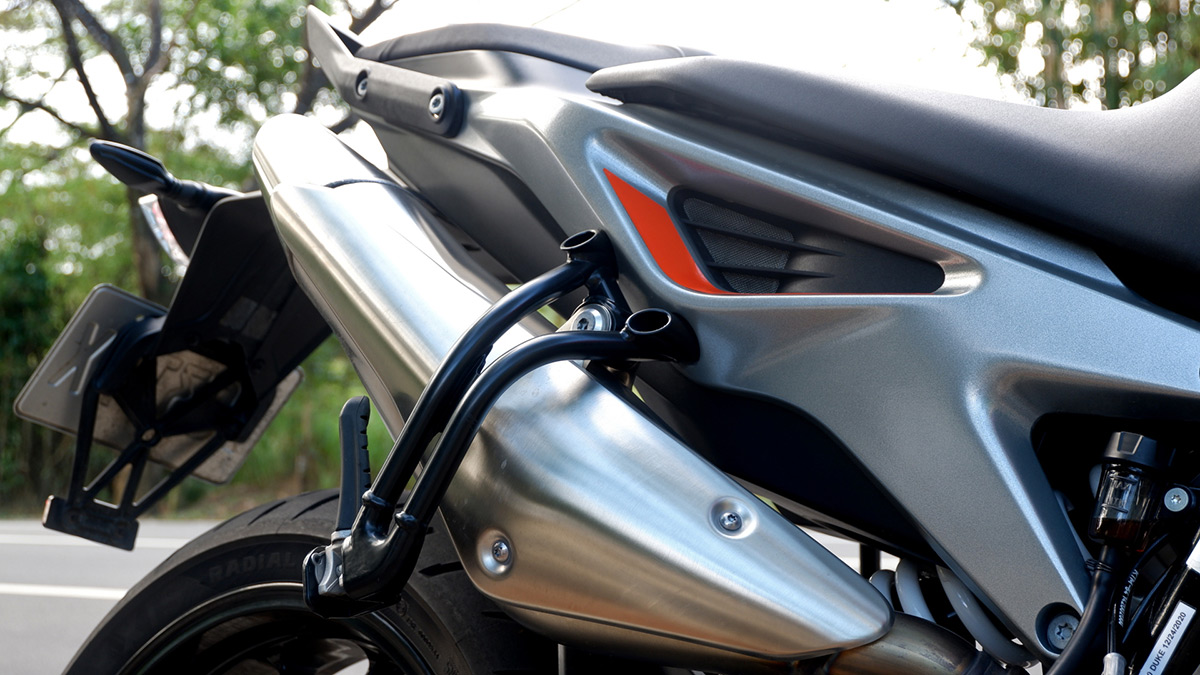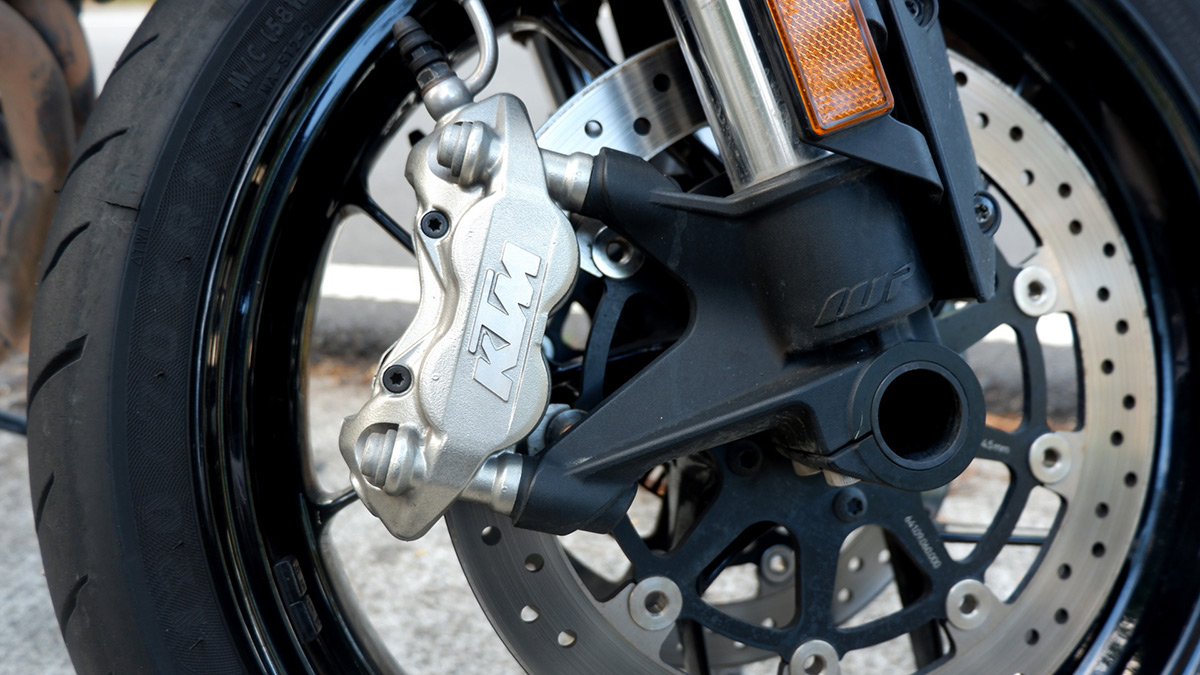 ADVERTISEMENT - CONTINUE READING BELOW ↓