Pinoys buying toothpaste say: Pabili nga po ng Colgate. Paper tissue is also referred to as 'Kleenex.' This is what strong branding can do. Products virtually become household names over time.
The motorcycle world is not spared from this phenomenon, simply because there are particular brands that are already fixated in our minds. Here's another one: When people see riders on low-seat big bikes that make solid and loud engine noises, what comes to mind? We bet they will say 'Harley-Davidson.'
I highlighted this based on a personal experience riding with a group of Harley-Davidson owners from the Visayas to Mindanao. H-D of Cebu dealer principal Regan King loaned me his personal steed, a 2016 Dyna Low Rider S, as we headed for the grand opening of H-D of Davao showroom, which he also owns.
King's cherished stallion might not be the most expensive amongst the herd of 50-plus Harleys in attendance, but certainly, it stands out, being the loudest. So, let's see if this sporty H-D can disprove the old cliché that says the worst part of the wheel makes the loudest noise.
Here's our take on the Harley-Davidson Dyna Low Rider S.
Styling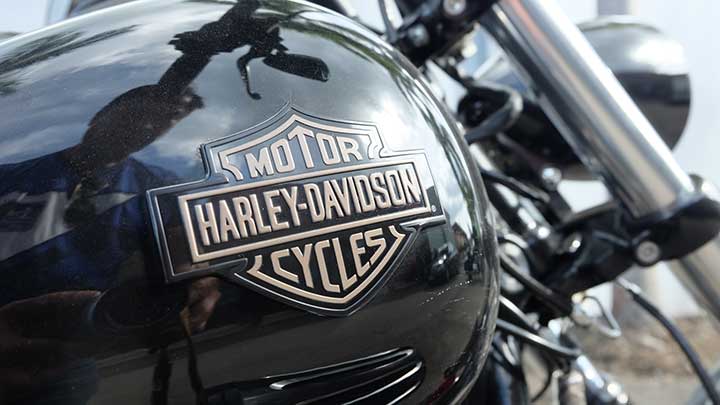 Continue reading below ↓
Recommended Videos
While Harley-Davidson is undoubtedly dead serious about retaining most of the old-school styling of its products, there's no doubt this iconic American marque is slowly introducing new models with modern features to catch the attention of the younger generation. Take the case of the Low Rider S. It appears to be a mixed breed of a cruiser and standard/naked bike with a more aggressive and sporty stance.
Combining the classic styling—round headlamps; tank-mounted analog speedo and tach gauges (with gear indicator); teardrop-shaped fuel tank and a Chubby Pullback dragbar with 6in risers (aftermarket)—with a keyless entry system; digital fuel gauge; belt-drive system;and additional control buttons on the handlebar—we sense that this steed is revving up to the younger department. In fairness, there are no trendy fake intakes but only one big, cleanly-mounted Screaming Eagle Heavy Breather performance air cleaner installed by King. To spice up its athletic aura, check out the original Burst accessories that include footpegs, shifter peg, brake pedal pad, and rocker covers.
The initial batch from the United States run on gold alloy wheels, but King's black LRS has a pair of chrome wired-wheels that highlight the bike's classic character. He also dumped the front cowl to give prominence to the retro-styled, LED headlamp with blackened bullet-shape cover which gives the bike a stealthy appeal.
The saddle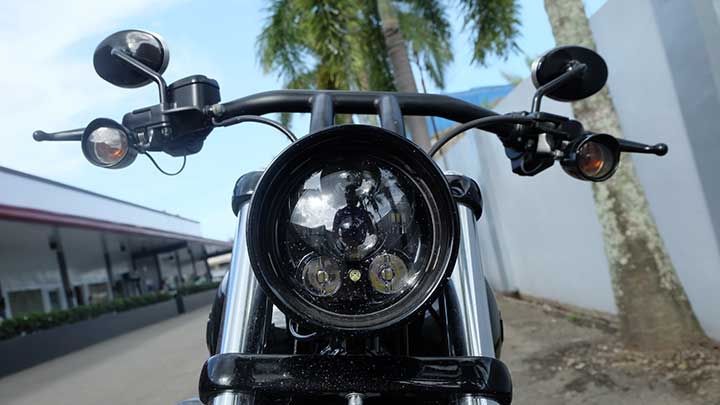 Taking a Ro-Ro vessel from the Cebu City Port, the 350km ride from Nasipit Port in Agusan del Norte to Davao City was an ultimate test of riding comfort.  Although Mindanao is blessed with roads that are exceptionally wide, there are slits in between the pavement that can cause pain on the rider's back and bum. The Low Rider S rides on an upgraded 49mm single-cartridge fork paired with nitro-charged emulsion shocks (no reservoir) which allowed me to endure the long dribbling ride caused by these road imperfections. 
Apparently, the original saddle was replaced with a sporty low-position single seater made by La Pera Leathers with less cushioning that caused stress on my bum during the final stretch. I also found out that King used a special lowering kit for the rear suspension. And that's adding salt to an injury.
On a positive note, this 'bottom-heavy' bike is easy to balance in traffic. Its 26.2in seat height should be perfect for average Pinoy riders with their feet firmly settled on the ground. The forward position of the foot pegs provides more than enough leg room.
Engine performance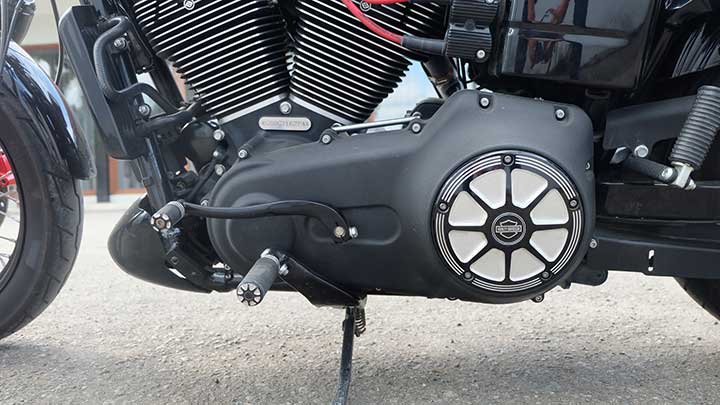 Despite having an enormous 1,746cc Screamin' Eagle Twin Cam 110 power plant churning 140Nm of torque, the Low Rider S is one burly bike that's easy to tame. A feather-touch squeeze on the throttle is enough to push the needle to 120kph and 140kph, which is a comfortable speed for this American muscle bike. This is certainly not a beginner's bike.
The Low Rider S shares the same aggressive engine from the two other members of the Harley-Davidson's Dyna lineup: Soft Bob and Fat Bob. How true is it the Low Rider S and these two are among the top picks of the millennials. There's plenty of torque in all of the rev range from its six-speed Cruise Drive transmission. This cruiser has impressive top-end speed, too.
To be honest, I attempted to use earplugs to subdue the explosive screaming of the Vance & Hines Hi-Output Grenades exhaust. Instead of providing relief, the earplugs caused a headache as we logged the first few kilometers. When I got rid of the plugs, it was only then I realized that that the V&H's explosive sound can be pleasant to hear only when the rider is wearing a full-face helmet. Hey! It's not a Harley if it ain't noisy.
Ride and handling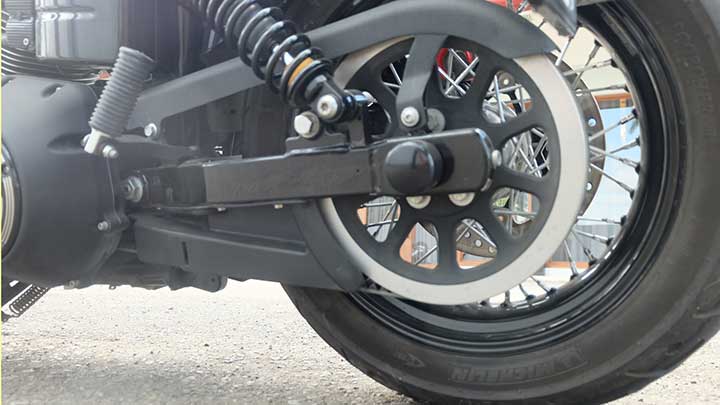 Riding in Mindanao is always an awesome experience with its scenic mountains, pristine beaches, vast farmlands, and bustling cities. Yes, many areas in Mindanao are becoming highly-urbanized as a result of the improved peace and order situation. Now it has become a haven for big bikers.
The Harley-Davidson Dyna Low Rider S is a perfect weapon for Mindanao's roads. Its low 4.1in ground clearance makes it easy to whip around corners because this baby can lean up to 29.5 degrees on the right and 30.5 degrees on the left. Braking confidence gets a boost from the ABS-equipped double disc brakes (only for H-D performance bikes like the Fat Bob and FXDR 114) in front and a single disc at the rear. Smooth as silk, there were no glitches in gear shifting.
Extra features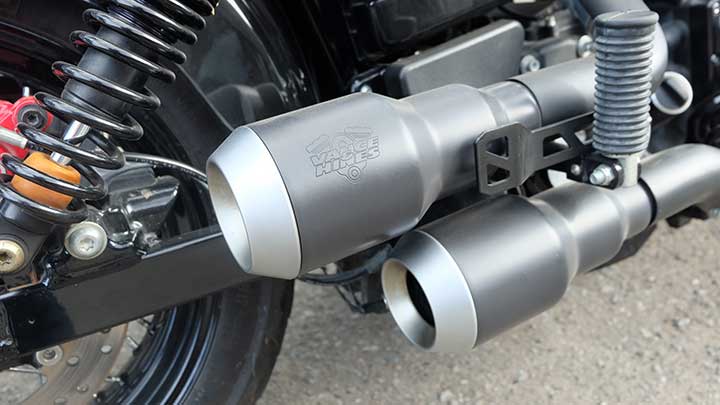 Obviously, the engineers of Harley-Davidson are now playing a balancing act between infusing modern features and retaining old-school amenities. In terms of electronic features, the LRS now offers the ABS, cruise control, and factory security system (anti-theft).
Let's face it. Modern H-Ds are deprived of advanced rider technologies like cornering ABS, electronically-adjustable suspension, traction control, launch control, not to mention carbon-fiber components. The traditional traits of Harley-Davidson motorcycles are strong vibration of V-twin engines, easy riding position, wide handlebars, and more importantly, loud and powerful engines—have the potential to supersede them all.
Another thing special to Harleys is that it provides a white canvass for customization. It's a good thing that King has deep pockets for premium performance parts for his Low Rider S.
The verdict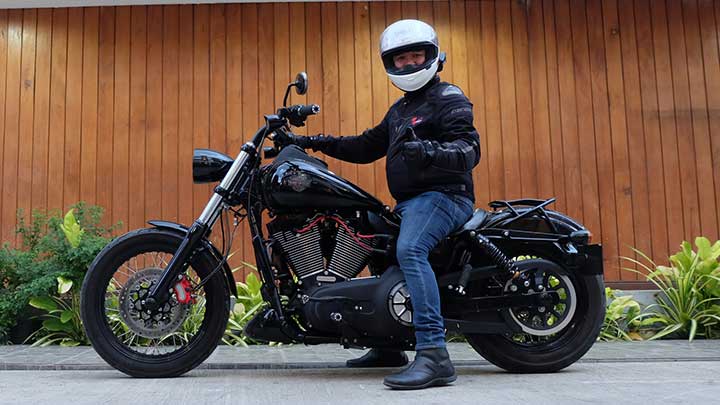 The Harley-Davidson Dyna Low Rider S has a dual personality. It offers a nostalgic, relaxing ride that can easily turn ballistic when you get hot with the throttle. Judging it from different aspects, the Harley-Davidson character is alive and well. The Low Rider S is a sexy-looking steed that gives a solid ride. It's outrageously torquey! There's absolute power everywhere!
And like all the other tough H-Ds, the Low Rider S feels like it was built to last forever.
And if you're still skeptical, just remember the stories of phenomenal brands 'Colgate' and 'Kleenex.' If you think about premium cruisers with big, solid engines and crazy-loud exhausts, then what flashes in your mind is Harley-Davidson.
That alone breeds fanaticism toward this iconic American marque.
SPECS: 2016 Harley-Davidson Dyna Low Rider S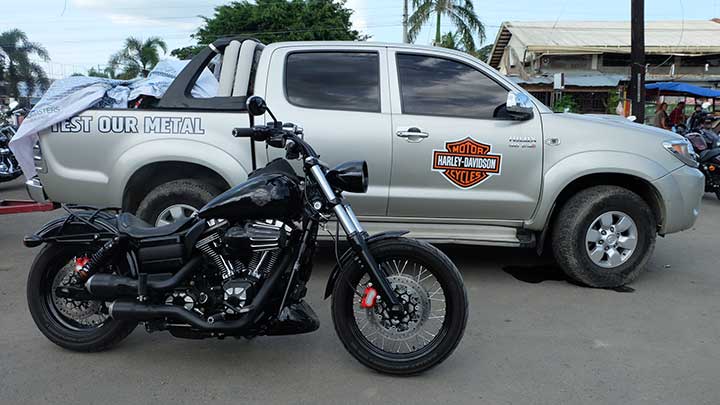 Price: P1,365,000 (w/o aftermarket parts)
Engine: 1,801cc Screamin' Eagle Twin Cam 110
Torque: 140Nm @ 3,500rpm
Transmission: 6-speed manual
Seat height: 26.2 inches
Score: 18/20