A brief look at recent motorcycle launches might have you convinced that the Philippine market is clamoring for cruisers, cafe racers, and premium sports bikes. If those motorcycles are the new trend, is the naked bike out? Hardly.
Naked street bikes are still a favorite in this country, especially for riders upgrading from a scooter in search of better suspension suspension and more power. With an evenly distributed price range to boot, these bikes can easily scale with your budget.
Launched back in March as the newest, most compact member of the MT series, the Yamaha MT-15 delivers aggressive looks and solid features—definitely high-end in its category. Is it worth it? Read on.
Styling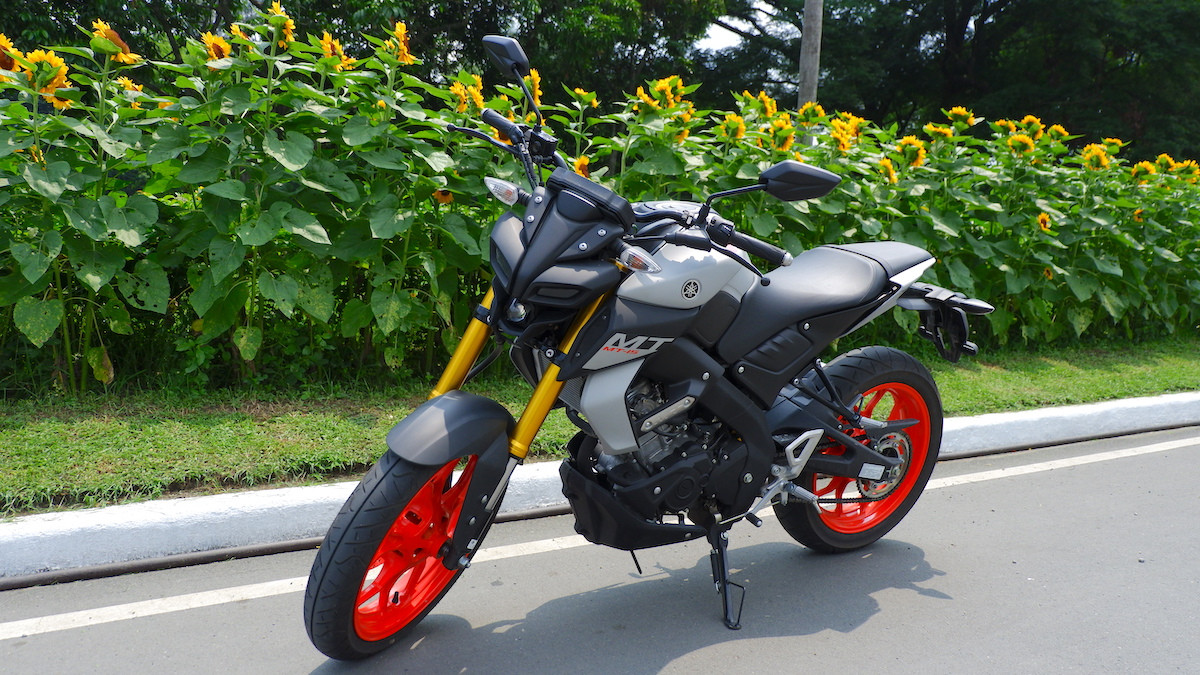 ADVERTISEMENT - CONTINUE READING BELOW ↓
ADVERTISEMENT - CONTINUE READING BELOW ↓
Recommended Videos
The MT-15's styling fits in with the rest of Yamaha's MT (Master of Torque) series. It's basically a miniaturized version of the MT-09—with a meaner mug that's right at home in Transformers or as a traditional Japanese demon mask.
The bike looks aggressive, all sharp lines and angles, fitting the bill of its tagline "the Dark Side of Japan." It comes in three colorways: Ice Fluo, Tech Black, and Matte Blue. Our demo unit was in Ice Fluo, and we really appreciated how understated the body's Matte Gray and Black finish was compared to the bright pop of the wheels.
As far as dimensions go, the MT-15 feels and looks compact. That works out great for this lady rider because the bike's size and the controls' placement don't feel overwhelming.
The saddle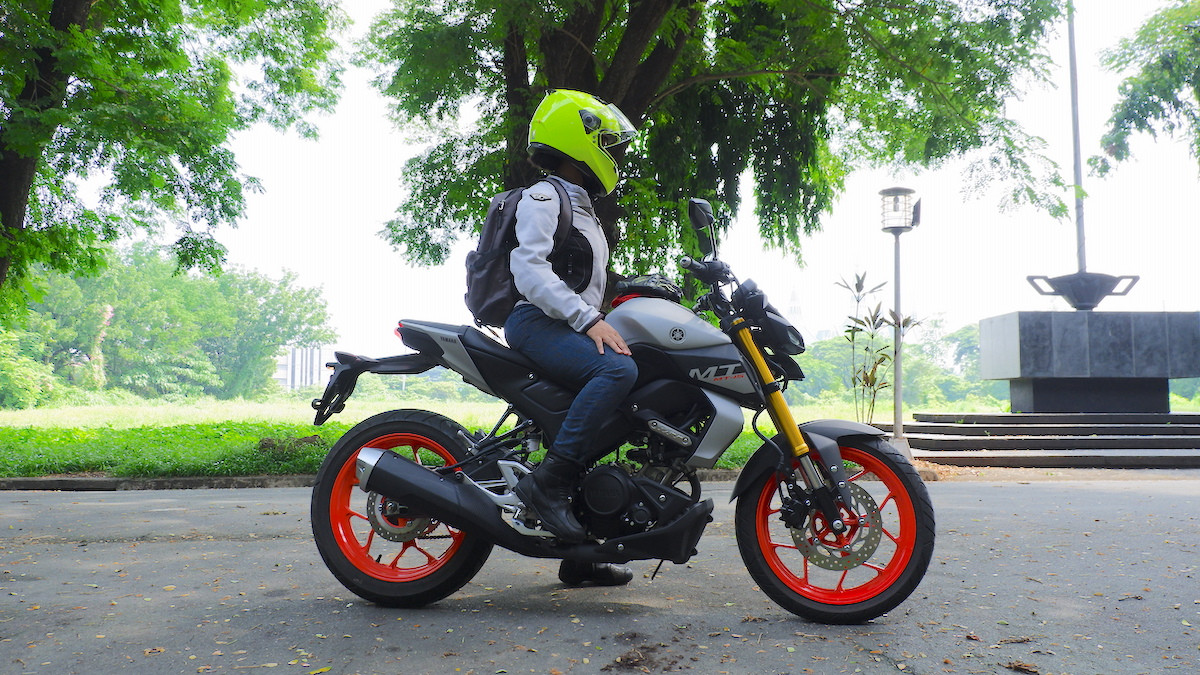 ADVERTISEMENT - CONTINUE READING BELOW ↓
Yamaha launched this bike as a sporty naked, which means the seat padding's a bit thin for better road feel. While this translates to discomfort for larger riders, it's a nice trade-off for the smaller riders, especially given the seat's narrowness. At 5'1", I could comfortably straddle this bike with one flat foot down. It's still tallish with a 31.88-inch seat height, but some adjustment of the rear shock might yield more sag.
Engine performance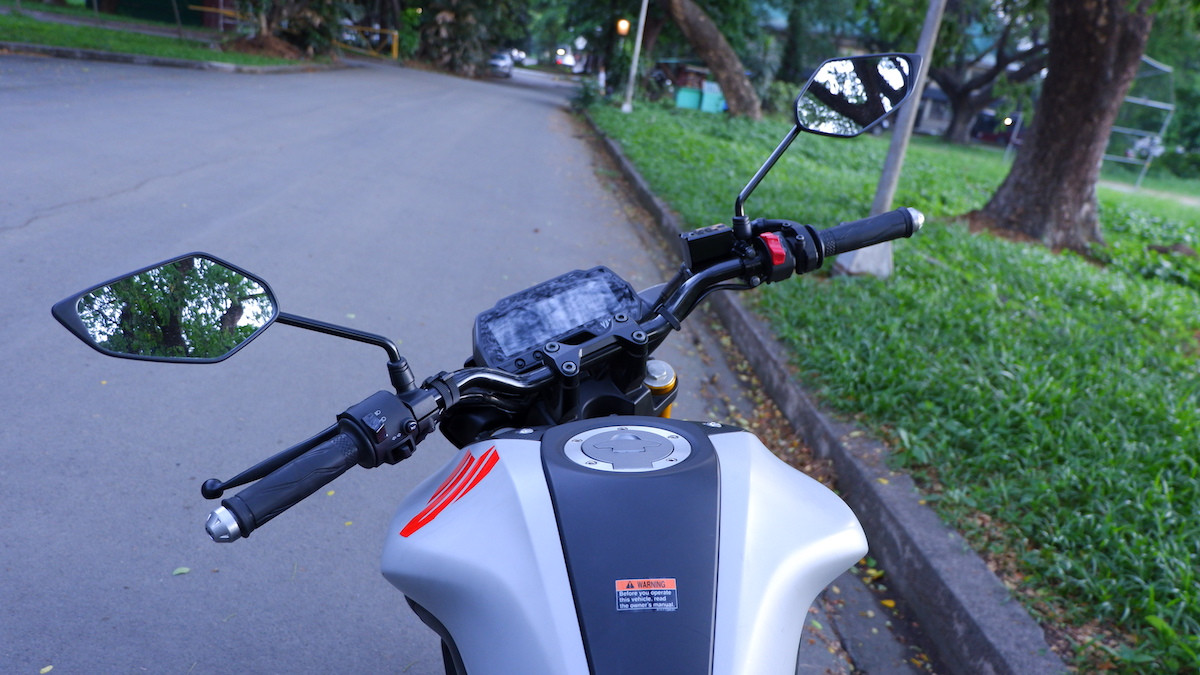 ADVERTISEMENT - CONTINUE READING BELOW ↓
The MT-15 borrows directly from Yamaha's racing heritage through the R15. Yes, that's the same fuel-injected, liquid-cooled engine in different clothing. It'll reach a max horsepower of 19.3hp at 10,000rpm and peak torque of 14.7Nm at 8,500 rpm.
Because of its sporty engine, the MT-15's power delivery is awesome. The engine is torquey and very quick. There's hardly any delay between a throttle twist and the engine's response. Easily one of the high points for the bike, acceleration gets you through tight spots quickly, even for sudden situations. Thanks to its agility, the bike is also a treat in wide open roads with generous throttle.
The deep tones of the idling engine are a pleasant staccato. It's not the loudest nor quietest, but it grows on you. Is there anything to dislike? Yes, engine heat. Rush hour in Metro Manila is no friend to this bike or your inner thighs. Sit in traffic long enough and you start to suspect that there are glowing hot coals right under your seat.
ADVERTISEMENT - CONTINUE READING BELOW ↓
Ride and handling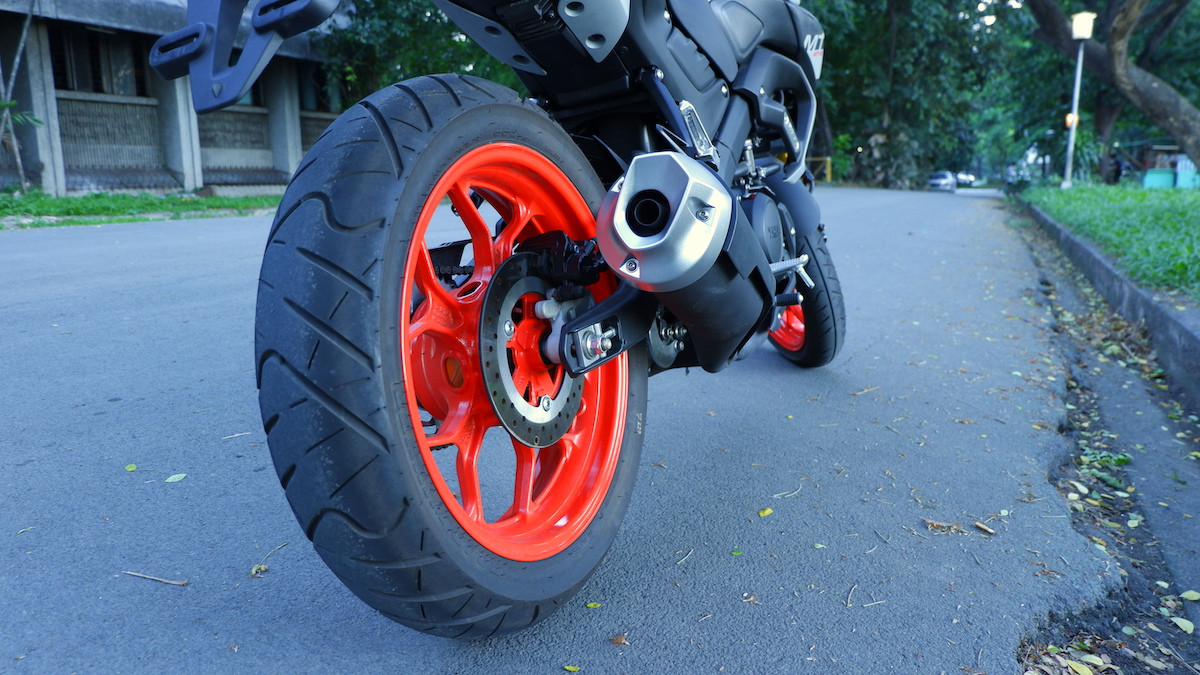 Other high points of the MT-15 go to its ride and handling. Wide handlebars, a short trail, and Yamaha's delta box frame all contribute to how light, flickable, and responsive this bike is. It's an extremely well-balanced bike, requiring very minimal input.
ADVERTISEMENT - CONTINUE READING BELOW ↓
This incredible sensitivity, paired with wide tubeless tires, makes it easy to tackle corners quickly and predictably, without your having to fear any sudden loss of traction. The setup also lends itself to cruising at highway speeds. Stay above 45 kph and you'll feel the bike get lighter and livelier.
Adding a pillion rider doesn't dampen the response, either. The MT-15 is just as light to steer, even through semi-tight traffic. The stiff suspension is understandably unpleasant on rougher roads. Rough roads, despite wide tires, will hammer your spine and legs, giving you too much "feedback."
Gripping the tank is not a problem for smaller riders because of the narrow seat and the high tank position. What can be an issue is bashing your left calf against the metal foot peg when putting your foot down. Muscle memory eventually solves this.
Extra features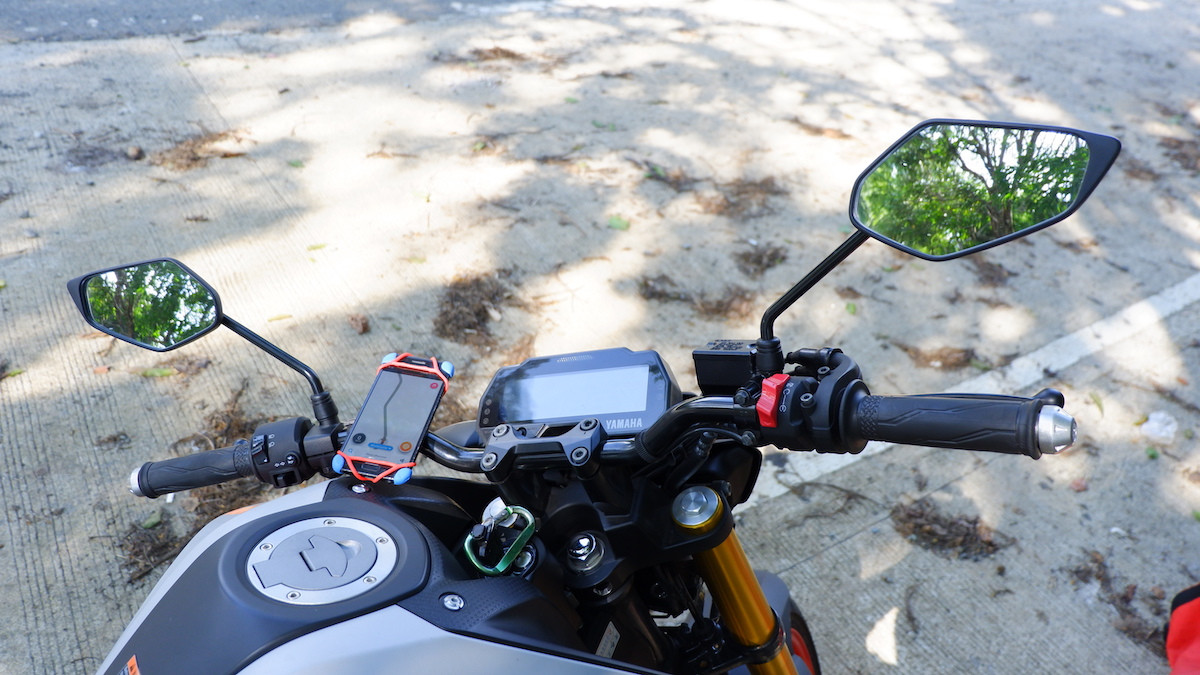 ADVERTISEMENT - CONTINUE READING BELOW ↓
Many features support the MT-15's premium price. The engine has a slipper clutch and VVA engine technology, the secret weapon to its wide torque range.  It's the only one among its MT siblings to have this feature.
The front forks are inverted for less flex. Both front and rear brakes are hydraulic discs for better performance and response.
Lights are LED with automatic headlight function. The instrument panel is fully digital with a gear indicator, shift light, and tracking for two trips, fuel consumption, and average speed. A tiny gem of a detail: The ignition switch has a sliding metal cover that protects it from water seeping in and shorting electricals if your bike gets caught out in the rain.
The verdict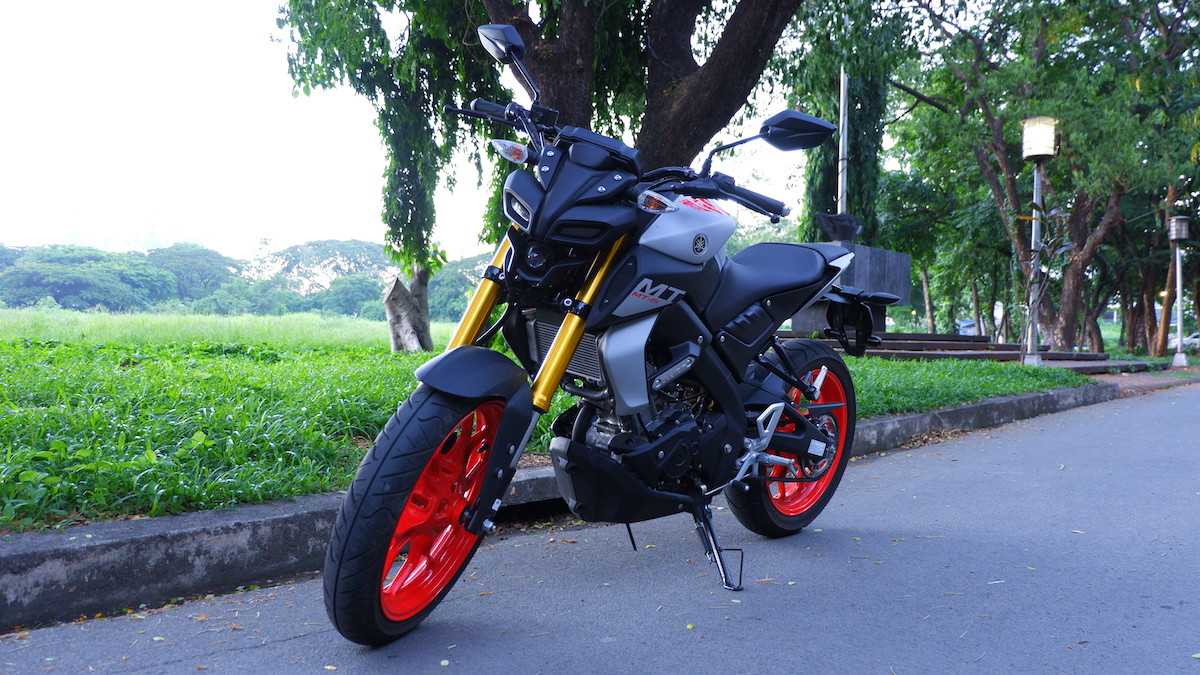 ADVERTISEMENT - CONTINUE READING BELOW ↓
The Yamaha MT-15 is a worthy addition to the MT series. It's a bike that pleasantly combines rideability and sportiness, and is best enjoyed on long trips and open roads. It's not a dedicated commuter, but there's space for a tank bag and a snazzy top box if you're so inclined.
After nearly two weeks of testing this bike, it was heartbreaking when I returned it to the YZone dealership at Greenfield District, Mandaluyong. It's forgiving enough to be beginner-friendly, but has plenty of power and fine-tuning to warrant serious consideration from an experienced rider.
SPECS: Yamaha MT-15
Price: P159,000
Engine: 155cc SOHC, four-valve, four-stroke single-cylinder
Power: 19.3hp @ 10,000rpm
Torque: 14.7Nm @ 8,500rpm
Transmission: 6-speed manual
Seat height: 31.88 inches
Score: 19/20
2019 Yamaha MT-15 review
1 of 8