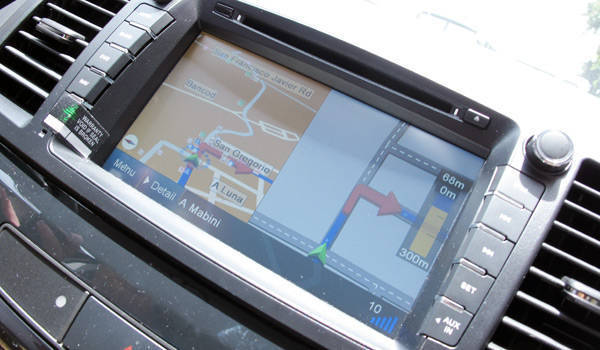 By now, you already know that Mitsubishi Motors Philippines has introduced a 1.6-liter version of the Lancer EX, and currently offers it in two trims: the base GLX (manual and automatic) and the top-of-the-line MX (automatic only). We've also told you that the MX variant features a three-spoke, leather-wrapped steering wheel as well as a GPS navigation system, but we haven't shown you what the latter actually looks like.
Until now, that is.
We snapped the above photo during a leisurely drive from Manila to Batangas on-board the Lancer EX 1.6 MX over the weekend. The GPS system was developed by an industry supplier called Winterpine Marketing and provides decent voice-aided directional guidance. We did encounter a confusing direction or two, but in the end, we made it to our destination--Pico de Loro beach resort in Nasugbu--without any drama.
If you have a poor sense of direction and are also looking for a fuel-efficient compact car (we managed 13.3km/L, according to the car's fuel-consumption computer--and "we" being four healthy adults with a weekend's worth of stuff), you might want to consider the Lancer EX 1.6 MX. Getting lost is so not cool, after all.
Photo by Mikko David
Continue reading below ↓
Recommended Videos