We asked for the best driving music our readers listen to and here are the top picks that made it to the runners-up list.
"This is Why I'm Hot" by Mims. The song tells me that I'm hot with my riding wheels.
- Lawrence Baribar
"Drive" by Ziggy Marley in 50 First Dates. I like the original version too from The Cars but this one has this new reggae beat which makes it very relaxing. It's nice to listen to this music while driving, either when you're stuck in EDSA (you need all the relaxation method here while dodging swerving buses, cars, motorcycles, etc.) or if you're cruising along SCTEX.
- Robert Espinosa
"Life Dance" by Sonia Belolo. Every beat of that song is soothing especially when driving along Manila's bumper-to-bumper traffic jams.
- Quirico Soriano Jr.
"Roam" by B52's. It reminds me of my first girlfriend, May. She gave me her big "yes" while we were cruising inside the CCP complex and "Roam" was the background music.
- Gerald P. de la Cruz
"Passenger Seat" by Stephen Speaks. After a seven-year bf/gf relationship and a year of marriage, joy rides with my wife has the same effect on me as it had on the day I first took her out for a date.
- Ian C. M. Valenzuela
"Frozen" by Madonna. It helps me calm my nerves because I easily get irritated when I'm stuck in traffic.
- Jan Michael Valdez
"Rock Your Body" by Justine Timberlake. It gives me an adrenaline rush. It's a cool mix of hip hop, band and rock (music) that makes your steering wheel experience remarkable! That's passion--music mixed with driving--so enjoy the ride!
- Jayson R. Biadog
"Poker Face" by Lady Gaga. Its rhythm and beat are very engaging. It's like a rock song but in a feminine way. I like the moves that go with it though in the car I just sway my head with the music. It keeps me on my toes because it's just so upbeat.
- Marilen Diaz
"Everybody Wants to Rule the World" by Tears for Fears. I just love listening to it while driving long trips because it keeps me alive and makes me feel tireless especially along the highways of NLEx and SCTEx.
- Edwin Tatlonghari
"Break It Off" by Rihanna featuring Sean Paul. This song makes me feel like I can dance while I drive. It makes we want to step on the throttle and just set off to a very, very long drive. It also makes me feel like a drive a Ferrari Enzo.
- Franz Joseff Joren Laylo de Guzman
And the promo winner who takes home a bottle of Givenchy play is...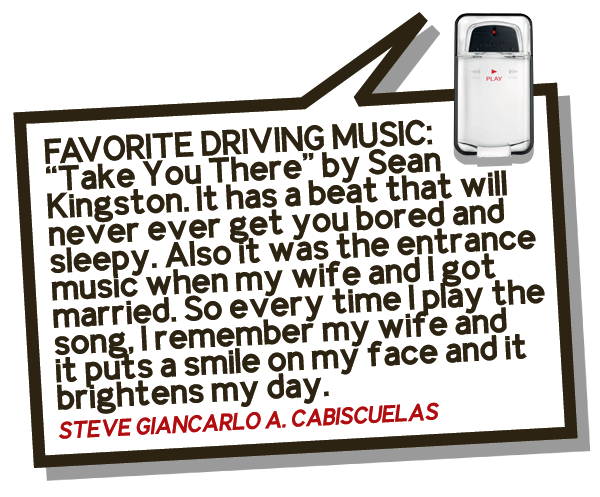 Congratulations, Mr. Cabiscuelas! TopGear.com.ph will email you shortly for instructions on how to claim your prize.
Continue reading below ↓
Recommended Videos