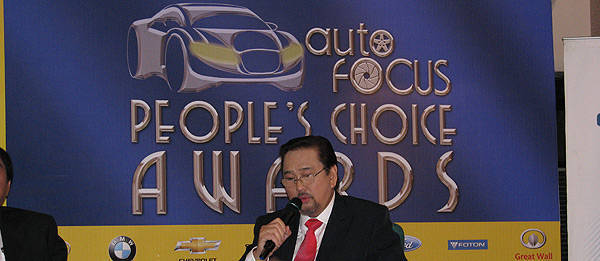 Sunshine Television, producer of the country's longest running motoring program, has officially launched the 2011 Auto Focus People's Choice Awards, the only local car awards program where the public get to voice out their respective choices for each specific category.
This year's staging will see the public choosing what they think is the best vehicle in 13 different categories. Aside from the usual categories like the subcompact sedan, compact sedan, midsize sedan, large sedan, sports car, AUV, minivan, fullsize van, pickup, compact sports-utility vehicle (SUV), midsize SUV and large SUV, this year will see the addition of the "Open" category, the choices of which will be revealed once the polling period begins on July 1. Besides the 13 categories, the public can also nominate their choice for the Automobile of the Year. The Kia Sorento was declared the 2010 Auto Focus People's Choice Awards' Automobile of the Year.
Like before, the public can enter their votes via Auto Focus' website at www.autofocus.com.ph where they can nominate their choices in 13 categories and for the Automobile of the Year. An e-mail address, however, will be required and it may be used only once.
People can also submit their entry by filling out the ballot that will be included in the weekly Motoring Section of the Philippine Star. The good news is that, unlike the previous years where the ballot only had the field for the Automobile of the Year award, this year's ballot will now have fields for all 13 categories. The ballots are accepted in drop boxes located in Caltex service stations and Air 21 outlets.
ADVERTISEMENT - CONTINUE READING BELOW ↓
Air 21 outlets will also carry ballots for the People's Choice Awards. But unlike the online component that can only be entered once with a single e-mail address or the Philippine Star ballot that's only available once a week, ballots from Air 21 may be submitted everyday.
Submission of the ballots for the 2011 Auto Focus People's Choice Awards will run until September 30.
What vehicles will get your precious vote?
ADVERTISEMENT - CONTINUE READING BELOW ↓
Recommended Videos