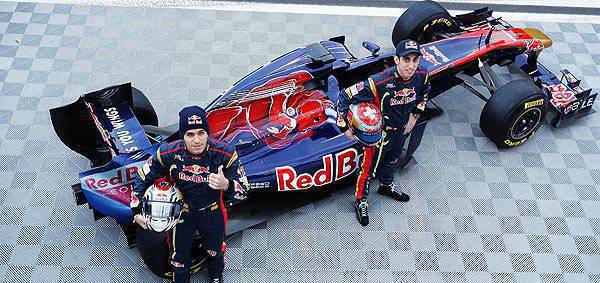 Scuderia Toro Rosso is approaching the 2011 Formula 1 season with much trepidation as the team makes use of the Kinetic Energy Recovery System (KERS) for the very first time.
The design of its STR6 race car is less conservative as last season's STR5 as it takes into account the requirements set out in the technical regulation changes for this season.
"Last year we didn't have a wind-tunnel, the Computational Fluid Dynamics was not mature in order to define the car. Therefore, we did not change very much apart from those elements linked to the change of regulation between 2009 and 2010," said the team's technical director Giorgio Ascanelli. "This year the tools which design the car in its performance aspect, which are again the wind tunnel and CFD, are more mature, which means that although we are still learning how to make the best of them I think we have started using them properly. The change in rules has led us to make some 14 changes and yes, we think we have been a little bit more ambitious than last year."
Toro Rosso was one of the few teams that didn't make use of KERS in the 2009 season so for this year, the team will not only be tapping Ferrari for its 056 V8 engine but also for its KERS.
Continue reading below ↓
Recommended Videos
"KERS is new for us. We were ready to use it in 2009 but we decided not to," shared team manager Gianfranco Fantuzzi. "There are some safety concerns and safety issues, but we have initiated an extensive training and learning program over the winter, going through all potential situations than can arise when working with this system. Our KERS supplier, Ferrari, has given us all the measures and all the procedures we need to apply and we train at the factory on a daily basis."
[gallery]762[gallery]