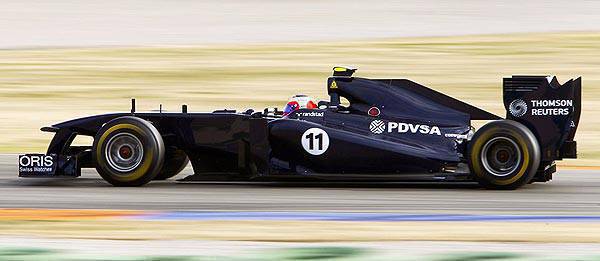 Williams F1 is approaching the Formula 1 winter test sessions with caution as its contender for the 2011 season--the Williams-Cosworth FW33--took to the track recently.
"Until you start testing," said technical director Sam Michael, "you're never sure how you're going to stack up against the opposition, but we're optimistic. We think this is a good car, but we'll have a better overall picture in a few weeks time."
This season's new rules compelled Williams F1 engineers to take an innovative approach to the design of the FW33 as the ban on double diffusers and the F-duct forced the aerodynamicists to seek new downforce solutions while the Kinetic Energy Recovery System (KERS) had to be incorporated into the car's layout once again.
"The design of this year's car has been pretty smooth," Michael added. "We've improved our way of working by increasing the communication between the mechanical and aerodynamic departments, and that improved our decision making processes. It allowed us to increase the optimization time spent on each part of the car."
Williams subsidiary Williams Hybrid Power (WHP) will once again provide the team's KERS but instead of the flywheel system that was used for the 2009 season, the team will utilize a battery system which is more favorable to this season's regulations.
Continue reading below ↓
Recommended Videos
"The rules have changed since KERS was last used in F1. Re-fuelling is no longer permitted, so the packaging is different now. We have packaged our KERS system entirely inside the car's survival cell, below the fuel tank, because we didn't want to compromise any of the sidepod area for aerodynamics," Michael added. "Assuming you're on the weight limit, there is no downside to KERS; it's worth 0.3s and it gives you a better start."