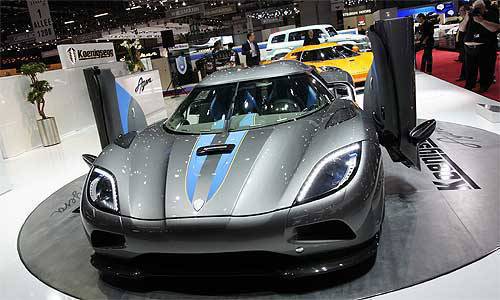 A 21-year-old engineering student from Riyadh has a collection of supercars and luxury cars most of us could only replicate as 1:64 scale die-cast cars, all thanks to his tycoon dad.
Dhiaa Al-Essa's 31-car collection valued at £4.5 million (nearly P307 million) includes four Ferraris, five Porsches, three Lamborghinis, two Rolls-Royces and a Mercedes-Benz SLR McLaren, Metro.co.uk reported.
Later this year, the young petrolhead wil also take delivery of two more supercars--a Koenigsegg Agera (see photo above) that comes complete with a gold key as a gift from his father for his 22nd birthday, and a Bugatti Veyron Super Sport. That's right! Besides being a future owner of the world's fastest supercar, Al-Essa will be one of the first owners of the Koenigsegg CCXR's successor which is yet to go on sale.
Al-Essa was also about to receive his new Ferrari 458 Italia last month when it was destroyed by a blaze that burned down the warehouse where it was stored. His grief over the demise of his newest Ferrari was short-lived, however, as he is reportedly replacing it with one of the 70 599 Roadsters that Ferrari secretly unveiled to select customers recently.
ADVERTISEMENT - CONTINUE READING BELOW ↓
The Metro article said Al-Essa has flown his supercars to London, Montreal, Las Vegas and New York for driving tours with some of his friends.
"I love speed but the limit in Saudi Arabia is 75mph (120kph) so I'm pretty limited," Al-Essa said in the report. "When the Bugatti arrives, I hope to take it to Germany where you can drive as fast as you can."