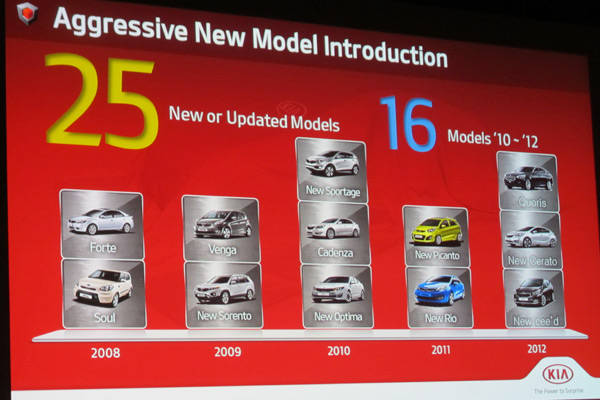 At last week's press event for the all-new Kia Carens in Monaco, the Korean carmaker shared with its media guests a few milestones it has chalked up in recent years, including:
* Cracking the exclusive circle of top 10 automotive brands in the world in terms of sales in 2011, placing eighth with 2.48 million units (apart from sister brand Hyundai, which placed sixth);
* Being the world's fastest-growing carmaker by improving from 1.375 million sold units in 2008 to 2.710 million sold units in 2012 (97% increase);
* Posting double-digit growth in most regions in 2012 (23% in Asia and the Pacific, 20% in Europe, 15% in North America, 11% in China, and 10% in the Middle East and Africa), but suffering setbacks in Korea (-2%) and Central and South Americas (-13%);
* Achieving a huge quality improvement (57% from 2003 to 2012), according to the marketing research firm J.D. Power;
* Padding its brand value by 50% in 2012 to $4.1 billion;
ADVERTISEMENT - CONTINUE READING BELOW ↓
* Joining the top 100 global brands in 2012, placing 87th in Interbrand's survey;
* Gaining global brand awareness by sponsoring major sporting events, such as the NBA, the Australian Open and the UEFA; and
* Winning multiple design awards since design chief (and now president) Peter Schreyer joined the company in 2006.
Not one to rest on its laurels, Kia is looking to accomplish more. Specifically, it wants 3.5 million units around the world by 2016, the company revealed during the Carens press conference.
How to achieve this?
Kia pointed out that it's among the most aggressive carmakers in the world when it comes to new products, having introduced 25 new or updated models from 2008 to 2010 (Forte, Soul, Sorento, Sportage and Optima) and another 16 new or updated models from 2010 to 2012 (Picanto, Rio, Quoris and Cee'd).
The plan moving forward? Forty-seven new or updated models from 2013 to 2017, according to the company. This includes all-new models (Carens, Pro_Cee'd, Forte, Soul, Carnival and Sorento) as well as face-lifted ones (Optima, Sportage and Rio). That's a lot of new cars however which way you look at it, proving Kia's serious intent to join the automotive industry's top echelon.
ADVERTISEMENT - CONTINUE READING BELOW ↓
Recommended Videos
Let's hope these new models will reach our shores as soon as they become available--and that they'll be priced competitively by distributor Columbian Autocar Corporation.