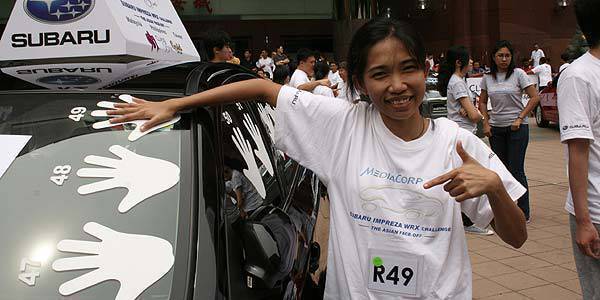 (UPDATED) Apple Joy Lee Balibado proved her mettle once more as the last Filipino contender standing during the Subaru Impreza Challenge Regional Finals in Singapore.

Balibado stayed in the game for more than 57 hours before finally giving up the chance to own a brand-new Subaru Impreza WRX to 33 other participants. Her record in Singapore, where she again beat nine Filipino contenders, is almost double her 29-hour endurance during the Manila leg of the Subaru Impreza Challenge.

The 28-year old engineer had to stack up two pairs of slippers under her feet just to reach her decal on the Subaru Impreza windshield.
While she did not win the car, Balibado is still going home with a cash prize of S$1,000 for being the longest-lasting participant from the Philippine team.

The Subaru Impreza Challenge in Singapore started off with 400 participants at 1 p.m. on October 31. Only 30 remain standing as of midnight, 27 of whom are Singaporeans while the rest are Thais.

The Philippines initially had ten contenders, including Gerald Gonzaga who is a returning challenger from last year's competition. Other participants were Relly Reposo, Mark Llauder, Ray Joseph Pizana, Raimond dela Torre, Daryl Sarno, Danilo Biadog, Joseph Brian Gelvez, and Chrizar Mallari.

One can't question the will of the Filipino participants who endured pain all throughout the length of their stay in the competition, which was made more challenging by the shift in weather from scorching heat to a sudden downpour.

ADVERTISEMENT - CONTINUE READING BELOW ↓
ADVERTISEMENT - CONTINUE READING BELOW ↓
Recommended Videos