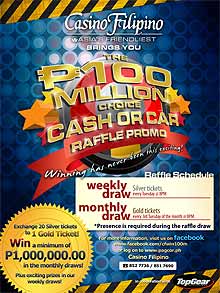 If games of chance are your thing, then why not push your luck and join Casino Filipino's P100-million Choice: Cash or Car raffle promo. We flew to Cebu a few weeks ago to see how the contest works, as advertised in Top Gear Philippines last month, and we were surprised at how tempting the promotion is--so much so that even we considered applying for Casino Filipino cards ourselves.
Conceptualized by the Philippine Game and Amusement Corporation's marketing and casino customer relations department, the promo is open to all Casino Filipino cardholders and gives patrons the chance to win P100-million worth of prizes through six monthly raffle draws from July to December. The next draw is on October 18 at the Casino Filipino branch in Angeles, Pampanga.
To participate in this raffle, Casino Filipino cardholders must earn silver and gold tickets, which they can get by either visiting any of the Casino Filipino branches and playing table games, slots and bingo, or by watching organized shows. Silver tickets are used for the weekly draws that entitle players a chance to win P10,000 free-bet coupons that can be multiplied up to ten times in the Spin-the Wheel game. Twenty Silver tickets may also be converted to one Gold ticket for a chance to be one of the lucky millionaires in the monthly draw.
The contest began with five winners, with an extra winner added every month. By December, 10 winners will be drawn. Major draws happen simultaneously in each branch of Casino Filipino, all connected by a live video feed. Each winner gets to take home the cash prize, or choose a car instead. Should they choose a car, its discounted price (sometimes almost P50,000 off from the dealer's suggested retail price) is deducted from the cash prize, and winners can still keep the difference in cash. An advantage to choosing a car is that the winner also gets chance to win P300,000 in free bets by spinning a wheel. Unfortunately, these free bets have to be played and are not convertible to cash. The best part? All of these prizes are tax-free.
During the next draw in Casino Filipino in Angeles, each prize will be bumped up to P2 million. In November each winner has a chance to bring home P2 million. December winners then have a chance to bring home P3 million each. If you are lucky enough to be drawn, do consider bringing home a car, too. The enticing packages prepared by Chevrolet, Chrysler, Honda, Isuzu, Mitsubishi, Nissan and Suzuki dealers are hard to ignore. For more information about the promo, click here.