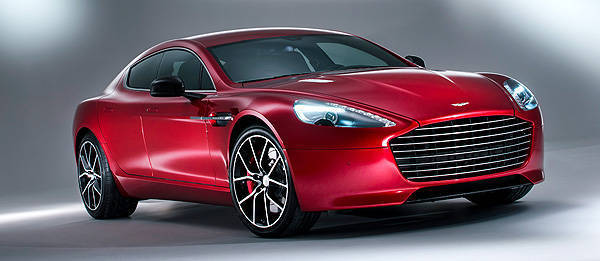 It's often easy to forget that the Aston Martin Rapide even exists. Like all good secret agents, it's not quite what it seems. It's a five-door hatchback disguised as a sedan disguised as a coupe. A deception so clever that the car is an awful rare sight on the road. Not helping is the fact that every other super-sedan--from the Mercedes CLS to the Maserati Quattroporte--is faster than this most exclusive of four-seaters.
To rectify this, Aston Martin has given the Rapide a nice bump in horsepower: up to 550hp and 620Nm of torque. That's 80hp and 20Nm more than before. While that extra horsepower comes at a rather stratospheric 6,750 rpm, there's an extra 40Nm of torque from idle up to 4,000rpm.
Despite the beefier power delivery, top speed rises a piddling 3kph to 306kph, and the 4.9se 0-to-100kph time is still a shade slower than a midrange Porsche Panamera. This will matter little to owners, however, as few engines can match the aural drama of the high-revving 6.0-liter AM11 V12.
That engine now sits 19mm lower under the hood, thanks to an all-new front subframe. Along with a retuned active damper system, this gives the Rapide S sharper turn-in and response. No mean feat, considering it was already one of the best-handling in its class. Expanding the performance envelope further are new 20-inch split-spoke alloy wheels wrapped in lower-profile tires than on the old car.
Continue reading below ↓
Recommended Videos
Reflecting this new sporting focus are subtle revisions to the looks, including a "flip up" integrated rear spoiler that minimizes lift at speed. The new, more aggressive snout meets European pedestrian safety regulations without using a chintzy plastic grille or airbags. An optional Carbon Exterior pack allows you to dress up the Rapide S further, with splashes of shiny stuff to complement the new piano-black interior and fascinating "duotone" black-and-red leather.
Those desiring a more personal touch can opt for the "Q by Aston Martin" treatment, which will outfit your Rapide S any way you want. Sadly, rocket launchers and ejector seats are reserved for Agent 007, so you'll probably have to fit them elsewhere.
If you're interested in owning the best-looking four-door on the planet, Aston will start taking orders this February, with final pricing to be announced closer to launch.