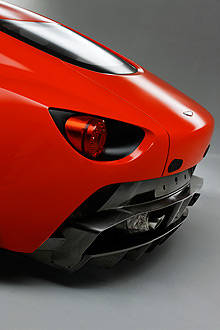 To celebrate the 50th anniversary of Aston Martin's collaboration with renowned Italian coachbuilder Zagato, which produced the iconic DB4GT Zagato, the British luxury sports-car marque revealed its modern interpretation of this relationship through its new V12 Zagato.
The V12 Zagato is based on Aston Martin's ultimate performance interpretation of the V12 Vantage and, though inspired by the DB4GT Zagato, the car's design takes inspiration from past collaborations between the two brands like the V8 Vantage Zagato and the DB7 Zagato.
Although the V12 Zagato has a new handcrafted aluminum body, its beautiful and muscular design wasn't made through pre-formed panel techniques but through the use of an English wheel and traditionally crafted body bucks. Each front wing alone supposedly comprises seven separate pieces of aluminum that are combined and then hand-finished to give it its flowing form. The V12 Zagato also bears another iconic Zagato design cue and that's the double bubble roof.
As you might have already deduced, the V12 Zagato is powered by the same aluminum-platform 6.0-liter V12 engine used by the V12 Vantage, giving it an output of 510hp and 570Nm of torque. The engine is no slouch on the race track as it has proven its worth in 2009 when it secured a class win in its debut race at the 24 hour race at Nürburgring while being close to production-ready with only essential safety modifications and reduced weight were the only things done to the car.
Continue reading below ↓
Recommended Videos
Before the car is made available to the public, though, Aston Martin will first field it in the four-hour VLN race at the Nürburgring on May 28 before pairing it with another V12 Zagato to run at the Nürburgring 24-hour race on June 25 to 26. This is in line with the established tradition of running new Aston Martins in races before going on sale.
For this year's races, the V12 Zagato has a bonded aluminum platform modified with a bespoke steel roll cage, front and rear double wishbone suspension with fully adjustable Multimatic DSSV Dampers and a 120-liter endurance racing fuel tank.
"The Zagato design language is a perfect complement to our design and engineering expertise. After 50 years of the two companies being associated with each other the partnership has produced some of the world's most iconic cars," said Ulrich Bez, chief executive of Aston Martin. "The task for us has been to create a concept that is a natural successor to those iconic cars that have gone before. Matching the technology of the age with the traditional skills vital to deliver such a bespoke and exclusive sports car will lead to a strictly limited run of road going V12 Zagatos."
[gallery]929[gallery]