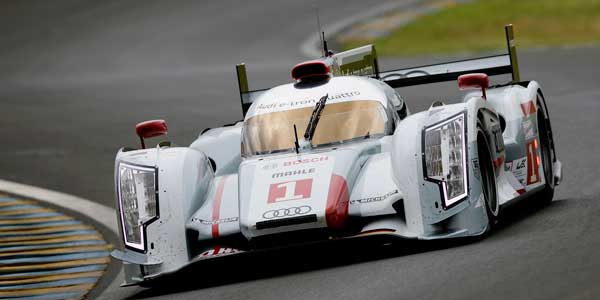 For the first time in the history of the 24 Hours of Le Mans, a hybrid race car will start from pole position as the Audi R18 e-Tron Quattro driven by Andre Lotterer set the fastest lap in the race's final qualifying session with a time of 3 minutes, 23.787 seconds, topping last year's best time by nearly two seconds.
"The car was running like it was on rails, simply incredible," said Lotterer. "The guys at Audi Sport did a top job yet again and made my first pole position at Le Mans possible for me."
Running a close second to the R18 e-Tron Quattro was the conventionally powered, diesel-fed R18 Ultra driven by Loic Duval, which was only 0.291 second slower than Audi's hybrid race car, giving the German carmaker the front row for the race start.
With the second R18 e-Tron Quattro setting the fourth fastest lap and the second R18 Ultra in sixth place, this means all four Audi race cars are in the three front rows for the start of the race.
ADVERTISEMENT - CONTINUE READING BELOW ↓
"Of course, we're proud to be the first automobile manufacturer to clinch the pole position with a hybrid vehicle at Le Mans," said Audi Motorsport chief Wolfgang Ullrich. "But this is just a very small step. The much bigger task is still ahead--the race. But you could also very impressively see today that you can't only be fast at Le Mans with a diesel; that's exactly what we've always said. This double pole is the nicest thank-you for the entire squad that has been working hard on preparing the cars so superbly."
ADVERTISEMENT - CONTINUE READING BELOW ↓
Recommended Videos