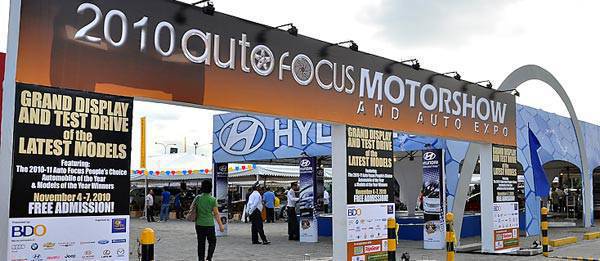 If you're looking to buy a new car but don't have the time to go to all the different showrooms in the metro, head on to the SM Mall of Asia Concert Grounds for what has been dubbed as the country's biggest outdoor motor show--the 2010 Auto Focus Motorshow & Auto Expo.
Organized by Sunshine TV (STV), the producer of the motoring TV show Auto Focus, the sixth Auto Focus Motorshow & Auto Expo gathers almost a hundred brand-new models from Audi, BMW, Chevy, Chrysler, Dodge, Ford, Foton, Honda, Hyundai, Isuzu, Jeep, Kia, Lexus, Mazda, Mercedes-Benz, Mini, Mitsubishi, Nissan, Porsche, Toyota, Volvo in one outdoor venue.
"The convenience of being able to see and compare models in a very accessible single venue without having to hop from one dealership showroom to another a hard-to-resist attraction of the event," said Auto Focus producer and STV chairman and chief executive Ray Butch Gamboa. "Test drives offered by most of the participating auto manufacturers and importers also add to the many reasons why auto enthusiasts and serious car buyers come to the motor show."
At the motor show, visitors can check out the vehicles that bagged various awards from the recent Auto Focus People's Choice Awards where the Kia Sorento bagged the highly-contested Automobile of the Year title.
Continue reading below ↓
Recommended Videos
With the motor show being co-sponsored by Banco De Oro (BDO), a convenient and comfortable lounge in the middle of the venue has been set up to accommodate those who'd like to inquire about financing the vehicle they fancy through the bank.
BDO Auto Loan senior vice president Tony Peña has even promised to make a new car purchase through financing "as flexible as possible with payments extended up to 72 months in order to respond to customers' present needs."
As an added bonus to car shoppers, most of the participating car companies have also agreed to accept vehicle trade-ins regardless of car brand for those who'll either buy the brand new vehicles in cash or through financing.
"The Auto Focus Motorshow & Auto Expo is one grand display and test drive the automobile industry is certainly happy to undertake for the benefit of the car enthusiast and potential car buyers especially in the run-up to the Christmas season," added Gamboa. "Manufacturers and distributors are themselves experiencing the toughest of times in markets around the world. However, the Philippine market has been on surge mode with about 36 percent year-on-year growth in 2010. Reason indeed for our local carmakers to put their best foot forward for an eager buying public."
The 2010 Auto Focus Motorshow & Auto Expo runs until November 7 and is open from 10 a.m. to 8 p.m. at the SM Mall of Asia Concert Ground behind the SMX Convention Center. Admission is free.
[gallery]635[gallery]