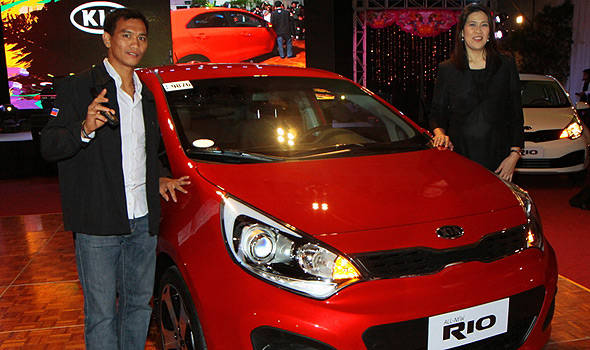 Columbian Autocar Corporation (CAC), the official distributor of Kia vehicles in the Philippines, has just launched the all-new Kia Rio subcompact sedan and hatchback. And who was the very first recipient to get the keys to the all-new model? None other than the Philippine Azkals football team's left winger Emelio 'Chieffy' Caligdong.
According to Precious Casao, CAC's public relations and events officer, as a reward for the team's longest-serving players, the company gave four of them--Ian Araneta, Edward Sacapaño, Roel Gener and Anton Del Rosario--a new Kia Picanto last December. Caligdong was supposed to receive the fifth Picanto but when he was informed about the arrival of the all-new Kia Rio, he chose the newer, much larger model.
As a Philippine Air Force enlisted personnel, buying a brand-new car seemed out of reach for Caligdong which is why he was elated not only to be the very first owner of the third-generation Kia Rio in the country but also because it's his very first brand-new car.
"I'm very happy and honored to be the very first owner of the all-new Kia Rio," said Caligdong. "We're currently training in Batangas for our match against Icheon Citizen and I'm really looking forward to driving it there tonight and then driving it back again to Manila tomorrow to prepare for our match."
Continue reading below ↓
Recommended Videos
Let's hope that Caligdong's happiness at owning an all-new Kia Rio rubs off on the Azkals' game against South Korea's Icheon Citizen Football Club on January 21 at the Rizal Memorial Football Stadium.
CAC has been sponsoring the Philippine Azkals since May 2011.