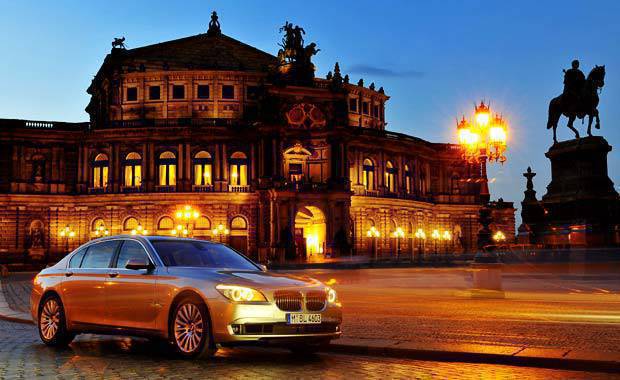 Asian Carmakers Corp., the exclusive distributor of BMW vehicles in the Philippines, hopes to cement its hold in the local premium car market segment with the introduction of the the latest BMW 7-Series.
"The BMW 7-Series is our flagship model and we are very much pleased to offer this to the discerning Philippine market," Asian Carmakers chairman Jose Ch. Alvarez said.
The fifth generation BMW 7-Series Luxury Saloon comes in the 750Li and 740Li variants which are both compliant to the EU5 emission standards.
The 750Li variant has a 4.4-liter V8 engine that produces a maximum output of 407hp at 5,500rpm; while the 740Li variant comes with a 3.0-liter engine and a power output of 326hp at 5,800 rpm. Both variants are equipped with a six-speed automatic transmission with BMW's Steptronic technology.
Continue reading below ↓
Recommended Videos
See the excerpts of BMW's statement on the next page.
The Most Innovative Rendition of Luxury and Dynamic Performance: The new BMW 7-Series.

- Fifth generation of the BMW 7 Series as a brand-new interpretation of style, luxury and driving experience. Market launch with three engine variants: BMW 750Li, BMW 740Li, and BMW 730d.
- Design of the new BMW 7 Series standing for natural presence, superior sportiness and precise elegance. The features and qualities of the car are authentically visualised through its modern look, a brand-new range of engines contributing to BMW EfficientDynamics at the highest level of power and performance. Lightweight construction and innovative suspension technology ensure dynamic driving qualities quite unique in the luxury class. Driver assistance systems and comfort functions exclusive to BMW provide the foundation for an exceptionally fascinating driving experience.
- The unmistakable, superior look of the car bears out that sporting character so typical of BMW in its most elegant form. The unique class and style of BMW's new luxury saloon results from design features such as the car's dynamic proportions, the low-slung and stretched side view, sculptural surfaces bearing out modern values, the extra-large, upright and low-slung BMW kidney grille, as well as horizontally oriented lines at the rear emphasising the car's power and width.
- The interior design of the new BMW 7 Series offers sheer luxury in particularly modern style. The interior concept is highly innovative throughout, with clearly structured arrangement of all functions relevant to motoring and important in the interest of motoring comfort. The ambience is exclusive, sophisticated and, in particular, inviting. Softly sweeping shapes, high-class materials and enhanced spaciousness and comfort give the interior a harmonious, generous and luxurious look throughout. The driver-oriented cockpit with its display in innovative black panel technology, the electronic automatic transmission selector lever featured as standard in the immediate vicinity of Dynamic Driving Control and the BMW iDrive Controller, and the multifunction steering wheel with its enhanced range of functions all ensure the most supreme standard of motoring excellence.
- New generation of BMW's trendsetting iDrive control system: 10.2-inch display, high-resolution graphics, optimised menu structure, new iDrive control for selecting and controlling functions by turning, pressing and tilting the Controller, direct selection buttons activating the most important menu points and, for the first time, freely programmable favourite buttons for even more intuitive control. Function-optimised navigation systems and audio system with hard disc memory. World debut of BMW ConnectedDrive allowing unrestricted use of the internet on the car's display as an option.
- Brand-new range of engines: V8 petrol engine with Twin Turbo technology and High Precision Injection at the top of the line (3,000 kW/407 hp), high-performance straight-six power unit with Twin Turbo and High Precision Injection (240 kW/326 hp), newly developed straight-six diesel with aluminium crankcase and third-generation common-rail fuel injection featuring piezo-injectors and operating at an injection pressure of up to 1,800 bar (180 kW/245 hp). All engine variants with outstandingly good fuel economy and emission ratings superior to the competition.
- Six-speed automatic transmission with optimized gearshift dynamics featured as standard on all engine variants, even faster gearshift, enhanced shift comfort, significantly better fuel economy, electronic gear selector lever.
- Far-reaching lightweight concept as an additional contribution to BMW EfficientDynamics, using multi-phase and hot-moulded steel in the body support structures. Roof, doors, engine compartment lid and side panels made of aluminium, pressure-cast aluminium spring struts at the front, final drive with aluminium housing, all engines with aluminium crankcase. Overall weight down by 55 kg, taking the range of equipment into account.
- Newly developed suspension optimising both driving dynamics and, in particular, motoring comfort: The first BMW Saloon with a double-joint front axle, integral-V rear axle exclusive to BMW, front and rear axles made largely of aluminium. Rear axle air suspension standard on the BMW 750Li and the BMW 740Li. Hydraulic rack-and-pinion steering with on-demand steering assistance pump. World debut of Integral Active Steering as a symbiosis of Active Steering on the front axle and rear axle steering controlled as a function of driving conditions (optional).
- Innovative Dynamic Damper Control including Dynamic Driving Control featured as standard. Newly developed bumpers adjustable infinitely and independently of one another on both their inbound and rebound stroke. Dampers, gearshift dynamics and gas pedal/steering assistance control maps varied by means of the Dynamic Driving Control button on the centre console for COMFORT, NORMAL and SPORT settings. Special traction mode and SPORT + setting with reduced and, respectively deactivated intervention by DSC for a particularly sporting style of motoring. Dynamic Drive anti-roll control available as an option.
- Unique combination of innovative driver assistance systems never seen before in the luxury class (optional): Cruise Control with Stop & Go, Lane Departure Warning including speed limit indicator, Lane Change Warning, Head-Up Display, High-Beam Assistant, BMW Night Vision recognizing individual persons for the first time, side view, back-up camera.
- Maximum occupant safety ensured by optimised body structure in conjunction with a wide range of interacting and electronically controlled passive safety systems, three-point inertia-reel seat belts on all seats, frontal, side and head airbags, crash-activated headrests at the front, runflat tyres, tyre defect indicator. Bi-xenon dual headlights including daytime driving lights, foglamps and two-stage brake lights featured as standard, Adaptive Headlights with variable light distribution and Indicator Lights as an option.
- Wide range of comfort functions and innovative entertainment options: audio system with hard disc memory, AUX-in bush featured as standard. USB port, multi-channel audio system, DAB double tuner, DVD system in the rear, iDrive Controller operating the entertainment, telecommunication and navigation functions from the rear seats, four-zone automatic air conditioning, active seat ventilation, massage seats, innovative contoured sliding roof optimised for noise control and design, Integrated Instruction Manual featured as standard.