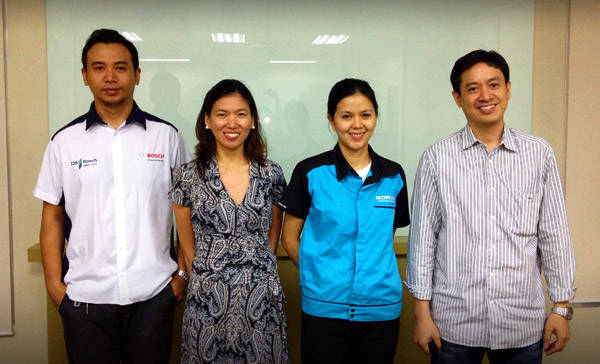 The European Chamber of Commerce of the Philippines (ECCP) and Robert Bosch Inc. recently spearheaded an interactive training session on fuel efficiency and proper fleet management in Makati. Representatives from Bosch's automotive aftermarket division, Clean Air Asia, Honda Cars Philippines, and Philippine Auto Club shared insights with transport fleet managers, automotive workshop owners and drivers.
Frederick Velasquez, Bosch automotive aftermarket service manager, believes that preventive maintenance service is a practical approach to fuel efficiency. "Apart from keeping engines sharp, quality car assessment and tune-up provided by automotive workshops with quality equipment and competent service engineering teams can also minimize the use of non-renewable fuel energy and lessen car emissions harming the environment," he said. "That is why Bosch and ECCP are geared toward enabling fleet operators to lead and sustain progressive behavior on fuel consumption."
The pioneer members of the 1'M Blue Eco-Safe Driving campaign shared with Bosch their vision of making a healthy driving environment a reality. Clean Air Asia, HCPI and Philippine Auto Club teamed up with Bosch and ECCP to promote eco-safe driving techniques and smart practices.
ADVERTISEMENT - CONTINUE READING BELOW ↓
"At present, there are about 6 million registered vehicles in the Philippines," said Philippine Auto Club Fleet Solutions president and general manager Eric Soriano. "And with numbers continuously rising, there is a growing need to shape greener roads. We aim to collaborate with more organizations, use bigger platforms and reach a million Filipino motorists to fulfill this campaign. With Bosch, ECCP and our team, we are well on our way to achieving our goals."
During the session, the 1'M Blue Eco-Safe Driving Campaign team endorsed the United Nations Environment Program (UNEP) Clean Fleet Management Toolkit to advocate clean fuels and vehicles. The toolkit is designed to help vehicle fleet managers assess and select a clean fleet management scheme as a cost-effective solution to aid eco driving.
"The automotive industry will see a big change as manufacturers begin to develop components and services that lower fuel consumption," said Bosch Philippines managing director Joseph Hong. "Bosch, together with its partner organizations, aims to pilot this shift toward fuel efficient vehicles to reduce motoring impact on the environment."
ADVERTISEMENT - CONTINUE READING BELOW ↓
Recommended Videos