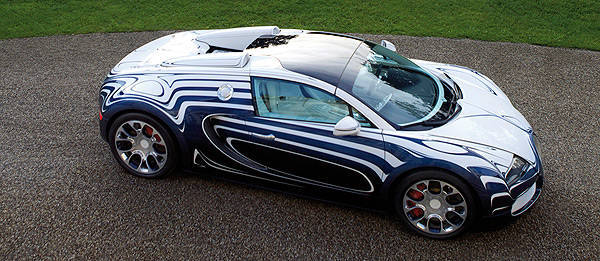 Bugatti has teamed up with porcelain manufacturer Königliche Porzellan-Manufaktur (KPM) to create the world's first porcelain-clad car by taking a Veyron Grand Sport and making it "wear the finest porcelain on its body, as well as in its cabin."
"At first, it seems to be an unusual idea to use porcelain in a car, especially in the world's fastest convertible," said Dr. Stefan Brungs, sales and marketing director at Bugatti Automobiles. "But this is what Bugatti stands for: the realization of exceptional ideas while striving for the utmost in quality and aesthetics. This allows us to continue Ettore Bugatti's heritage, who himself loved to experiment with new materials."
Known as the "L'Or Blanc," the unique porcelain elements that appear both inside and outside of this particular Veyron are produced through hand-made plaster molds. With tremendous attention to detail, each mold is created and optimized in a several-week-long process at KPM's research and development department. The porcelain manufacturer's more than 170 craftsmen and specialists ran a number of dedicated tests with the raw material before the porcelain elements were crafted and fitted seamlessly to the Bugatti's components.
As an ode to Bugatti's history, the "L'Or Blanc" carries the relief of the famous elephant in an upright standing position that was created by sculptor Rembrandt Bugatti. His brother Ettore had used the original draft to cast the radiator mascot for the Bugatti Royale, making this elephant synonymous with the brand to this day.
Continue reading below ↓
Recommended Videos
"The impulse for that partnership came from Rembrandt Bugatti's renowned elephant," said Jörg Woltmann, owner of KPM and a car aficionado. "At the beginning, we wanted to integrate the sculpture in our product range, then we thought about the potential for a comprehensive service and finally the synthesis of ideas led us to this outstanding Grand Sport."
If you think you're rich enough to afford it, the Bugatti Veyron Grand Sport "L'Or Blanc" is available for "only" €1.65 million or a cool P103,358,153.
[gallery]966[gallery]