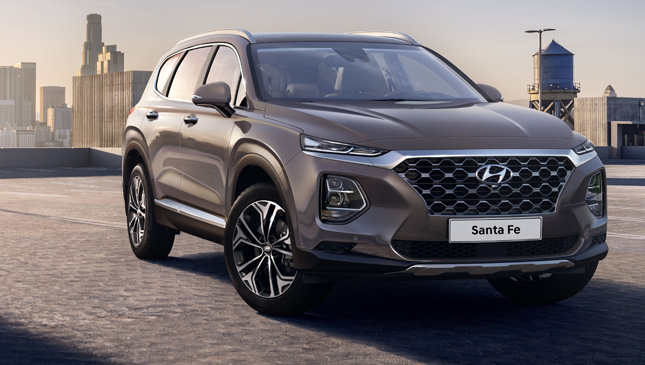 Hyundai Motor Company has given us our first official look—inside and out—at the next-generation all-new Santa Fe. It's just one quarter view of the front end and a shot of the interior, not a full reveal, but it's enough to show the Korean carmaker's vision for its midsize crossover.
It's a testament to the good design of the outgoing Santa Fe that—to us at least—it doesn't look old even though it was released way back in 2012. But we wouldn't dare put the all-new model beside its beloved predecessor. With its twin headlights reduced to seductive slits and an almost Teutonic grille nestled between them, the new head-turning Santa Fe looks like it wants to go for the Germans—although we think it has to go through the Mazda CX-9 first.
Continue reading below ↓
Recommended Videos
With its smooth VGT diesel engine and its pliant but engaging suspension, that third-generation Korean crossover was a pleasure to drive. A long-wheelbase version, the Grand Santa Fe, also came out in 2014. But that wasn't as good as the short-wheelbase Santa Fe; maybe it was designed for the North American markets, but its ride was too soft and wallowy.
Hyundai calls the new fourth-generation Santa Fe its largest passenger car, so if it handles as well as the short third-gen Santa Fe, maybe there won't be a need for a LWB version. With a length of 4,770mm and a width of 1,890mm, it's shorter but wider (by just 5mm) than the outgoing Grand Santa Fe, so we're optimistic it will be fun to drive.
No engine figures were released yet, but Hyundai touted its safety features—a package called SmartSense. There's rear cross traffic collision avoidance (warning when backing up) and Safety Exit Assist (warning when vehicles/motorcycles approach from behind). Expect the usual safety acronyms to be included as well.
The handsome cabin wouldn't look too out of place in a premium German brand's brochure. And is that a digital gauge cluster?
Hyundai says it will release more information this month, ahead of the public reveal at the Geneva Motor Show next month. Stay tuned.