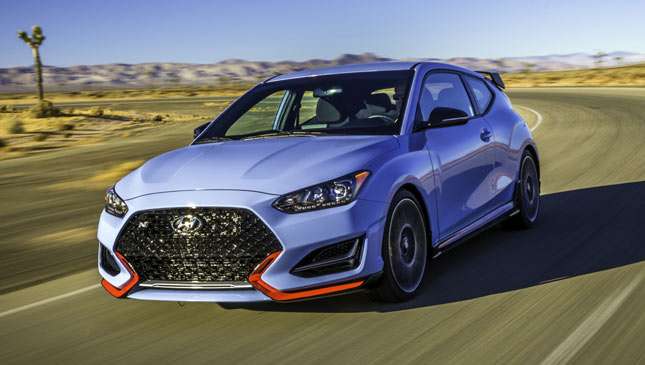 The all-new Hyundai Veloster is now out in the open. The Korean carmaker revealed the latest iteration of its popular sports car at the ongoing North American International Auto Show, along with the vehicle's new 'N' variant.
As evident from the choice of exterior colors, the Veloster N joins the company's high-performance stable with the i30 N hot hatch. Hyundai's really taking its newfound passion for fun behind the wheel up a notch, packing the Veloster N with a 2.0-liter turbocharged engine capable of 275hp and 353Nm mated to a six-speed manual. It's a car that the manufacturer says has been "thoroughly honed" at the Nurburgring for "thrilling cornering ability" and "race track capability."
Continue reading below ↓
Recommended Videos
The regular Veloster, meanwhile, comes in either a 2.0-liter NU engine capable of 147hp and 179Nm, or a feistier 1.6-liter turbo with up to 201hp and 264Nm. A six-speed manual transmission is available, as is a seven-speed dual clutch.
Driving bits? None yet. This baby isn't out until later this year after production begins in Ulsan, South Korea. Let's get to the more apparent items on the checklist then. The styling's improved, the most notable part of which is the 'cascade' grille, which now features an intricate 3D design. The lines and proportions are cleaned up as well, but look more muscular and sporty thanks to a lower roofline and "more coupe-like" fenders. Obviously, the N model gets more goodies: an exclusive front fascia, dedicated air ducts, N-design side sills and the availability of lightweight 19-inch alloy wheels.
Inside, the driver-focused cabin's contrasting colors convey a sense of in-your-face fun and sportiness, and it's considerably less drab than the last one: cool gauges, a floating touchscreen infotainment system, some red accents here and there, and an edgy dash design. The N comes with exclusive N-design seats, with "performance-based" bolstering, some N logos, blue accents, and a more neutral set of colors.
Other things to note? The Veloster N gets N Mode (makes sense), which essentially makes the car noisier and more fun to drive, an "N Corner Carving Differential," which the company says makes for more entertaining launches and less understeer, and the option of massive 13.6-inch performance brakes up front. Clearly, you'll want the N.
An impressive way to start 2018 for Hyundai then? We certainly think so.