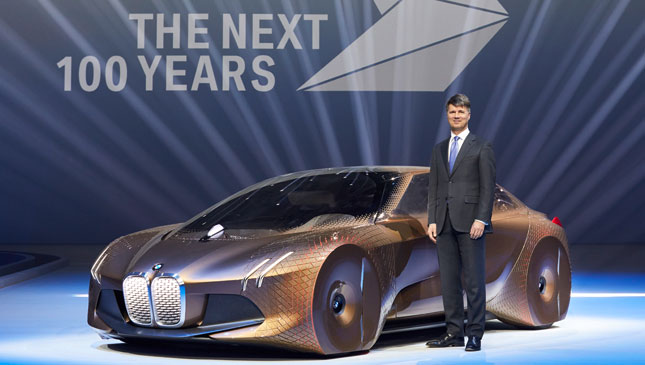 How does one celebrate a 100th birthday? Throw a huge party? Take a trip down memory lane? In BMW's case, it did just these--celebrate in style in Munich by recapping what it has achieved over the past century, give the world a glimpse of what it predicts will be coming in the next century.
The BMW Vision Next 100 is the marque's very own crystal ball on four wheels. The futuristic-looking automobile shows us what BMW thinks mobility will be like down the road. Taking a cue from the current and past styling cues, the car features the trademark twin-kidney grille set in fast-forward. And even if it is a sedan, it actually looks more like a sports coupe in appearance.
The Vision Next 100 has several driving modes. One of these is the autonomous mode, which lets the car take the chore out of the daily commute. Then there is the boost mode, which will aid the driver with augmented-reality guides, like showing the ideal steering input to "boost" confidence behind the wheel.
Another cool feature of the Vision Next 100 is the ease mode. As the name suggests, the car's interior transforms into your very own rolling lounge. The steering wheel retracts, and the seats and the door panels are set in the most relaxing position possible. The car also has an Intelligent Companion that learns the driver's habits and preferences behind the wheel and in the vehicle. If the owner likes music, the car will automatically play this as soon he starts driving. Moreover, it will communicate with pedestrians by signaling to them when it is safe to cross in front of the vehicle. In short, it aims to make life easier and safer for all.
Continue reading below ↓
Recommended Videos
To further celebrate its centenary, BMW will take the Vision Next 100 and three other concepts on a grand world tour. The Vision Next 100 tour will go to major cities like Bejing, London and Los Angeles, over the course of the year. Each venue will premiere a new concept car.
With these cutting-edge concept vehicles, we will get a peek into what the future holds for the world of four wheels. While many of us may not exactly live to see the day when these concepts become a reality, they at least let us know that our beloved automobiles will still be as cool--if not even cooler--in the next 100 years.