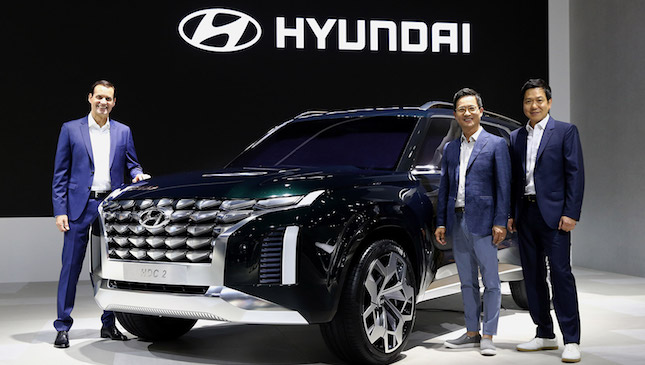 Hyundai is getting a new look in the near future. At least if its latest concept is anything to go by.
Called the Grandmaster (or HDC-2, which isn't nearly as funky-sounding), the Korean carmaker debuted this concept SUV at this year's Busan International Motor Show. It serves as further peek at the brand's 'Sensous Sportiness' design future, which began with the HDC-1 Le Fil Rouge in Geneva earlier this year.
ADVERTISEMENT - CONTINUE READING BELOW ↓
The name Grandmaster is inspired by the game of chess. Hyundai explains that just as a chess game needs all the pieces to be complete, all of its upcoming vehicles will "form a harmonious vehicle lineup demonstrating the Hyundai look while each maintains distinctive character and role." The overall design was based on the harmonization of four aspects: proportion, architecture, styling, and technology.
"Today we showcased two concept vehicles as a blueprint for our evolved design strategy," said Hyundai's VP and head of styling SangYup Lee. "Making a big step forward in terms of design with the Hyundai look strategy, we will move toward becoming a brand that customers can really relate to emotionally. Moving on from being a brand that provides a great value, we will aspire to also become a brand that is widely beloved by our customers."
What do you guys think about Hyundai's new design strategy?
ADVERTISEMENT - CONTINUE READING BELOW ↓
Recommended Videos