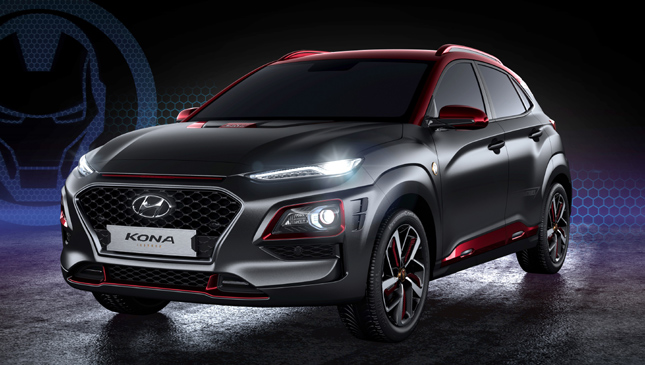 Anyone who went to the cinema over the past month to watch Ant Man and the Wasp would have noticed that Hyundai vehicles played a prominent role all throughout the film. The Kona, in particular, stood out during one of the movie's earlier scenes.
This is why we're surprised that Hyundai has released an Iron Man Edition of the Kona at the 2018 San Diego Comic Con, and not an Ant Man one. But hey, we're not complaining. We can definitely see the similarities between Tony Stark's mask and the newly-released Korean subcompact crossover.
The sleek LED headlights, in particular, resemble the thin slats that allow stark to see from inside his suit. On top of that, it's covered in a matte gray and red Iron Man paint job and runs on custom 18-inch alloys featuring center caps with the iconic mask on it. There's also an Iron Man motif on the roof, custom badging on the fenders, and engravings on the D-pillars.
Continue reading below ↓
Recommended Videos
"Hyundai's ongoing collaboration with Marvel is a great way for us to become a part of what people are interested in and engage with a highly passionate fan base," says Hyundai head of marketing Minsoo Kim. "Our relationship is more than just product placement as we aim to create custom experiences that resonate with the Marvel audience. The Kona Iron Man Edition is a perfect example of blending our two worlds together into one special vehicle that we hope will excite fans of both brands all around the globe."
We wonder which one of the Korean manufacturer's vehicles will show up in the next Marvel Cinematic Universe flick. Any guesses?