We love Easter for one very specific reason. Sure, there's the unending inhalation of chocolate easter eggs shame-free, not to mention a few days off work. Better than both of those combined, though, are the events in Moab, Utah.
That's where, for 53 years, Jeep has held its Easter Safari, the owners' meet of all owners' meets and the site of half a dozen very exciting unveilings. Namely, Jeep's Easter concepts.
This year's are all based upon the new Jeep Gladiator pickup, and thus are already pretty damn cool in our book. But boy, has Jeep gone to town making the Gladiator even harder to resist for those of a 'fling yourself off road with all of the bikes attached' persuasion.
So, scroll down to peruse 2019's Easter concepts and nominate your favorite by use of the lovely inviting comments box below.
1. Jeep Wayout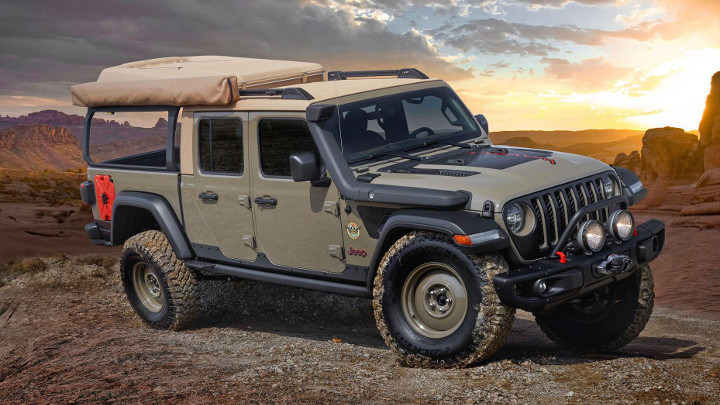 Continue reading below ↓
Recommended Videos
For those of a 'fling yourself off road with all of the bikes attached and sleep there' persuasion, there's this Wayout. It's a Gladiator that's painted in army colors and looking ready for its national service. Or the role of an extra in Jurassic Park.
But the most prominent of its various modifications is the roof-mounted tent, accessible via a handy side ladder (for that 'hostel bunk bed' vibe) and sitting atop a canopy that houses some dry storage for all of your luggage.
That 'dry storage' thing is paramount, actually, because with insane articulation in its wheels and a standard-fit winch and snorkel, this is a Gladiator that's designed to go very, very off-road. Even if that involves a slightly river-y bypass.
Power comes from a good old-fashioned V6 petrol engine, driving through an eight-speed automatic gearbox. There are additional auxiliary fuel tanks to make sure you can return home when you do end up very, very off-road, too.
2. Jeep JT Scrambler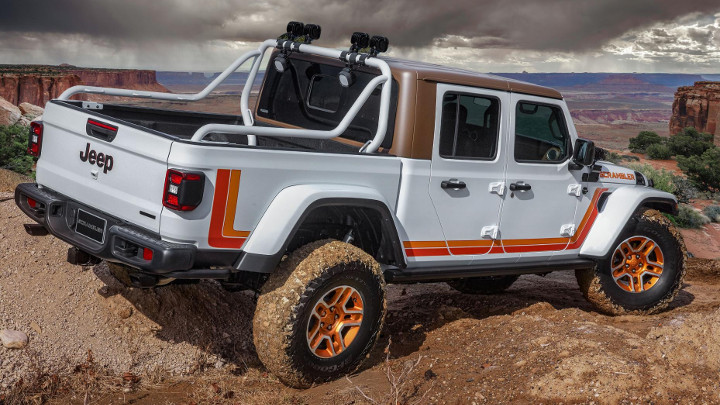 Who knew nachos and amaretto went together so well? The red of the JT's body stripes is called 'Nacho' while the brown is dubbed 'Katzkin Amaretto Brown,' and doesn't the combination look excellent?
Indeed, retro liveries defeat all when it comes to grabbing our attention. So while—of all the Easter concepts—this one appears closest physically to the Gladiator it's based upon, we think it looks flipping ace.
Its color scheme is nicked wholesale from Jeep's '80s CJ Scrambler—no point having heritage if you can't reuse it—while the Mopar accessories catalog has been liberally raided.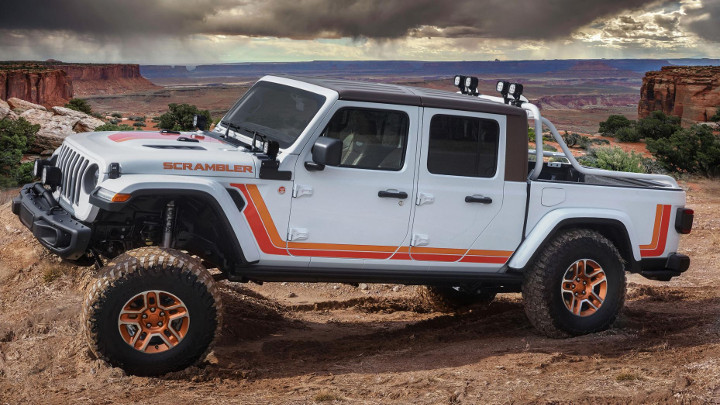 So there are lights aplenty, lots of hooks and anchors in the load bay, and a lift kit to ensure the vehicle will wade even further off-road.
The 3.6-liter V6 engine also benefits from the addition of a new air intake and a cat-back exhaust, presumably liberating a bit more power and noise. As if the crisps 'n' liqueur paint job wasn't loud enough as it is.
3. Jeep M-715 Five-Quarter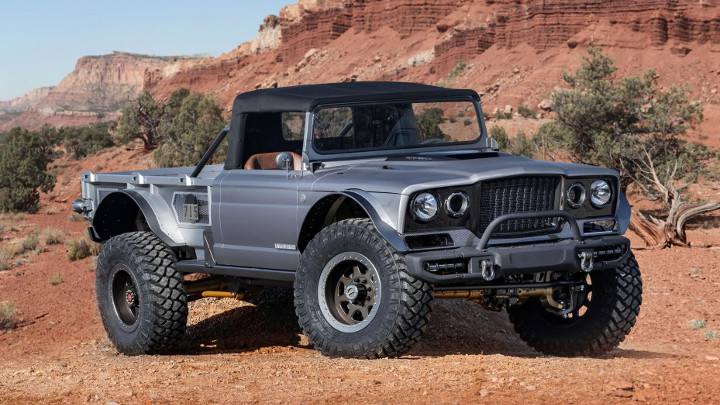 Three cars in and the rules have already been bent a little, but with good reason. Rather than being based upon the new Gladiator, this one's based on the old, '60s Gladiator, more specifically the M-715 military version.
It's another of those pesky resto-mods, but flipping heck, it's cool. Everything's been reinforced to ensure it doesn't feel exactly like a '60s army Jeep wearing fancier paint, with stronger suspension—for proper off-roading—and some carbon at the front end and aluminum in the flatbed.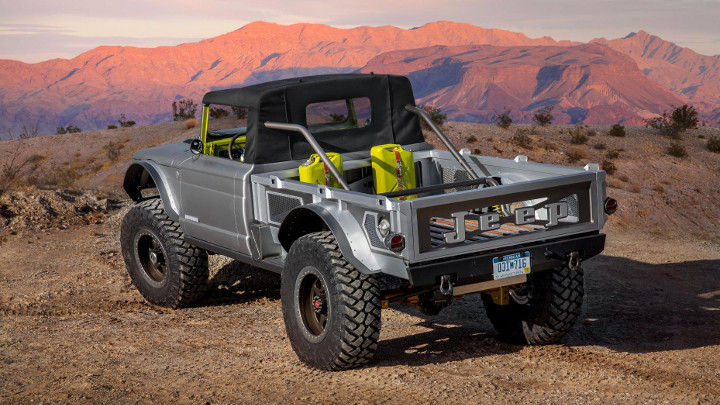 The convertible roof has been dropped a few inches to aid the aesthetic, and the headrests removed from the two seats to...um, we're not sure why that's happened.
Especially when we learn that power comes from the same 707hp supercharged 6.2-liter V8 as all of the Dodge Hellcats, not to mention the Jeep Trailcat and Trackhawk. Surely with that sort of power, you want every safety accoutrement possible?
4. Jeep Gravity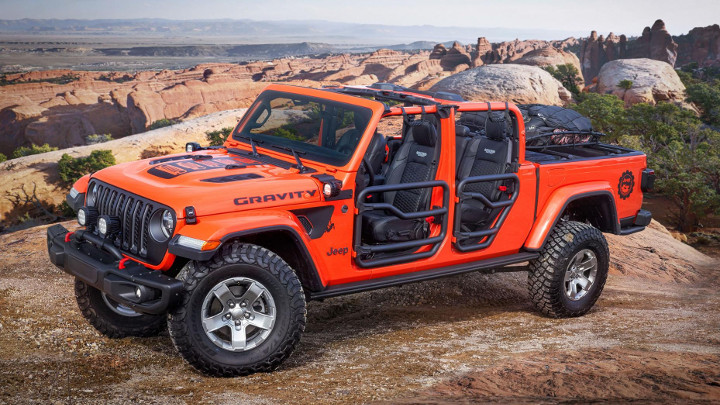 You want to do proper off-roading? You won't be wanting ridiculous fripperies such as a roof and doors, then. That's the attitude of the hard-as-nails Gravity, a Gladiator that's simultaneously dieting and necking protein shakes.
You can lower the windscreen and tie it flat, too, for those looking at the above image and thinking it all still looks a bit claustrophobic. The fools.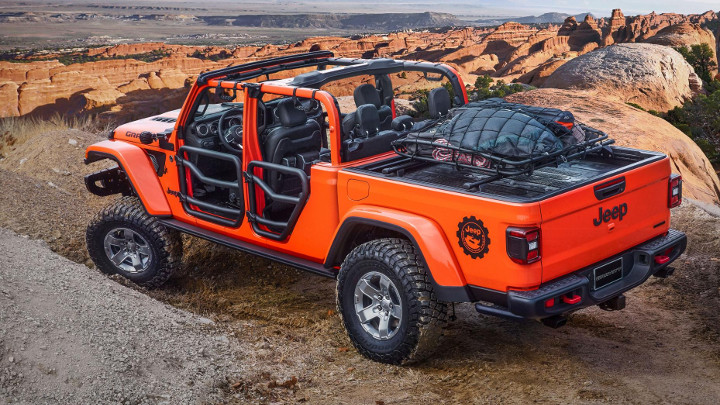 The maddest bit? The Gravity is simply a very a visual demonstration of what happens when you order from the more extreme pages of Jeep's parts catalog, and if you click the right configurator boxes, you can order a brand new Gladiator pickup that looks just like this.
If you're concerned about the practicalities of how open-air the Gravity looks, then rest assured there's a 'plug' system so you can drain it like a bathtub after a day off-road.
5. Jeep Flatbill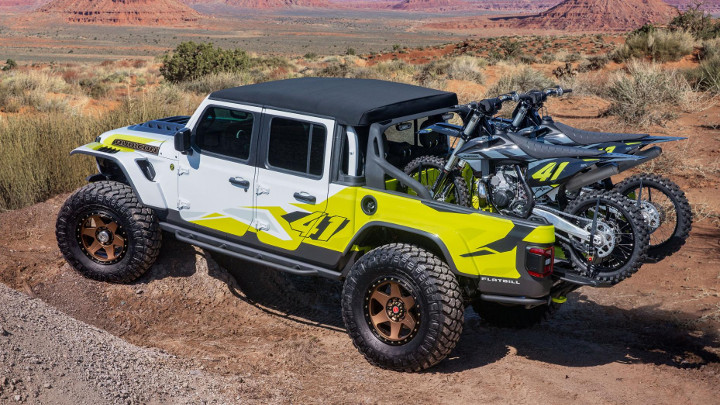 In Jeep's words, this is a Gladiator with "an unmistakable, loud and rowdy appearance that serves as the ultimate hauler for an array of toys." Never before has a car been aimed so directly at the less-mature end of the Top Gear web desk.
So, as well as containing a pair of motocross bikes, the Flatbill has been designed to look like one, too, with the kind of decals you'd expect from a two-wheeled off-road toy.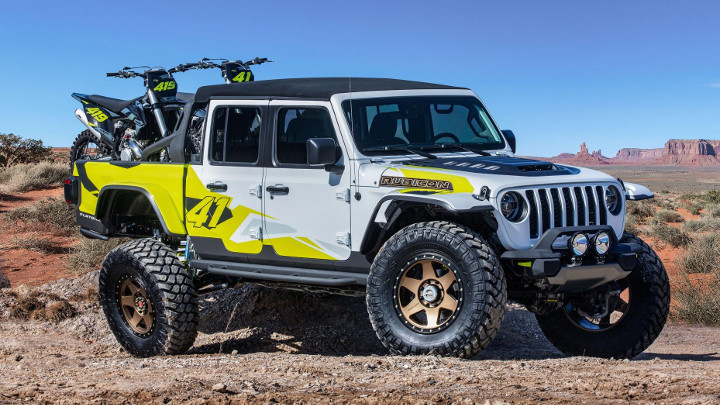 This is a four-wheeled off-road toy, of course, and comes with the beefiest suspension components and fattest tires yet on a Gladiator, ensuring this'll be the one that ventures furthest into the wilderness.
If you do manage to find the 1% of the world's terrain it can't tackle, there's always that pair of backup options in the cargo area to ensure your journey doesn't completely grind to a halt.
6. Jeep J6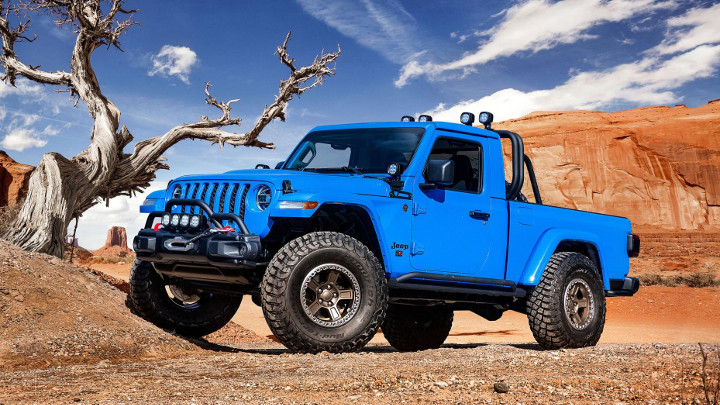 Jeep's final Easter concept is the J6, with two fewer doors than a regular Gladiator, but no less cargo-carrying capacity. It's the Gladiator for people who have significantly more possessions (say, dogs) than friends. Or those who prioritize possessions (dogs) over friends (people). Us, then.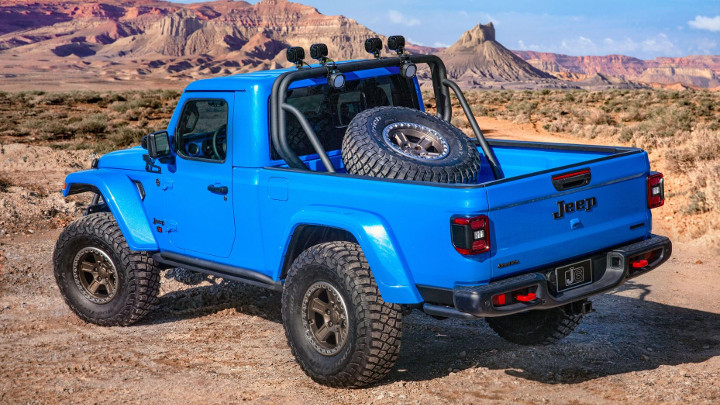 Its bright color scheme not only references the fantastically named Jeep Honcho of 1978, but ought to complement the Riviera Blue Porsche 911 GT3 in our dream garage beautifully. Meanwhile, the additional stinger bar not only hosts a bunch of LED spotlights, but also provides a handy structure to tie those dogs.
So, six concepts. Which is your favorite?
NOTE: This article first appeared on TopGear.com. Minor edits have been made.