Ladies and gentlemen, allow us to present not one, but three new Koenigseggs. Yes, it is a good day.
Introducing to you first, the new Koenigsegg Agera RS 'Gryphon'; a very special edition of Koenigsegg's already quite special Agera RS, complete with a twin-turbocharged V8 producing 1,360hp and weighing in at just 1,395kg.
It nears, according to Koenigsegg, the 'rarefied air' of the One:1's power to weight ratio. That's a good thing, by the way.
The Gryphon bit—named after a mythical creature that uses the body and legs of a lion, and the head, wings and talons of an eagle—gets much bespoke detailing. Things like clear carbon highlights (finished in 24-carat gold leaf), gold leaf across the stripes, badges, bonnet struts, engine and interior.
Continue reading below ↓
Recommended Videos
There's more in the interior than just gold leaf, mind you. There is alcantara, polished carbon fiber, anodized aluminum, and custom 'Gryphon' text stitched into the dashboard, in, you guessed it, gold thread. There's even a custom racing helmet made from carbon fiber with gold leaf decoration, hand-applied at Koenigsegg's factory in Angelholm.
It's been built for a customer in the US, and will come with a removable hardtop (stored under the hood when not in use), super lightweight sound deadening, carbon ceramic brakes, stability control, a hydraulic lifting system (to get over those humps), and Apple CarPlay. So yes, you'll (hopefully) see it actually being used.
What we're introducing to you next are a pair of heavyweight hypercars that mark quite an important step: Koenigsegg has built the first two actual production Regeras, ready for customer delivery. Yep, it's finally landed.
A quick recap on the Regera, if you will: it's got a 5.0-liter V8 (the same as the Agera RS but packing more), complete with three electric motors, and Koenigsegg's 'Direct Drive' system to send a prodigious 1,500hp and 2,000Nm to the rear wheels. 402kph is possible.
The first of the two customer Regeras is replete in a rather cool British Racing Green, hollow-core carbon fiber wheels, and a tan leather interior. The second is red, and gets a clear carbon center section and red hood stripe. There are three-spoke carbon fiber wheels, and a red and black interior. Lovely.
You'll be able to see all three of these Koenigseggs at the upcoming Geneva International Motor Show. "We are very excited at the prospect of delivering the Regera to eager customers in the coming months," explains Koenigsegg. "A new chapter in the Koenigsegg story is quickly unfolding."
Of course, the Regera is far too complicated to explain into a few paragraphs, so once you're done with the pics above, head to this link to read more about this car.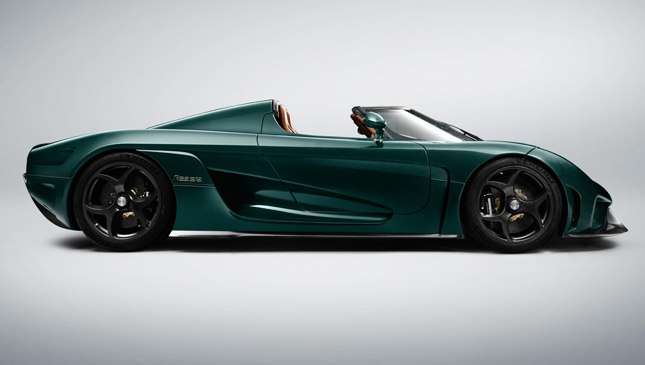 NOTE: This article first appeared on TopGear.com. Minor edits have been made.