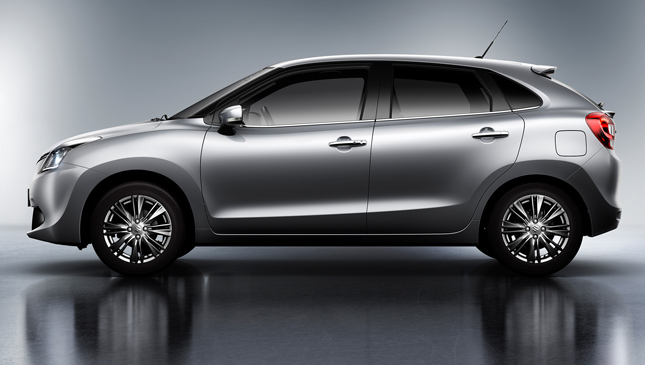 Remember the Suzuki Esteem? In case you don't recall or aren't aware of it, Suzuki did, in fact, offer a compact car back in the mid-'90s. Packing a decent engine in a family-friendly station-wagon body, it didn't get hearts racing, but it appealed to those looking for something different from the usual Civics and Corollas that were all the rage back in the day.
Fast-forward some 20 years, and Suzuki is once again set to launch the latest iteration of the nameplate--well, it's global namesake, at least. Come September, the Japanese carmaker best known for making compact versions of pretty much any vehicle class, will unveil the all-new Baleno compact hatchback at this year's Frankfurt Motor Show. For the uninitiated, the Baleno is what the Esteem is called in other markets around the world.
If you're thinking that this Baleno is just another pedestrian offering like its '90s forebear, guess again. A glance at the side profile reveals a rather sophisticated-looking hatchback that seems like it can go up against the best players in the business. In fact, the only thing that this new model seems to have in common with the old one is the name. The latest Baleno will be based on the iK-2 concept car that was showcased recently at this year's Geneva Motor Show.
Continue reading below ↓
Recommended Videos
Just like its concept predecessor, the upcoming Suzuki compact will boast a number of new technologies that will make it stand out in the segment. One of these cool tech innovations is the newly developed 1.0-liter Boosterjet direct-injection gasoline engine. The motor, according to Suzuki, promises exceptional fuel economy without sacrificing power and driving performance. While all this sounds like press talk, the mix of a small engine with a turbocharger does suggest that such claims are possible.
Apart from the engine, Suzuki has also paid close attention to the design of the car. It made sure that space won't be a problem for all occupants, while also ensuring that the car stays light yet rigid. The use of advanced engineering and materials should make for a lightweight yet strong body that can meet stringent crash and safety standards.
No other details about the Baleno have been revealed as of press time. Rest assured, however, that we will give you the lowdown on the car and other new models that will be launched at the Frankfurt Motor Show, which will run from September 17 to 27.
The all-new Suzuki Baleno will be sold in Europe and other markets shortly after its world premiere. No word yet on whether it will reach our shores. Any takers?